Here are some great options for making easy, healthy Asian soups with this fantastic roundup of 10 Easy and Delicious Healthy Asian Soups.
Man, it's cold outside! Can't remember when it's been this frigid here. So, what's my body craving? SOUP, SOUP, SOUP, of course! Check out all of these warming soup recipes!
You'll definitely stick to your New Year's resolution with these yummy and flavorful bowls of Asian-inspired soups. Easy to prepare, you'll have a hard time choosing between pumpkin soup, cauliflower soup, miso chicken noodle soup, carrot soup, shrimp soup, and more!
Click on the links to these contributing food blogs for the recipes. Layer up outside, and warm up inside everyone!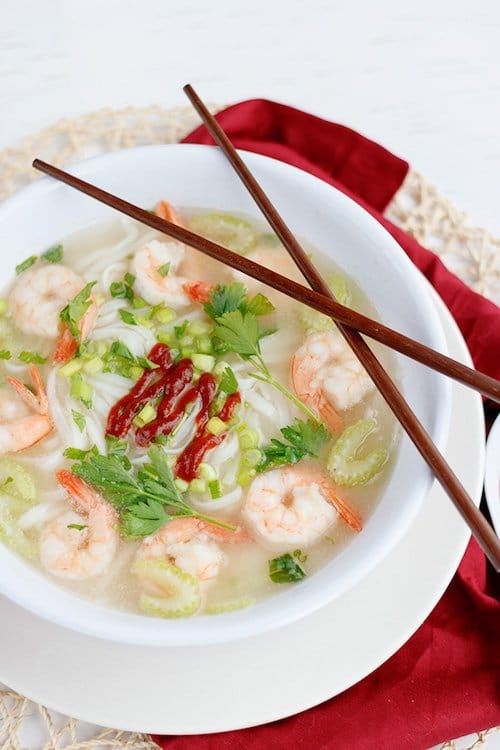 Super simple Asian style soup made with shrimp and rice noodles and kicked up with sriracha sauce. Recipe from JenniferMeyering.com.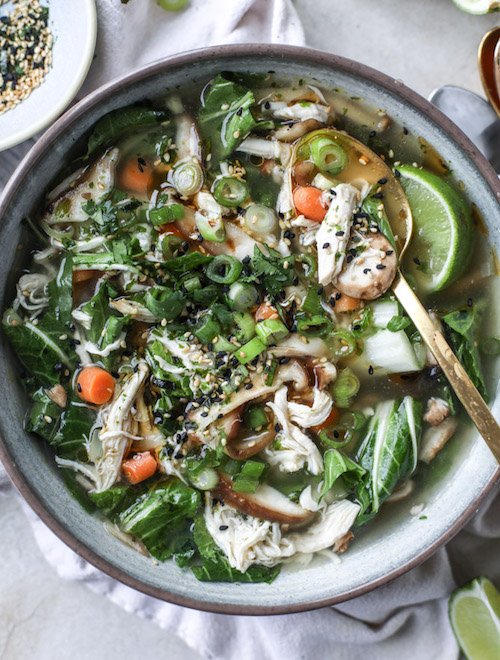 This no-noodle soup is loaded with veggies like bok choy, mushrooms, carrots, and onions. All good for you and warming to boot! Recipe from HowSweetEats.com.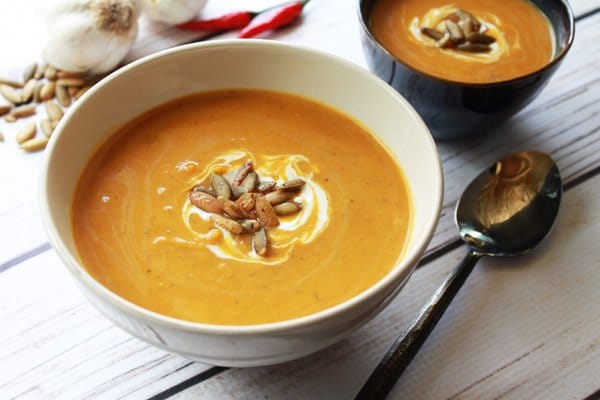 Easy Spiced Pumpkin Coconut Soup
Warm up your tootsies with this super easy Pumpkin Coconut Soup! There are so many fragrant spices in this recipe, plus the sweetness from the pumpkin purée and a dash of brown sugar combined with the heat from the Thai chili pepper is so incredibly satisfying! Recipe from AsianCaucasian.com.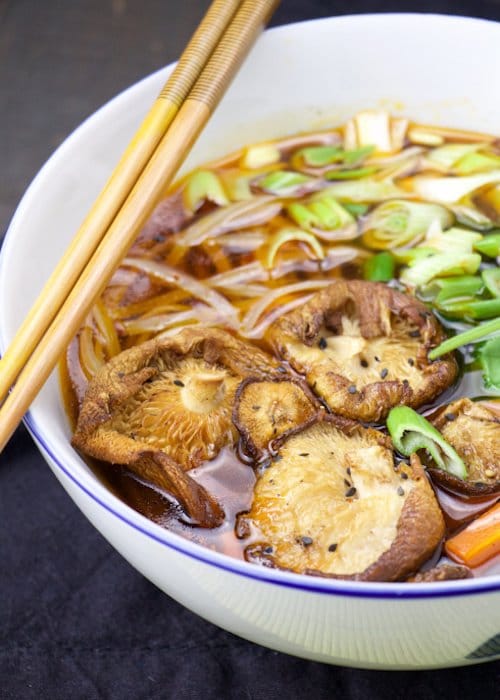 An Asian beef bone broth soup with rice pho noodles topped with roasted shiitake mushrooms, spinach, carrots, and scallions for a bowl filled with flavors and a touch of heat! Recipe from TheFoodOlic.com.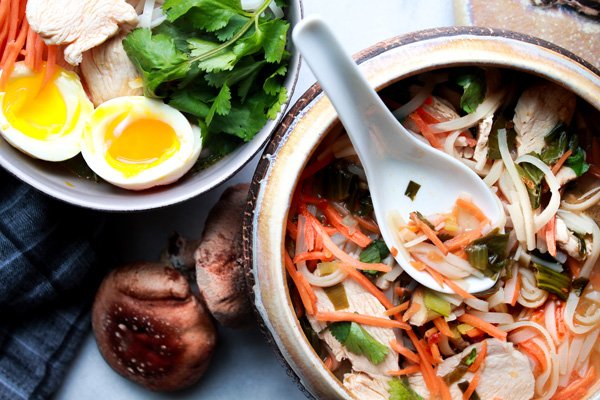 This chicken noodle soup is loaded with healthy veggies — shredded carrots, shiitake mushrooms, ginger, garlic, green onions, and baby bok choy — tender slices of chicken, nestled in a fragrant, mildly spicy miso broth and topped with a runny egg. Recipe from AsianCaucasian.com.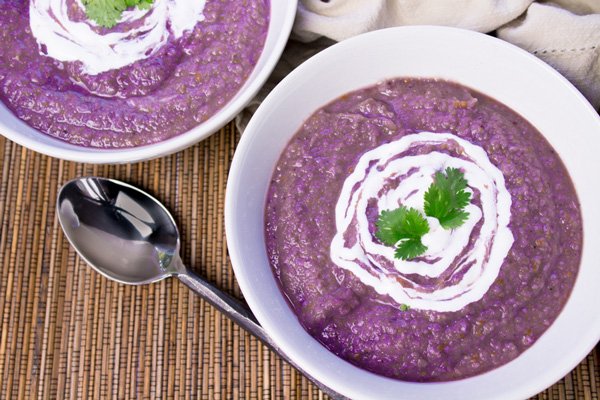 Perfectly Purple Potato and Cauliflower Soup
It's purple pandemonium over here with these gorgeous purple-hued veggies! We've roasted up a variety of purple potatoes along with purple cauliflower, tossed in some carrots, onions, garlic, and fennel, to make this hearty, healthy soup for winter. Recipe from AsianCaucasian.com.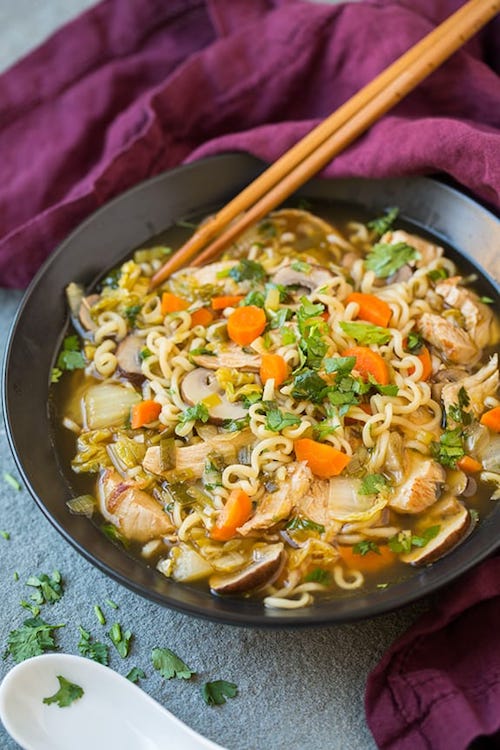 Get your ramen on with this loaded chicken noodle soup! Packed with incredible flavors and a little heat, this soup will warm your belly throughout the cold months of winter! Recipe from CookingClassy.com.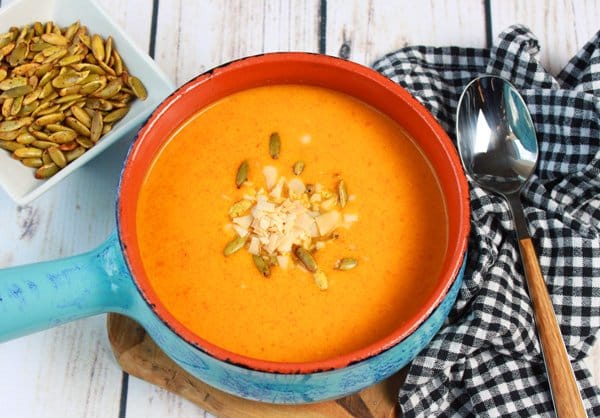 This sweet and spicy carrot soup will make your tastebuds explode with happiness! It's flavored with tangy ginger, a little spice from red curry paste and red pepper flakes, lemongrass, and the all-important coconut milk for creaminess! Serve it hot or chilled. Recipe from AsianCaucasian.com.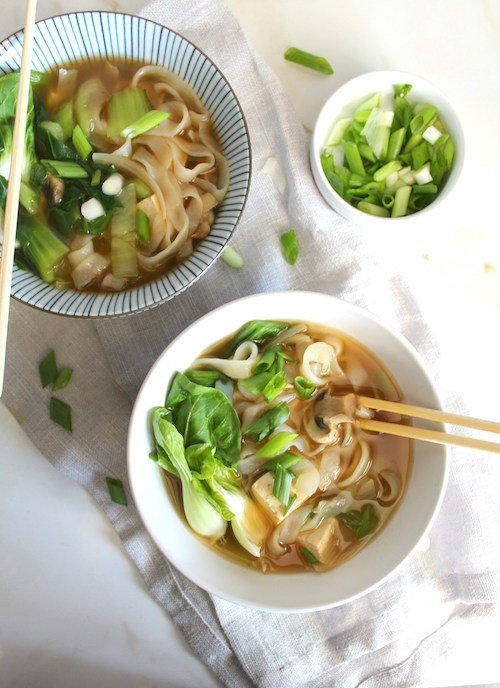 This Asian vegetable noodle soup is full of healthy veggies, protein packed tofu, and gluten-free noodles. The perfect vegan meal for the cold season! Recipe from ThisSavoryVegan.com.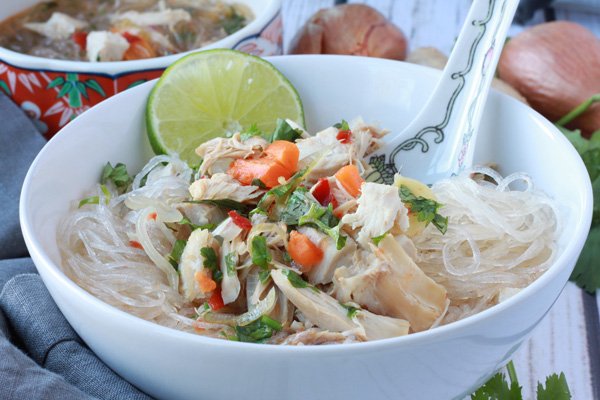 Loaded with deliciousness, this bowl of yum is also healthy and filling. The ginger, shallots, lime, and touch of heat from the red chili paste (sambal oelek) combined with the turkey and bean thread noodles is one bowl of noodle soup that you'll savor all week long! Recipe from AsianCaucasian.com.