Jumpstart your new year with this roundup of 20 Healthy Asian Salad Recipes! These easy recipes will fill your tummy without the excess calories. From Grilled Miso Shrimp Salad to Soba Noodle Salad, you'll never go hungry when you bookmark these tasty recipes!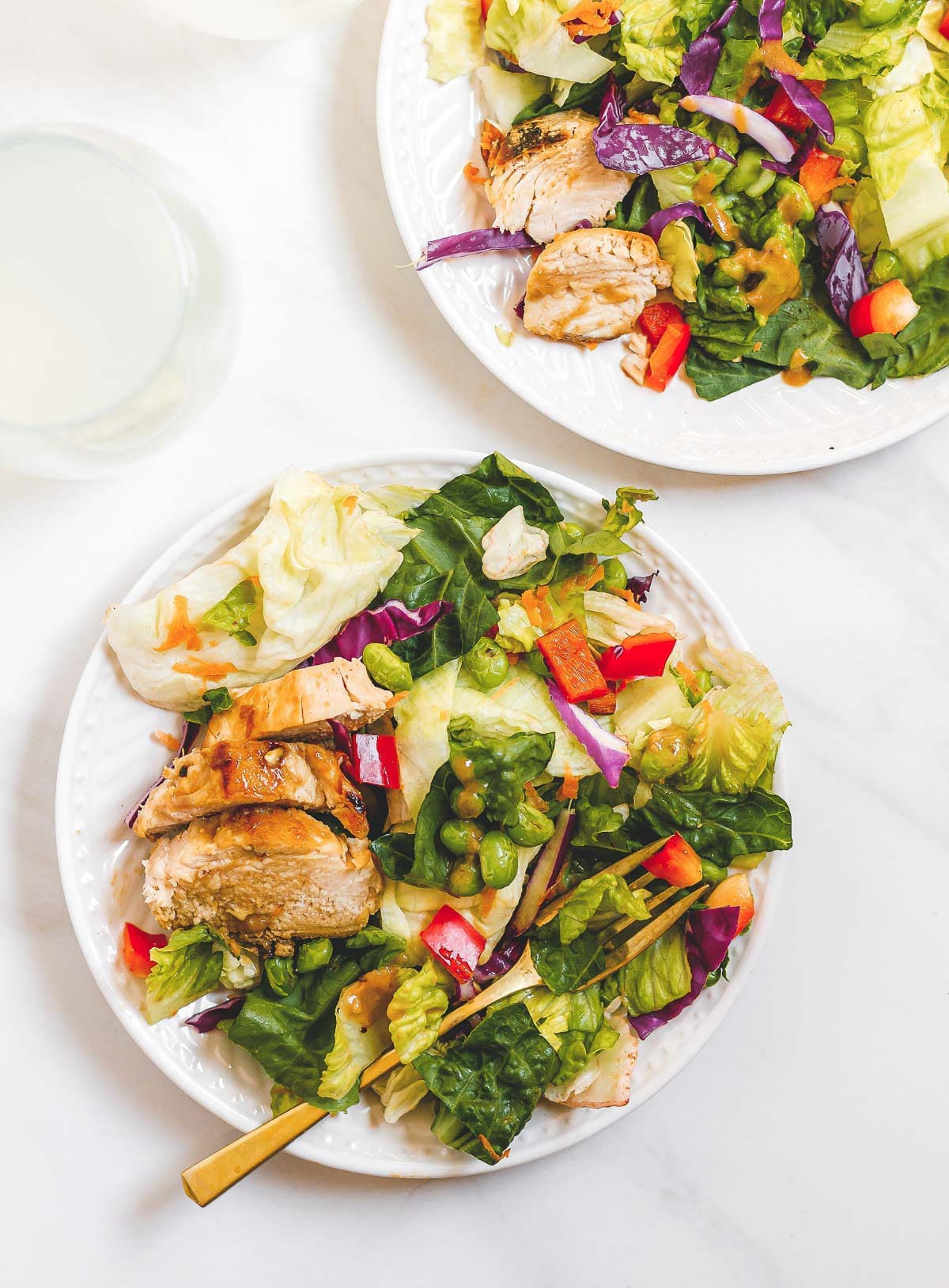 This beloved Spicy Thai Salad with Chicken dish is no longer on the menu at Panera Bread. But you can make this easy and delicious copycat recipe in your own kitchen! The tangy, spicy Thai peanut dressing puts this salad over the top!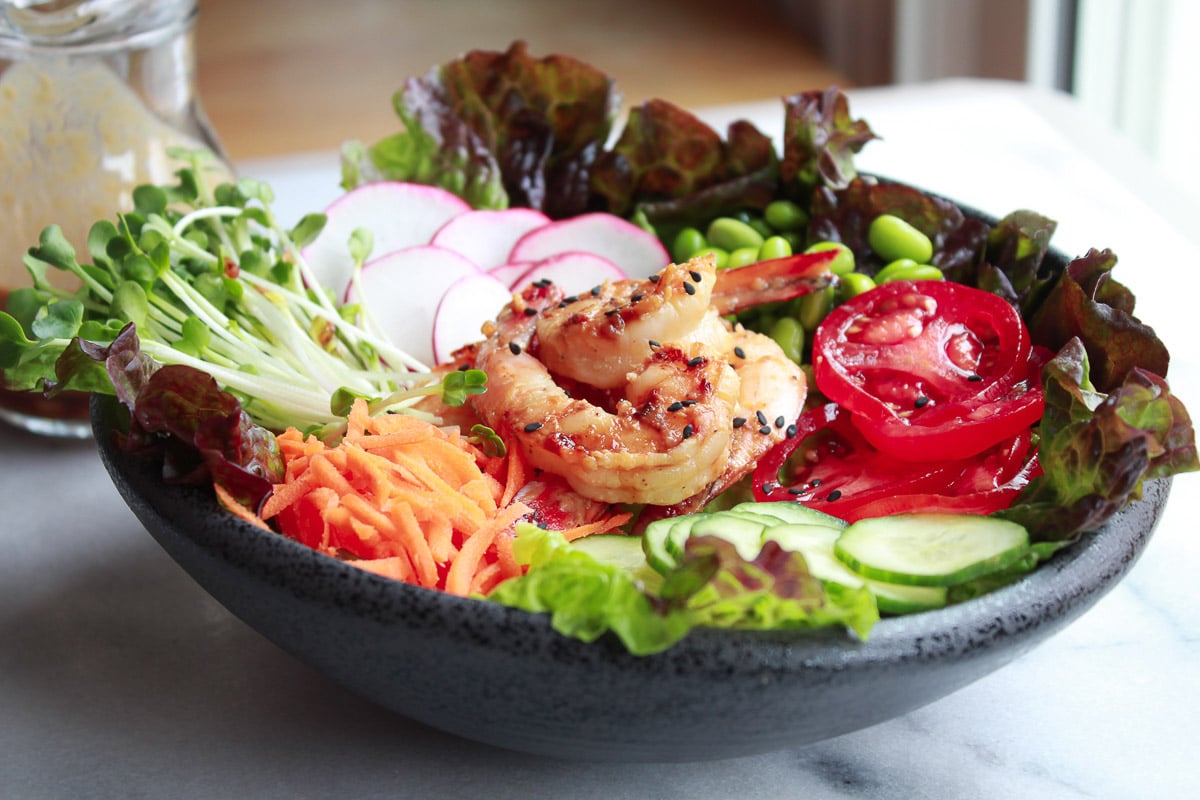 This gorgeous Grilled Miso Shrimp Garden Salad will fulfill all of your healthy salad cravings! It's heavenly! This beautiful lettuce bowl is layered with fresh veggies, grilled miso shrimp, edamame, and radish sprouts and drizzled with an easy miso dressing!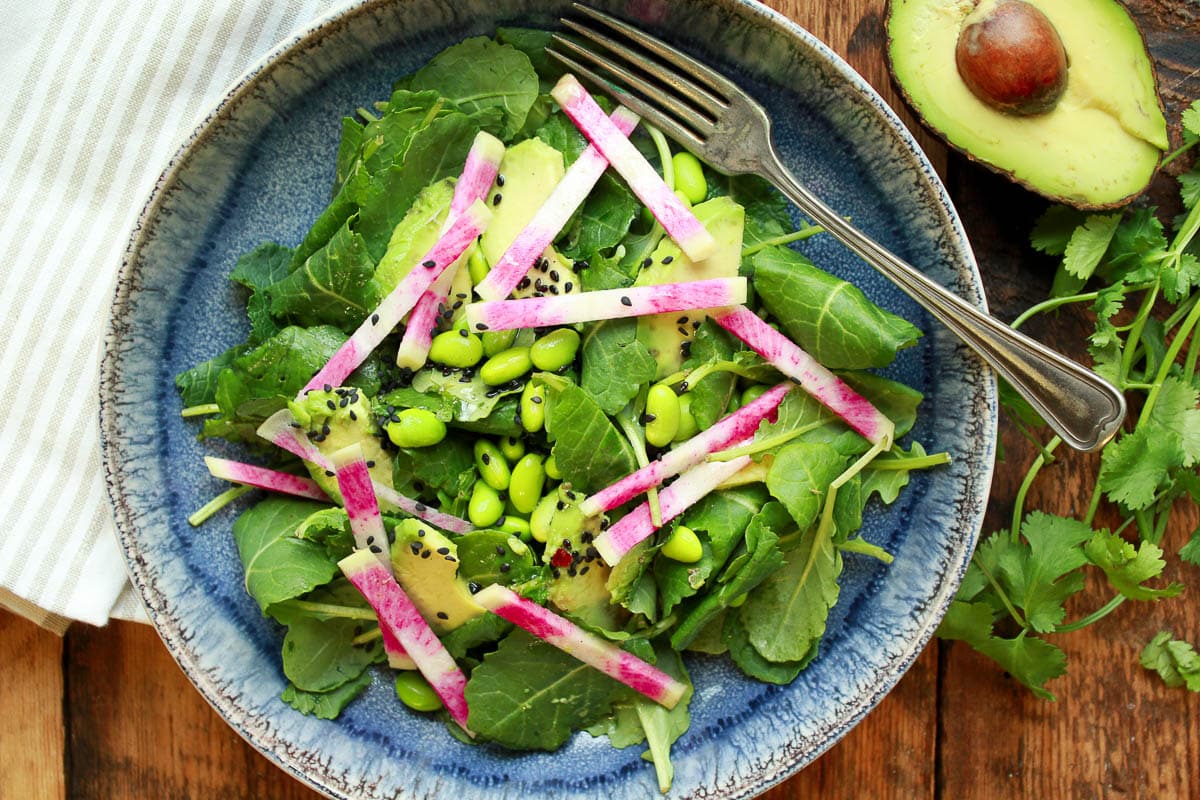 This Avocado Edamame Kale Salad has "healthy" written all over it! From the nutrient-rich avocados to the leafy kale loaded with Vitamins C and K, this salad is perfect as a side, or as a main dish with a protein. You're going to love the tangy cilantro-lime vinaigrette!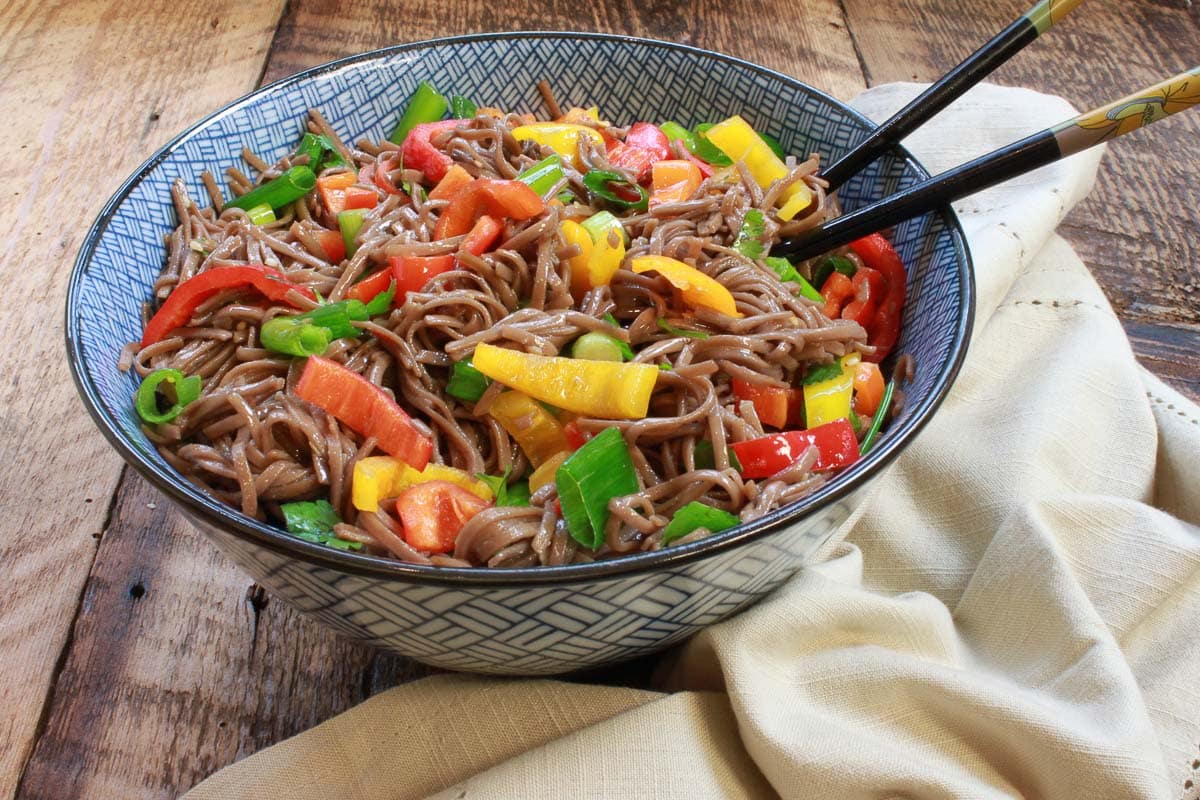 This vibrant Soba Noodle Salad recipe is chock full of colorful bell peppers and tossed in a light peanut soy sauce. Served cold or at room temperature, this salad feeds an army! The gluten-free soba noodles are just perfect in this easy, Japanese dish.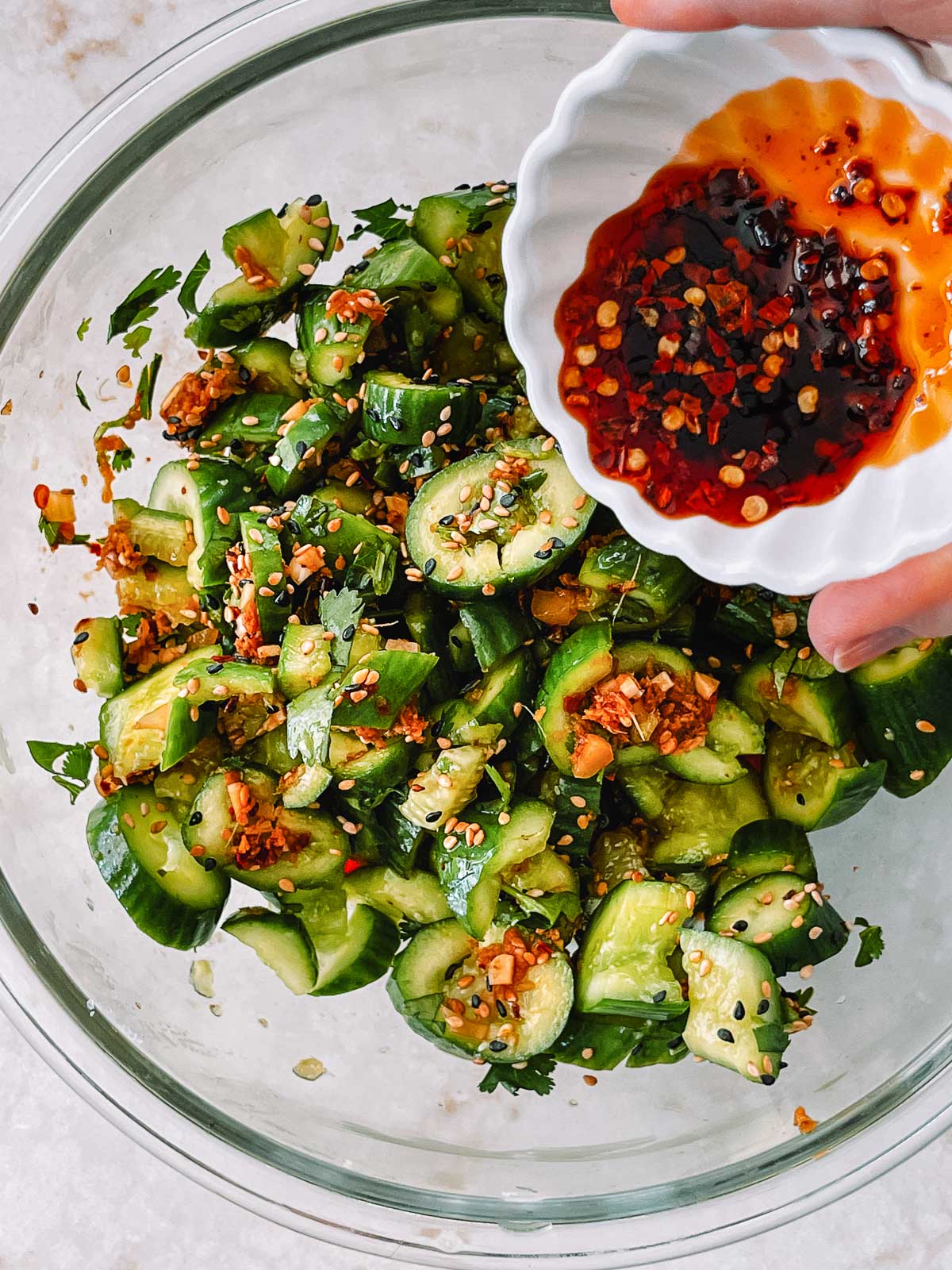 This popular Chinese Smashed Cucumber Salad is so healthy and refreshing. The zingy dressing combines fresh garlic and ginger with Asian sauces and spicy hot chili oil. It's a lovely flavor-bomb finish to this easy and healthy cucumber salad!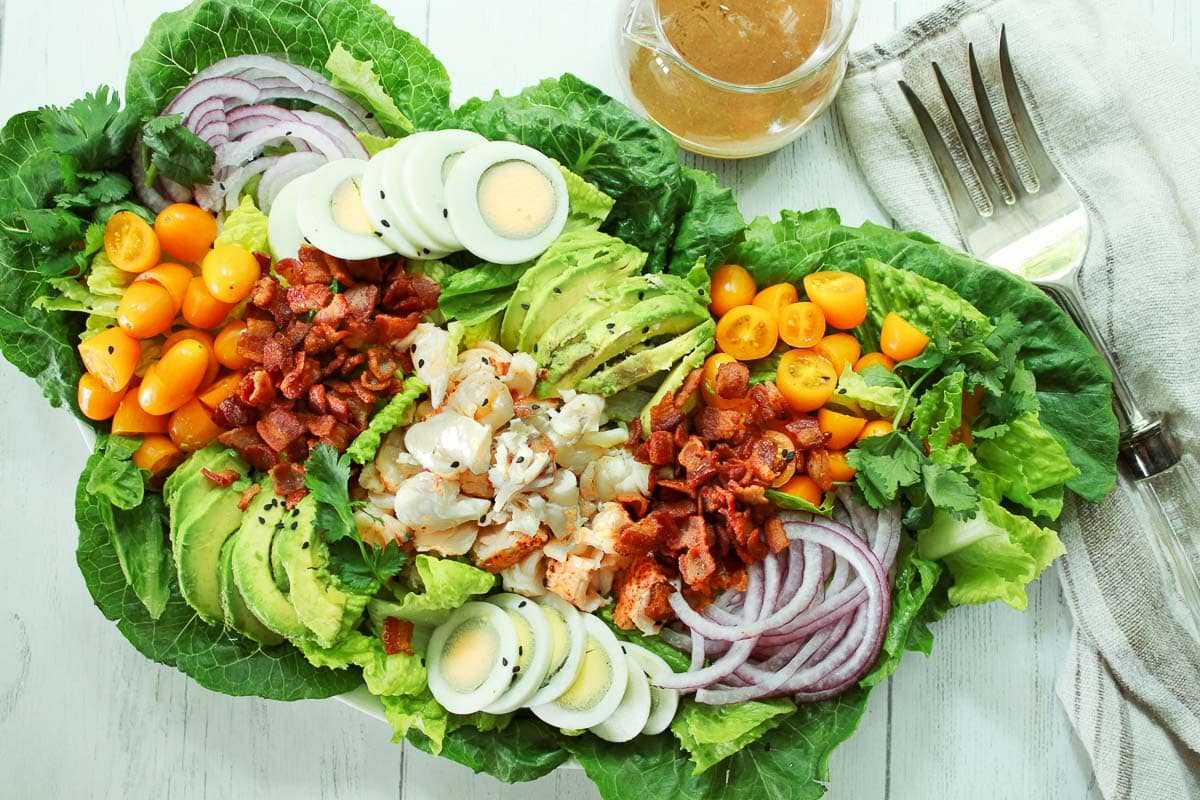 This vibrant and healthy Lobster Cobb Salad will transport you to the shores of New England! I gave it my Asian twist, of course, with the addition of Japanese miso dressing. The flavor combos in this salad are to die for!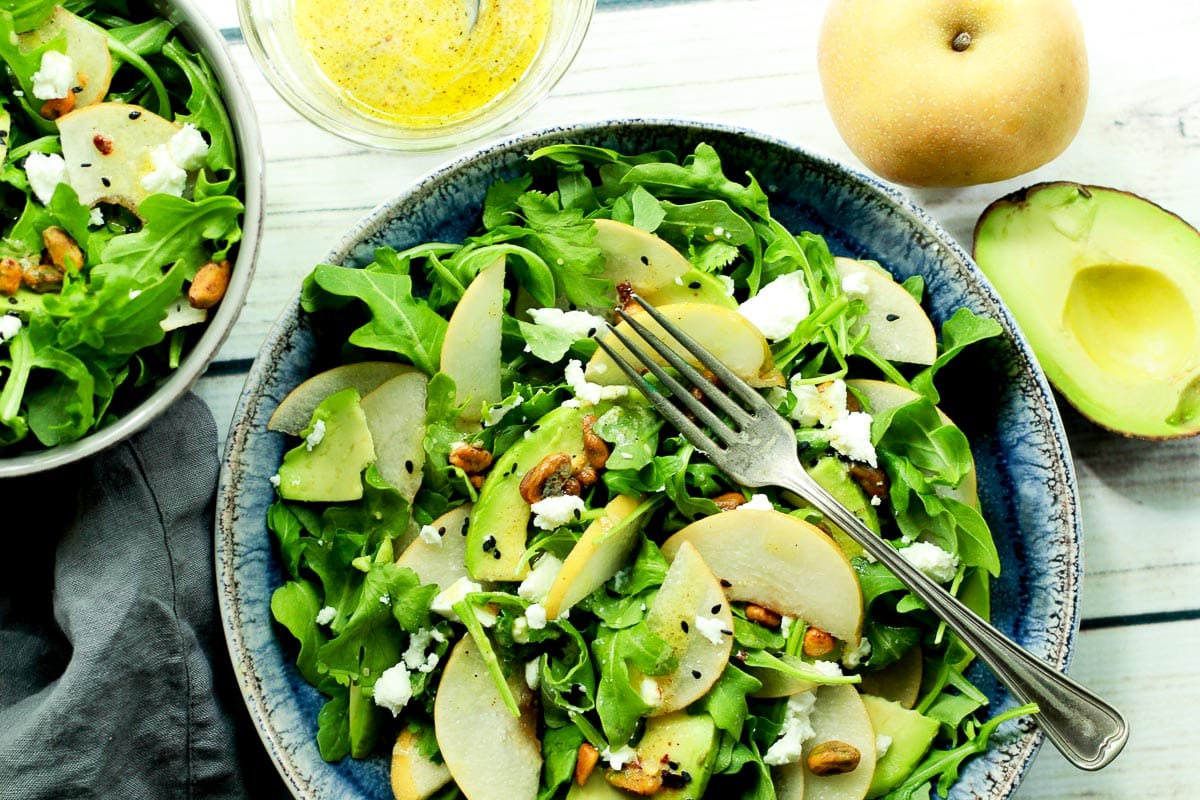 Simple and delicious, this Arugula Salad with Asian Pears has the perfect mix of bitter, sweet, creamy, tangy, and crunchy! Topped with avocados, pistachios, goat cheese, and a tangy lemon vinaigrette, this easy and healthy salad is perfect for lunch or dinner, and on the table in just 15 minutes!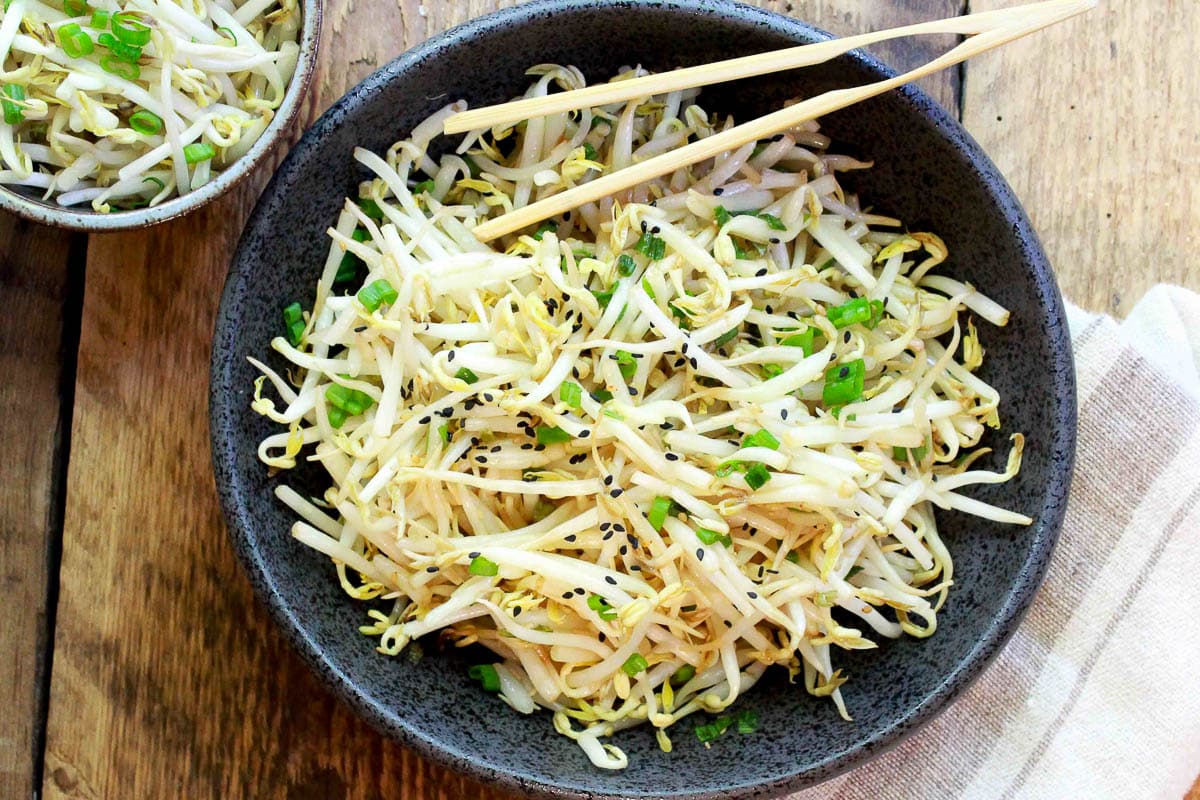 This quick and easy Japanese Bean Sprouts Salad is the perfect side dish for sushi or a healthy afternoon snack! Bean sprouts are tossed with green onions, sesame oil, soy sauce, garlic, and rice vinegar, in this light and refreshing recipe.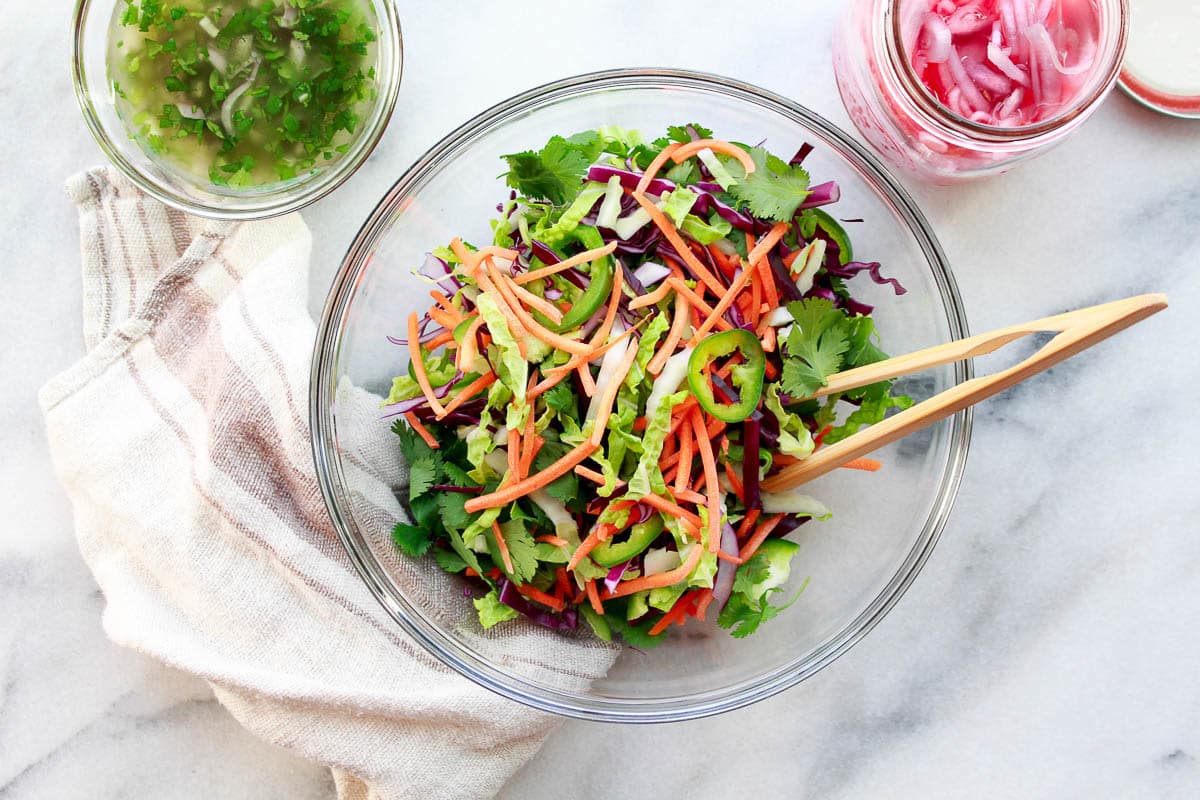 Tangy, sweet and spicy, this Asian Slaw with Nuoc Cham Dressing is perfect as a side dish or on top of any protein like fish, burgers, or chicken! Nuoc Cham is a staple at most Vietnamese tables. This magic sauce goes great with so many proteins. Easy to prepare, you can whip this up in about 10 minutes!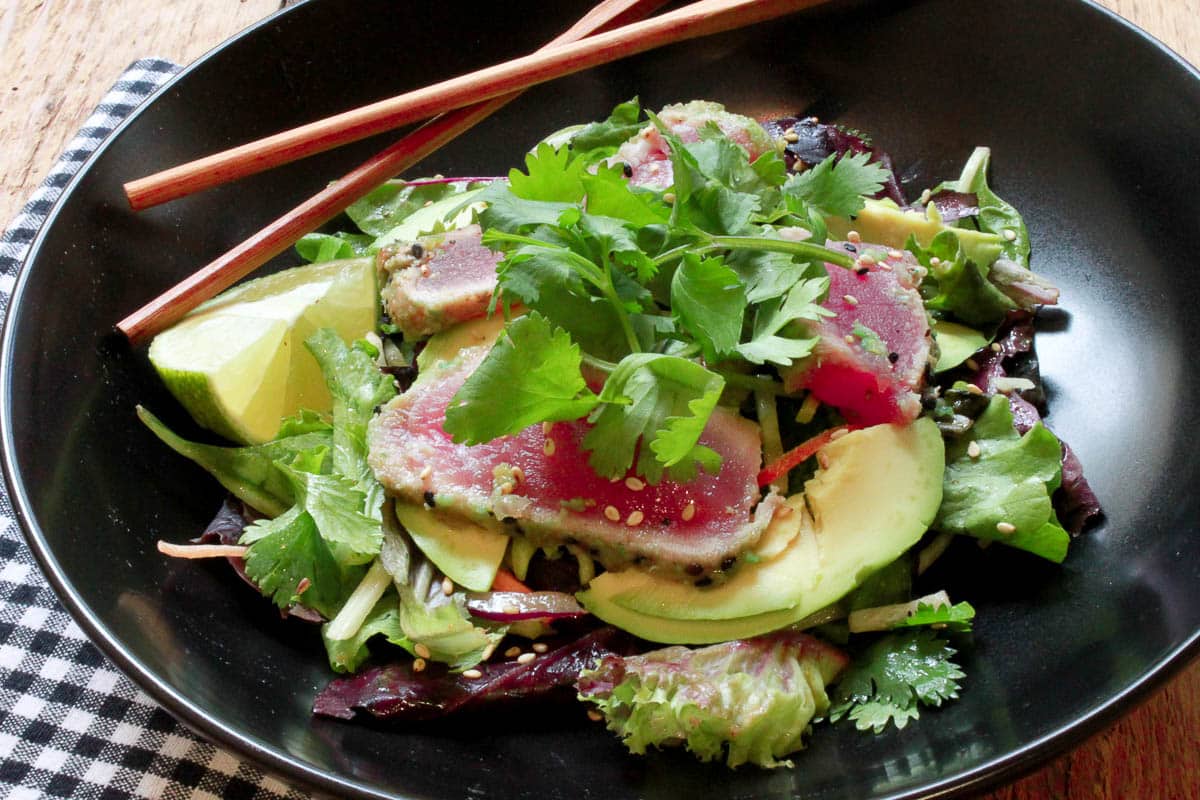 This light and refreshing Seared Tuna Salad with Miso Dressing is perfect for lunch or dinner. It's a fantastic, 20-minute salad that has "healthy" written all over it. And, it's beyond easy to prepare! Look at those beautiful rare slices of seared, sesame-coated ahi tuna. This fish literally melts in your mouth!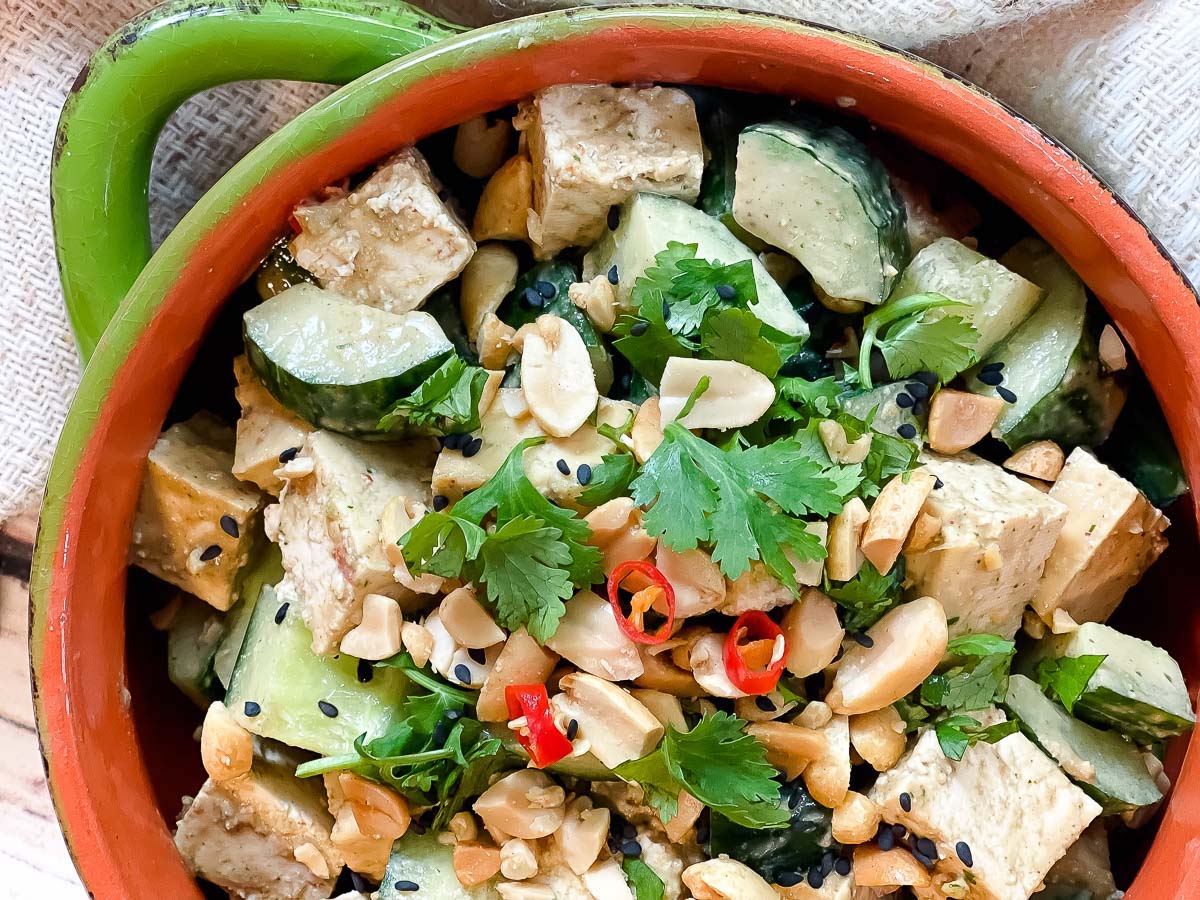 This show-stopping Spicy Asian Tofu Salad is tossed in a creamy, tangy, spicy peanut dressing that's bursting with Asian flavors! This delicious, vegan tofu salad recipe is the perfect way to spice things up while keeping your healthy eating goals!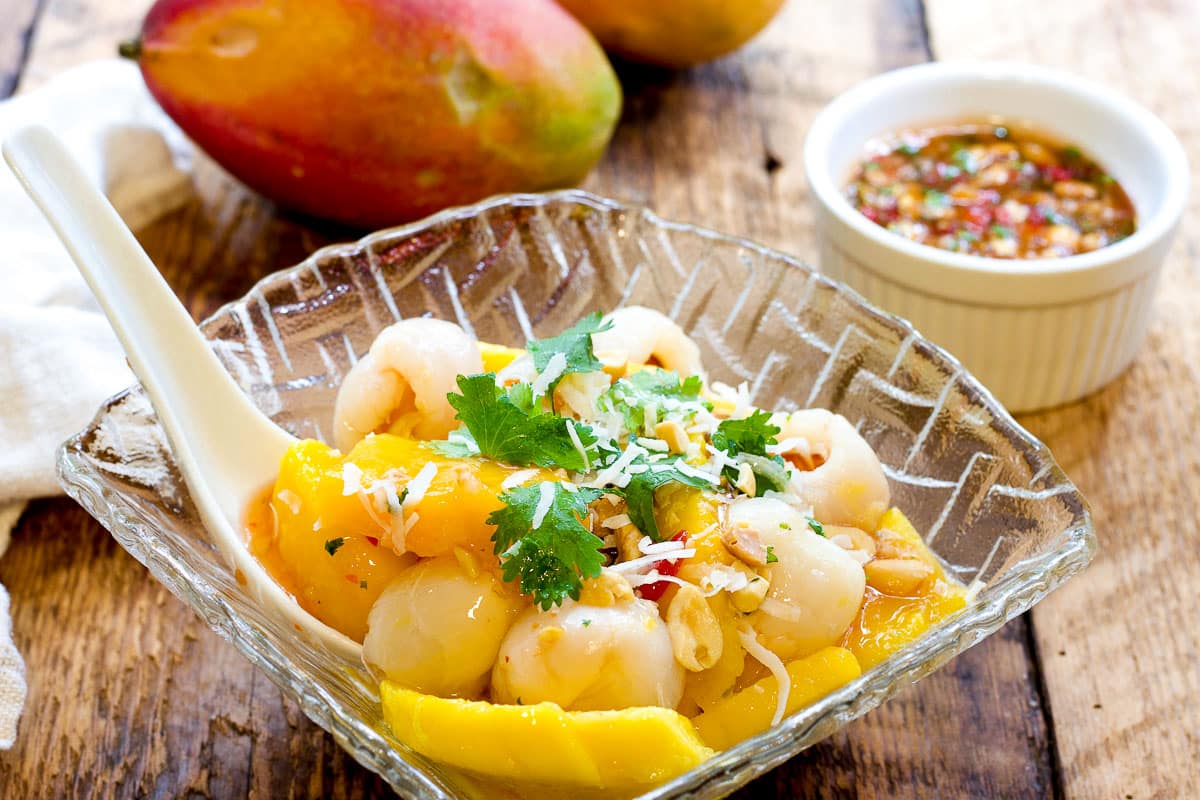 The sweet and spicy sauce is the star of this tropical Thai Mango and Lychee Salad! This refreshing salad hits all the right flavor notes with its luscious mango slices and sweet lychees, crunchy peanuts, and toasted coconut flakes.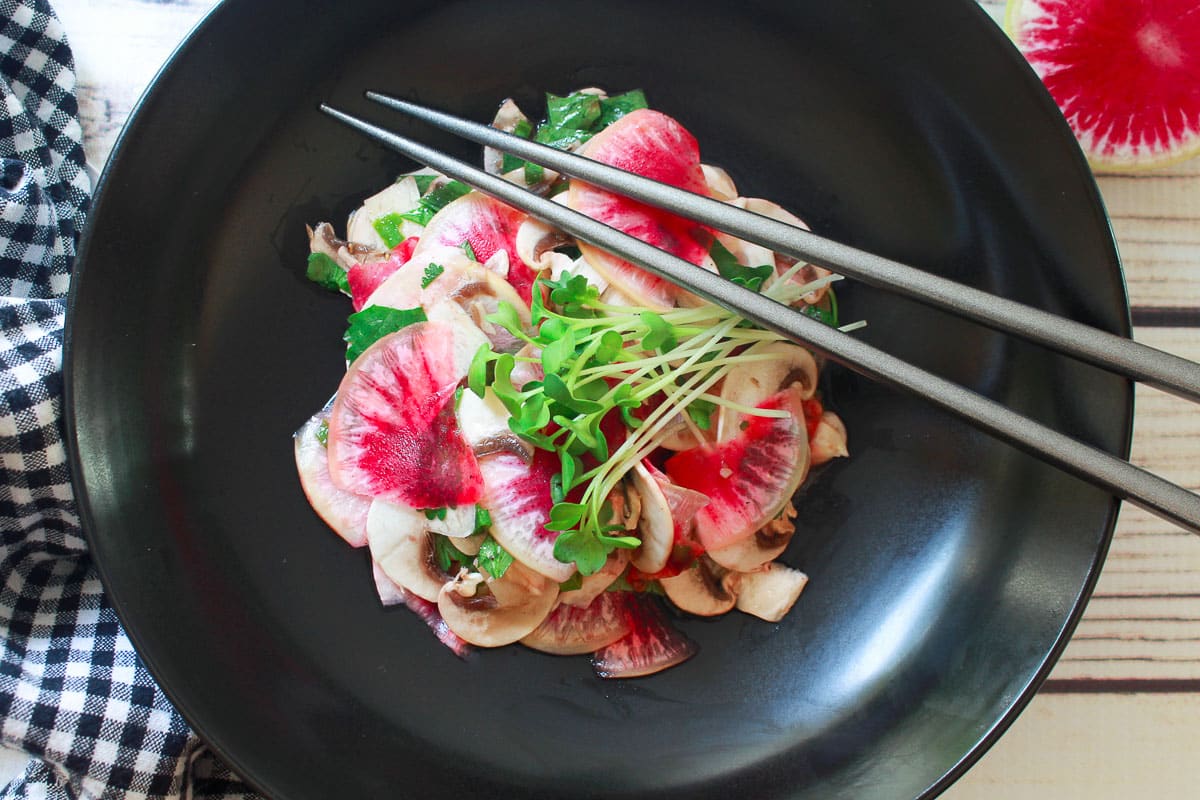 Shaved rainbow radishes are so vibrant in this colorful salad, combined with thinly sliced button mushrooms, and a tangy, zesty vinaigrette. This easy, Asian-inspired recipe is a quick, 15-minute side dish that's refreshing, delicious, and healthy!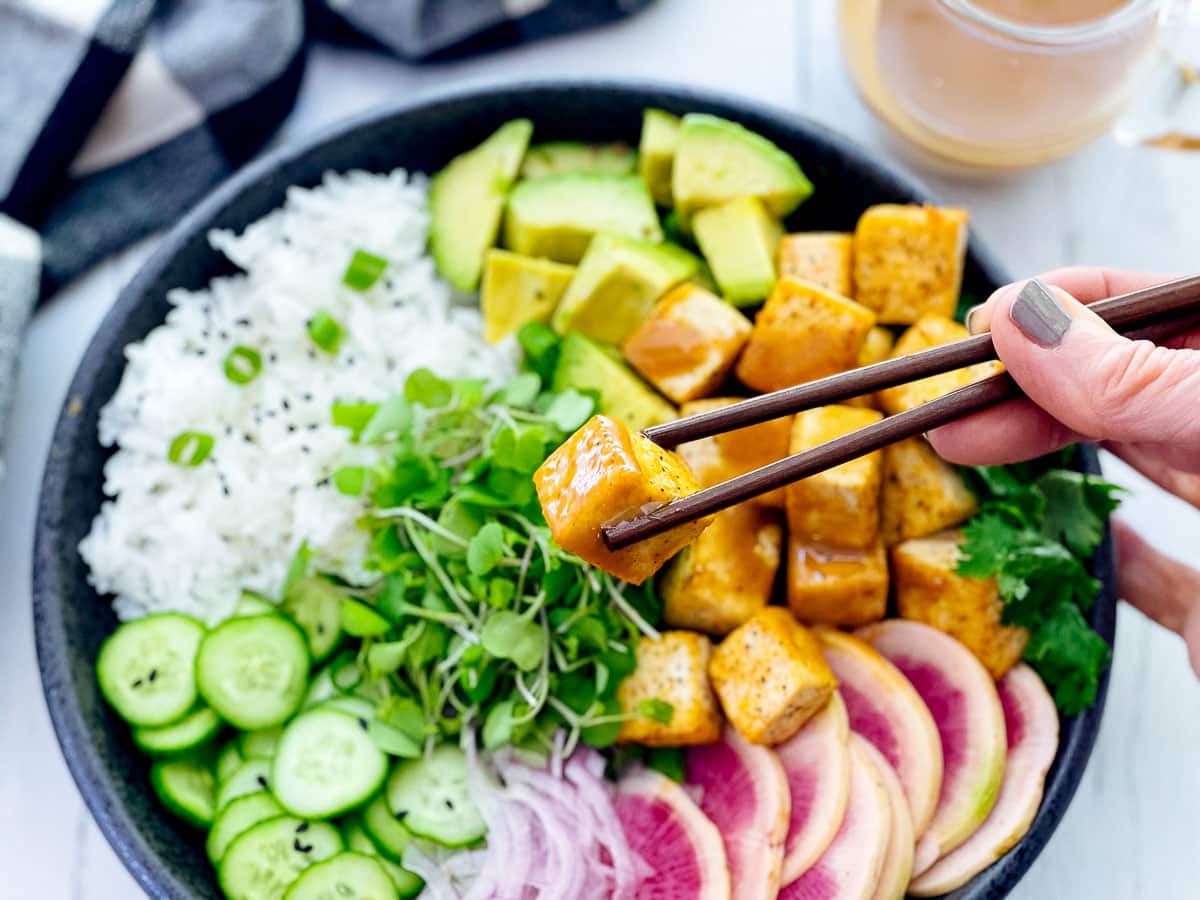 This delicious, vegetarian Seared Miso Tofu Poké Bowl features seasoned, wok-seared tofu, crisp veggies, and avocados, served over sticky white rice, and drizzled with a tangy sweet miso ginger dressing.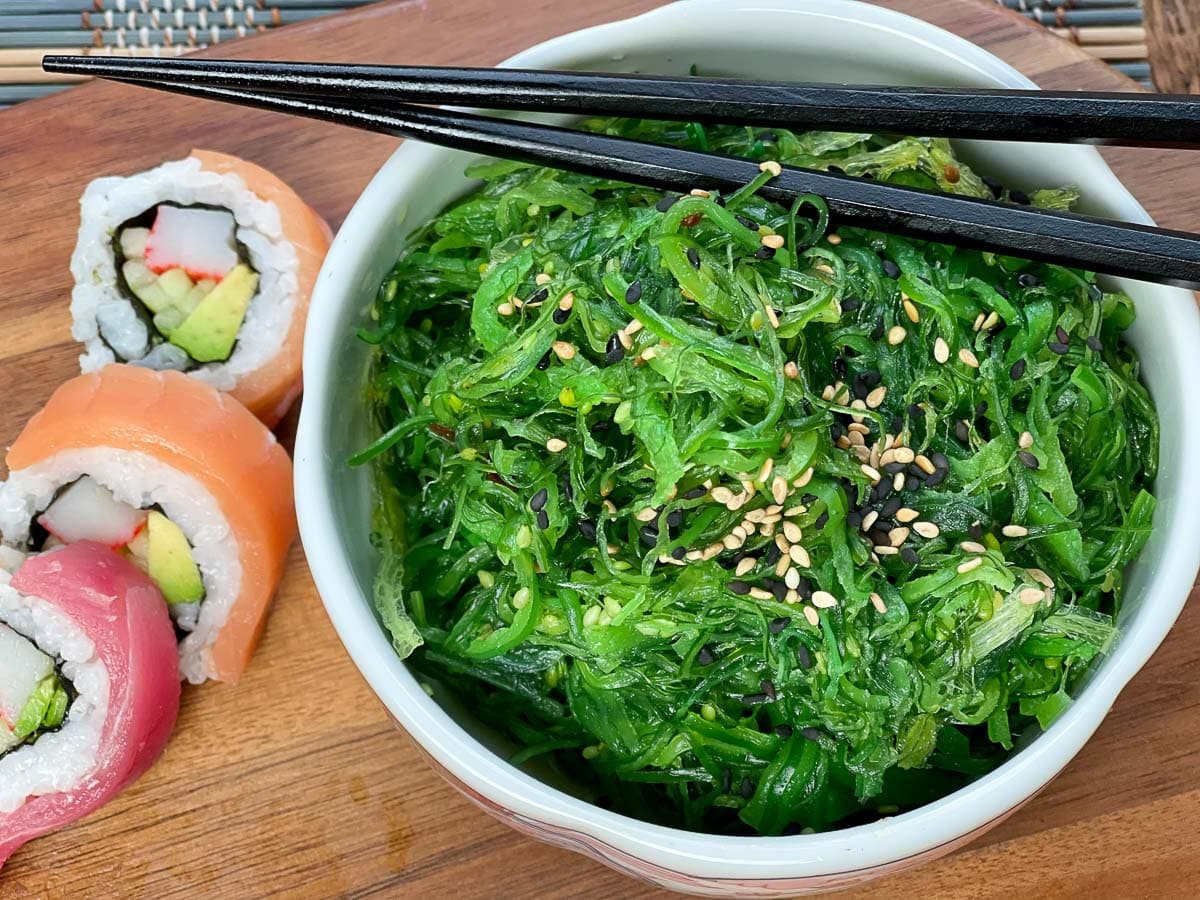 This restaurant-style Japanese Seaweed Salad (a.k.a. "wakame") is perfect when paired with a tray of sushi, or your favorite Asian soup, like Japanese Miso Soup. You can make this at home in your kitchen in just 10 minutes!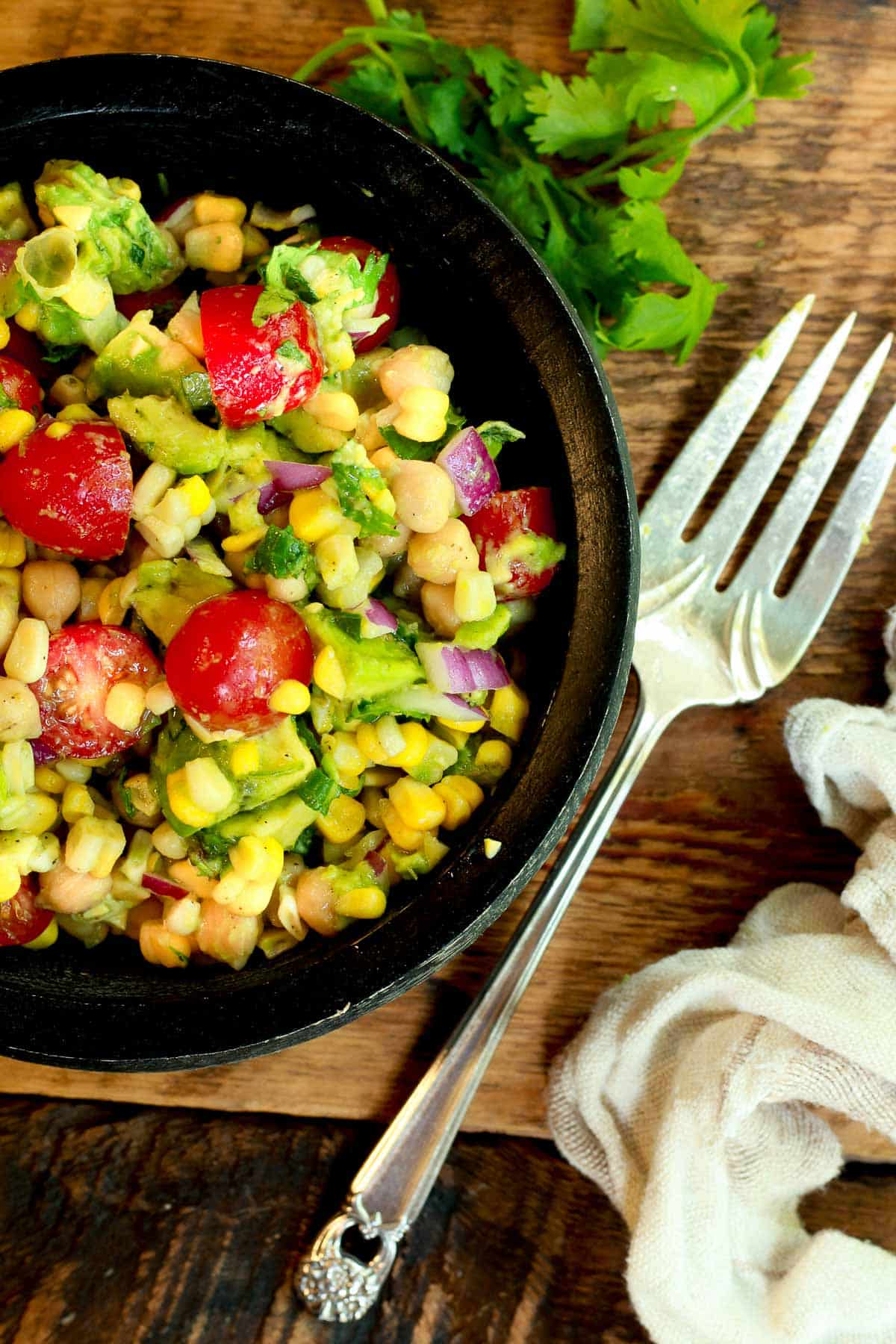 This bright and delicious Sweet Corn and Avocado Salad has so much flavor from the lemony Yuzu vinaigrette. This healthy salad is very addictive, so make sure to make a huge batch for the entire week!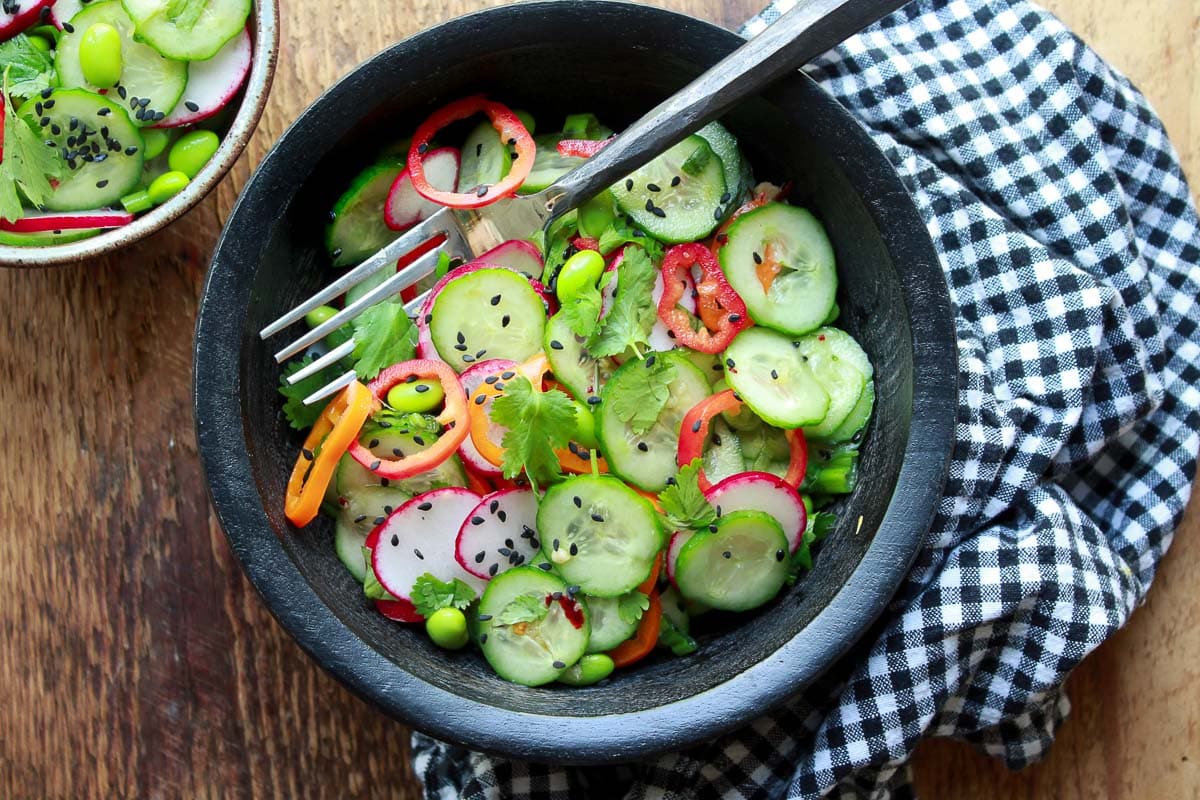 My body craves this light and vibrant Healthy Asian Cucumber Salad featuring bright flavors, exciting textures, and the play of sweet, sour, and salty happening in so many ways! This simple, healthy salad has crunchy Persian cucumbers, radishes, colorful bell peppers, green onions, and edamame, tossed in a Japanese yuzu juice vinaigrette.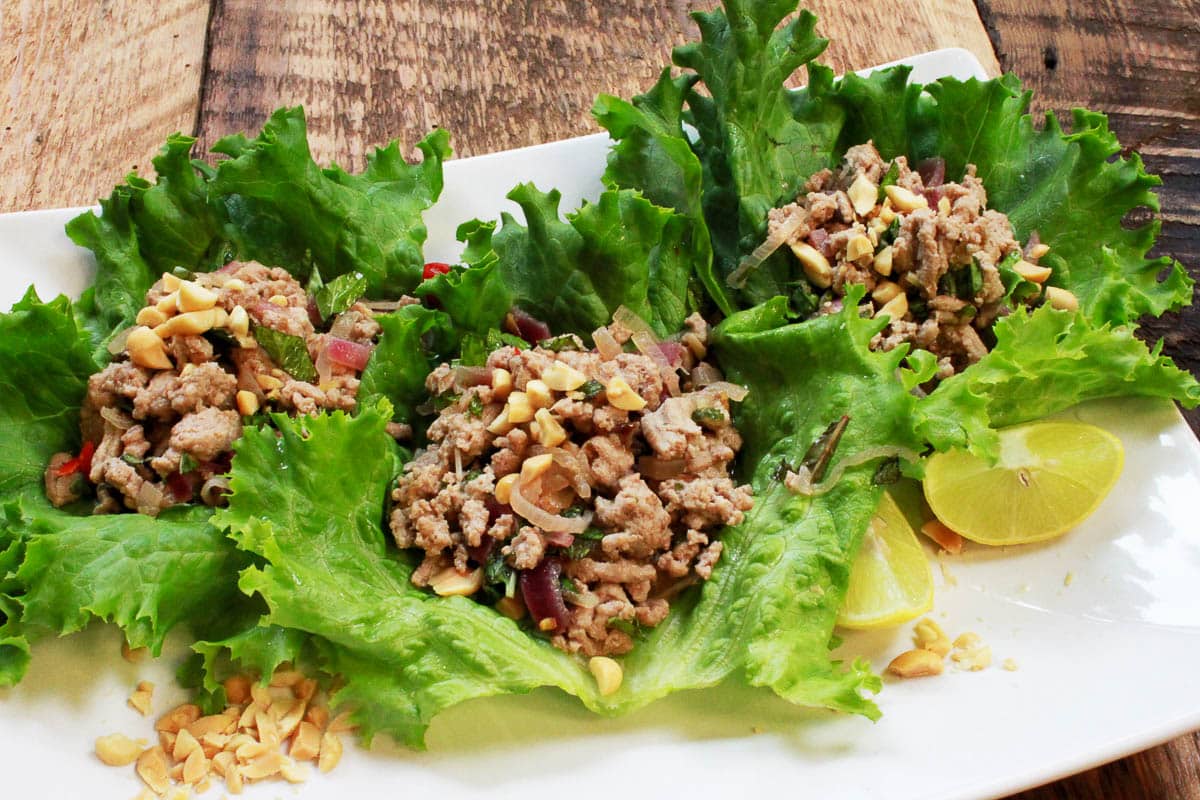 Asian Turkey Lettuce Wraps are a healthy, Thai-inspired meal the whole family will love! The quick and easy, tangy, aromatic dressing is key here with chopped mint, lemon and lime juice, fish sauce, soy sauce, and a bit of honey for sweetness.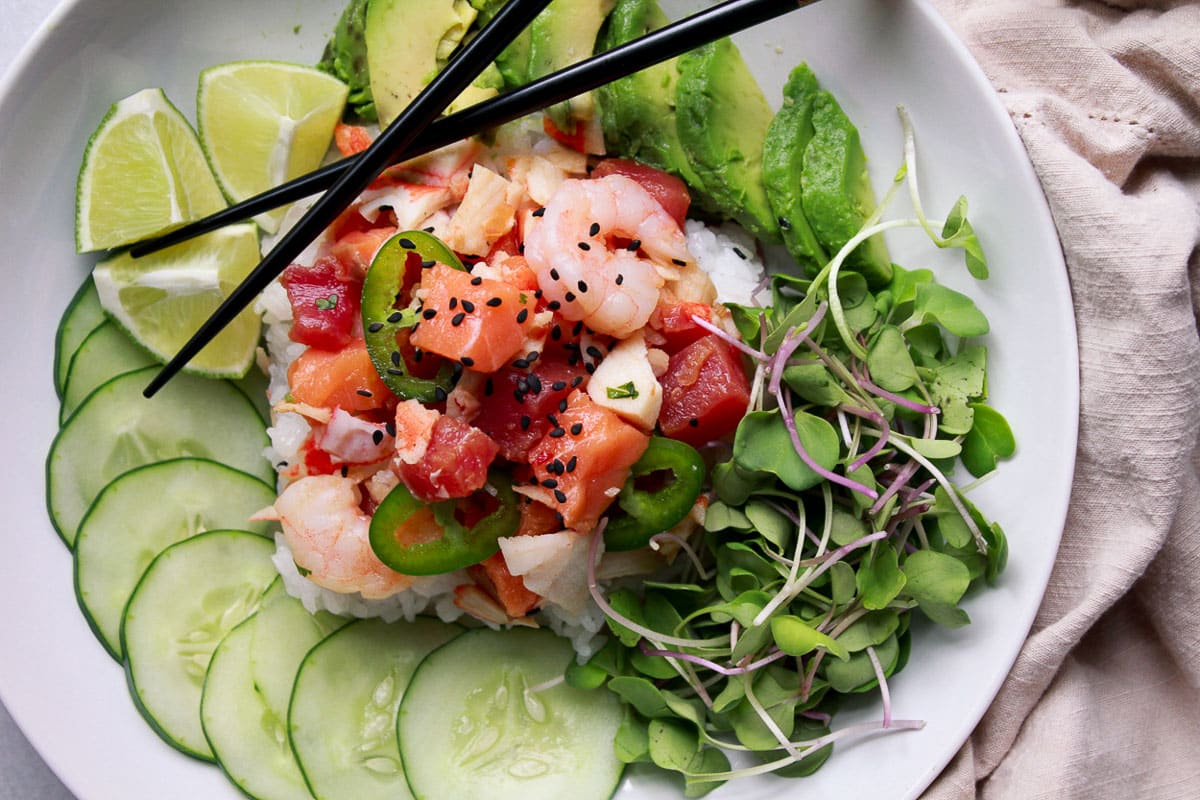 This Mixed Seafood Poké Bowl has everything you ever wanted in a poké salad, with sushi-grade tuna and salmon, crab flakes, and shrimp. Such goodness in one fine bowl! The seafood mix soaks in the flavors of the tangy marinade that will make your tastebuds explode with happiness!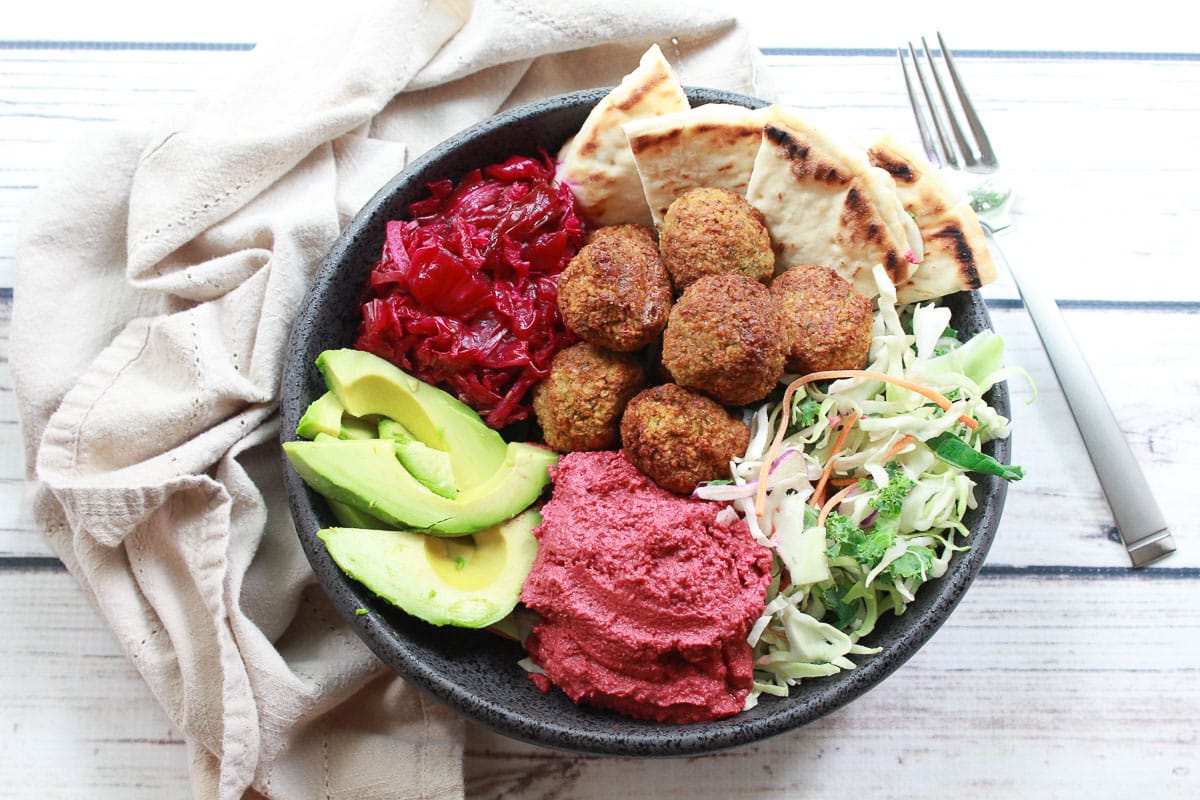 Beautiful and vibrant, this Air Fryer Falafel Bowl is bursting with flavor from the homemade air-fried falafels to the red beet hummus to the Asian slaw to the quick pickled red onions! It's the perfect salad combo!
Want more healthy recipes like this?
If you liked these healthy recipes, you're going to want these recipes too!