Whether you're looking for classic side dishes, or something a little more creative, you'll find everything you need in this roundup of 27 Best Holiday Side Dishes!
From mashed potatoes to roasted Brussels sprouts to fluffy dinner rolls, and several unique side dishes thrown into the mix, here are some of my favorites that I think you'll love too!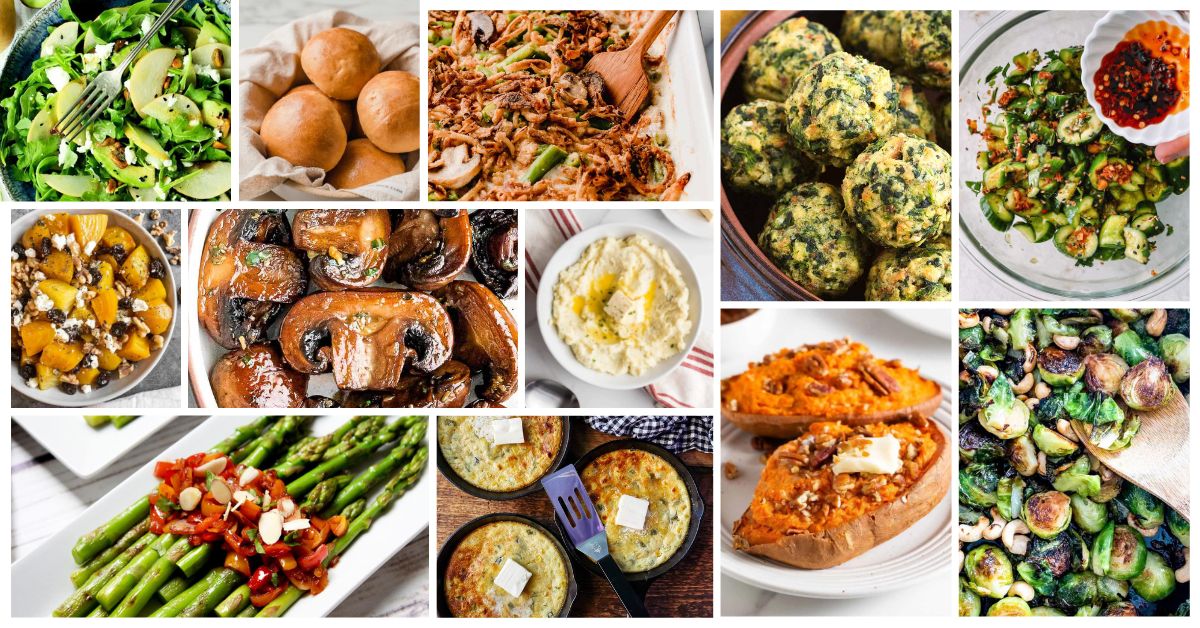 Christmas and Hanukkah are just weeks away! When it comes to my holiday menu, I tend to procrastinate until the week before . (Did I just admit that out loud, LOL!?)
One of the most baffling parts of a holiday menu are the sides. I'm here to help with that! Check out these easy, delicious, and best holiday side dishes that will elevate your holiday menu to a whole new level! Let's get cooking!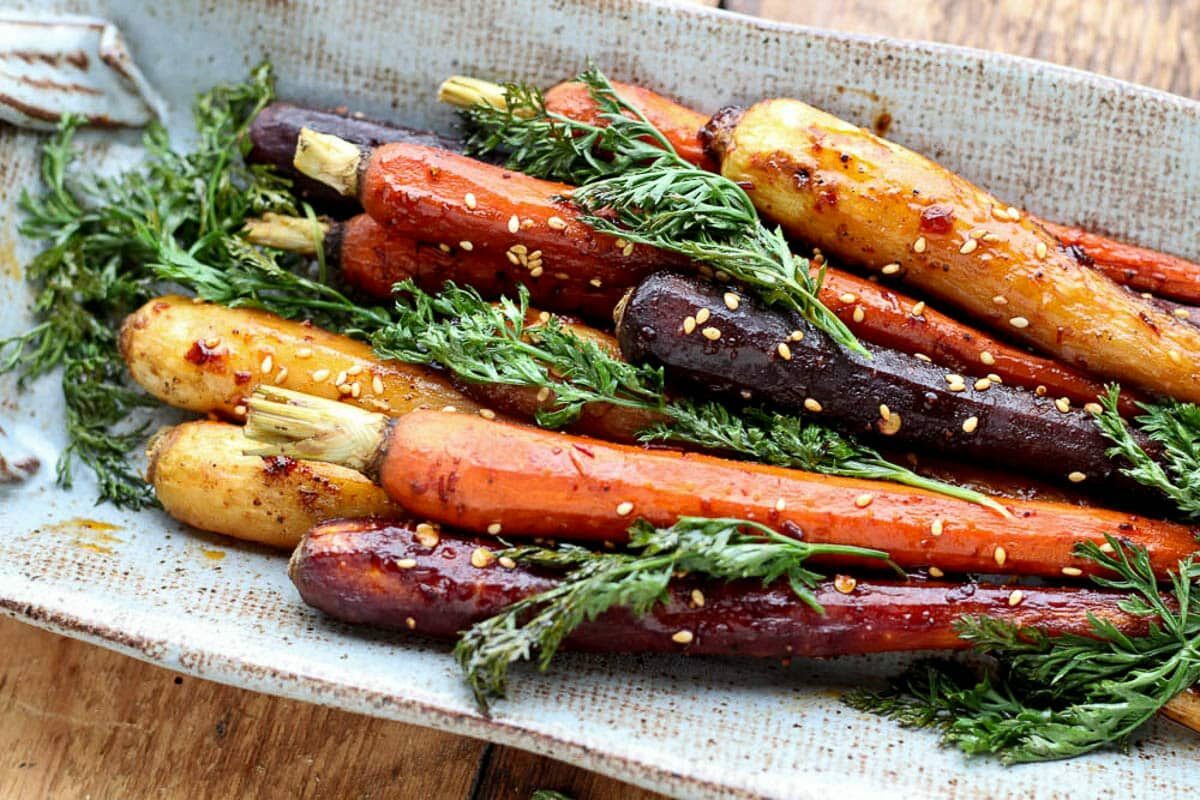 These Roasted Rainbow Carrots with a sweet and spicy Asian sauce pop with color, are so flavorful, and roast beautifully in your oven. The sweet and spicy sauce is a combination of soy sauce, sambal oelek (red chili paste), maple syrup, sesame oil, and lime. These roasted carrots are the perfect side dish with just about any holiday protein!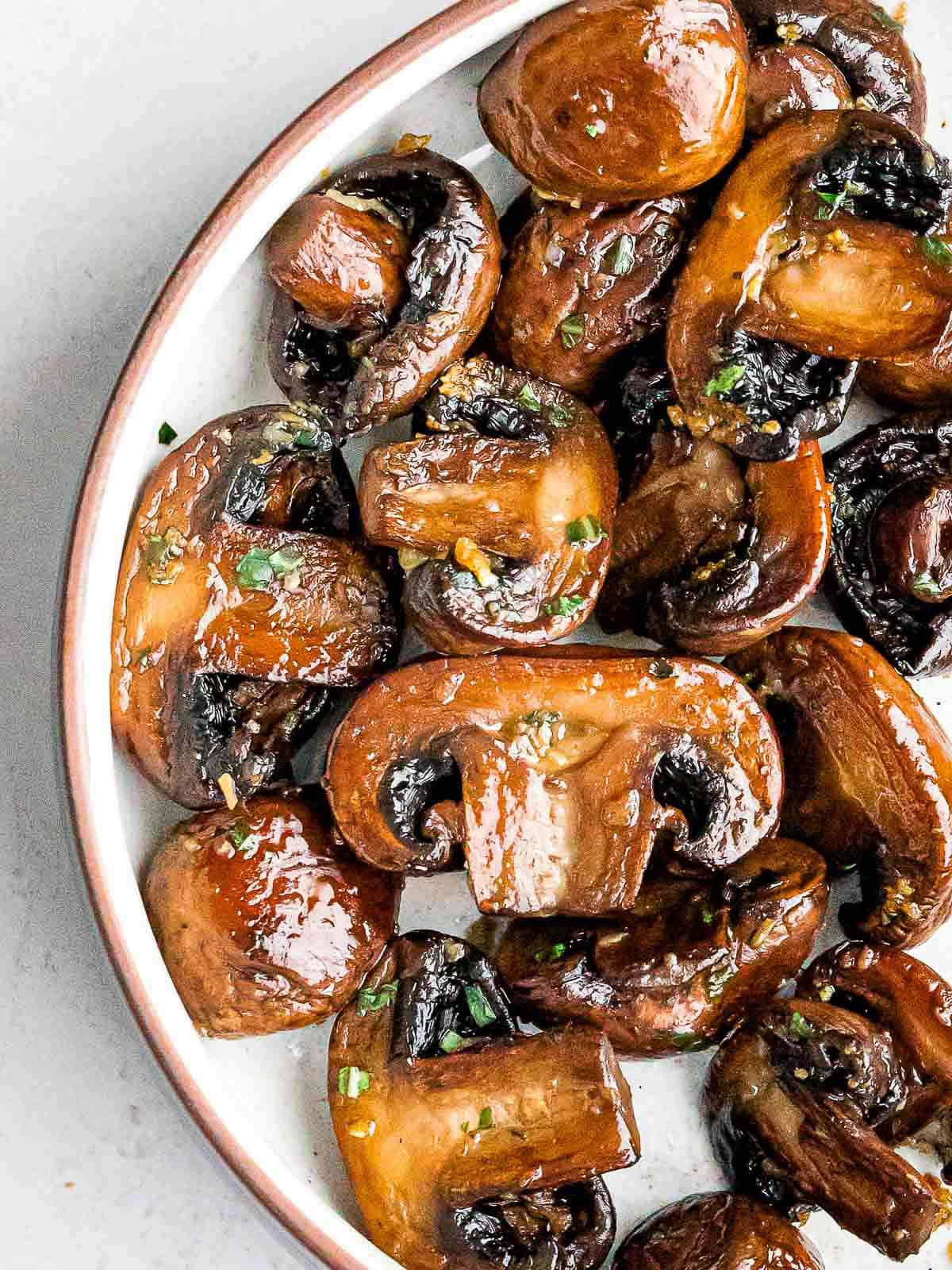 These twice-cooked, Sautéed Mushrooms are full of garlic butter flavor, and so perfect when served with steak or turkey as a holiday side dish for Christmas or Hanukkah. This recipe is so easy too!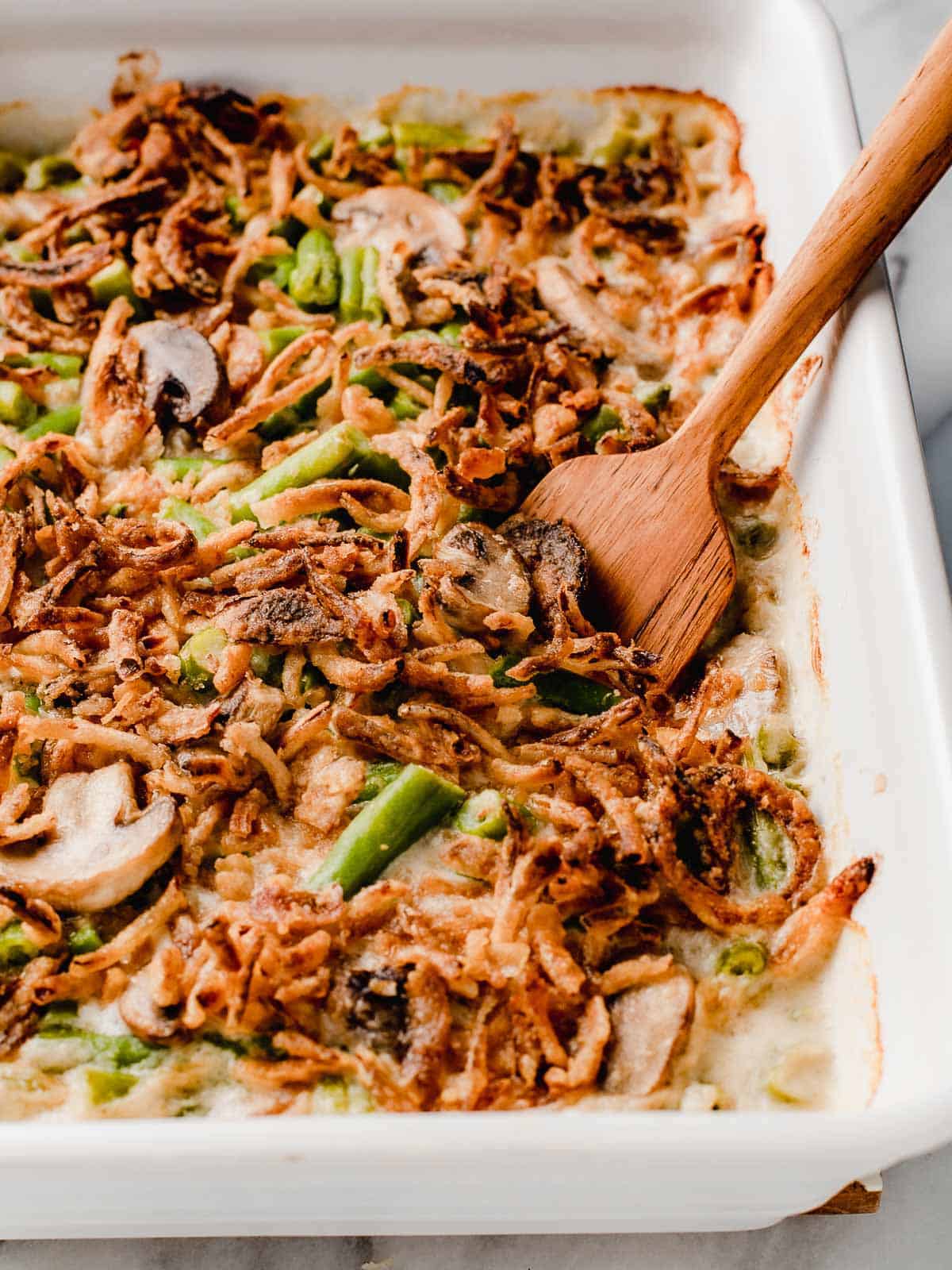 A holiday table is just not complete without a savory green bean casserole! This Easy Green Bean Casserole recipe has no cream of mushroom soup. Instead, everything is made from scratch with fresh or frozen green beans. It's an easy, classic casserole dish for the holidays!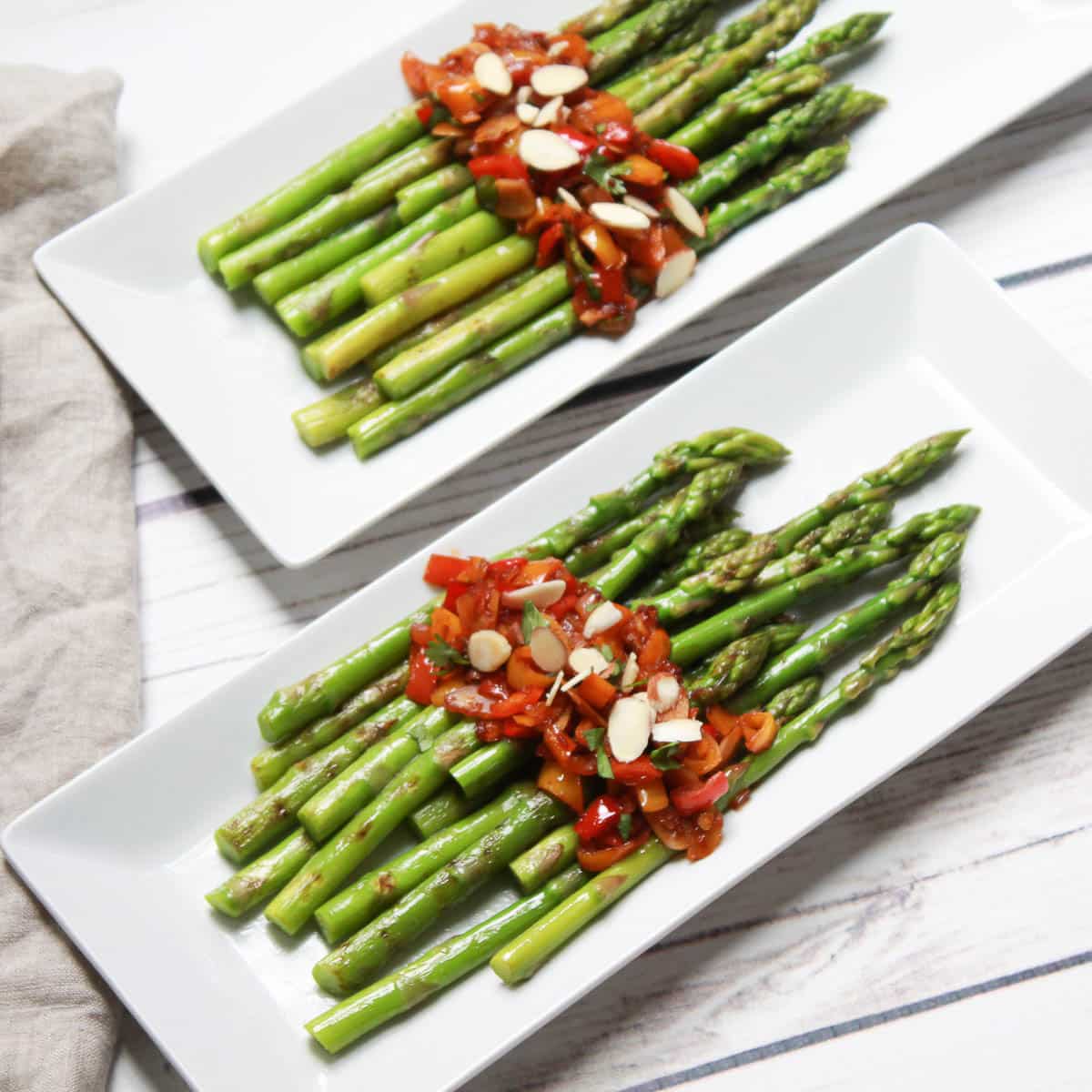 Sweet and Spicy Asparagus! Your holiday guests will be so impressed when you serve these beautifully grilled asparagus spears with a sweet and spicy Asian veggie-pepper sauce. This easy side dish is so perfect for entertaining, and beyond delicious too!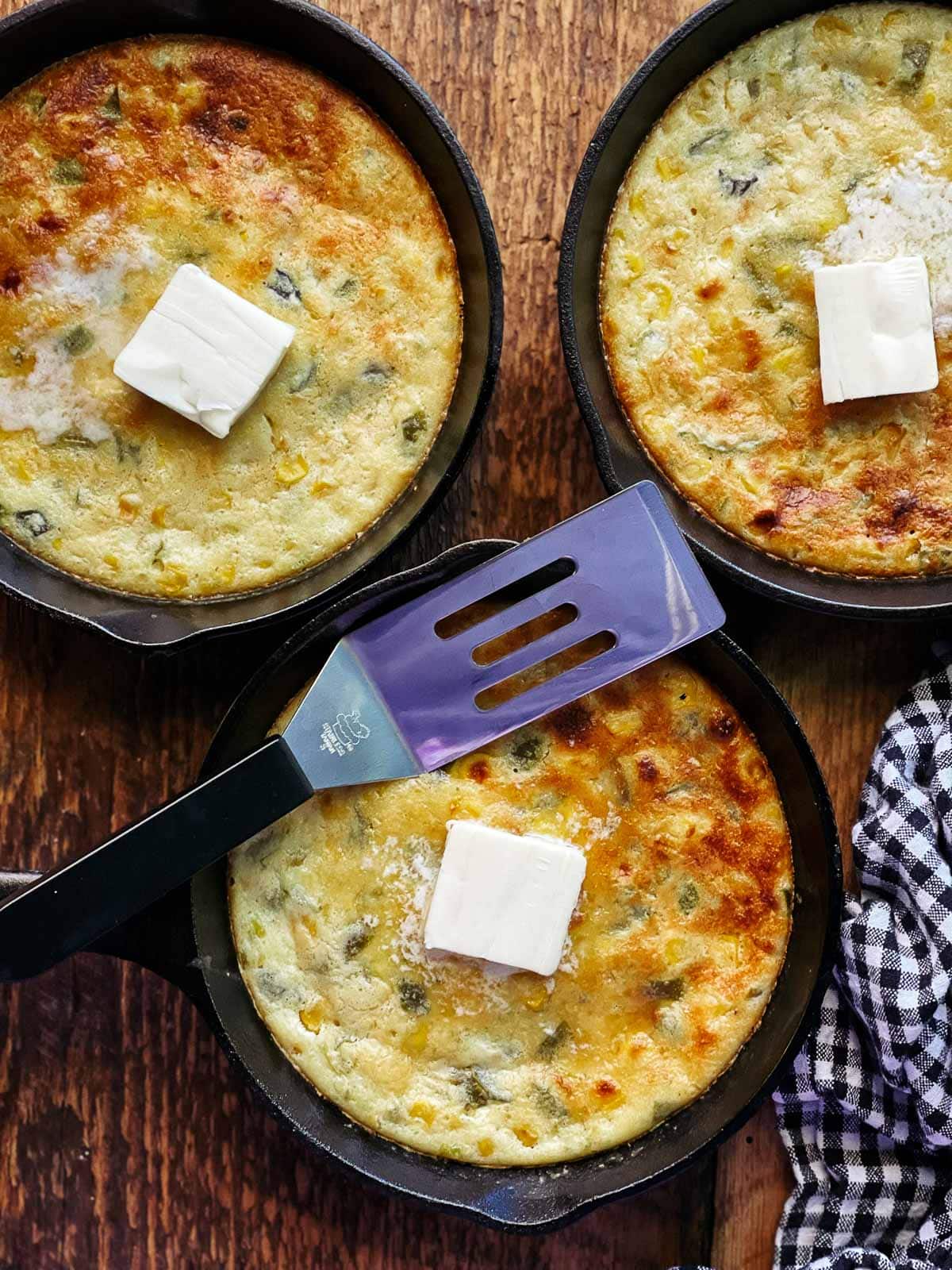 This buttery, golden-brown and creamy Skillet Jalapeño Cornbread is made with boxed corn muffin mix and baked in individual mini cast-iron skillets. It's the ultimate southern side dish with a kick! And these are the perfect individual servings for that rustic holiday table look.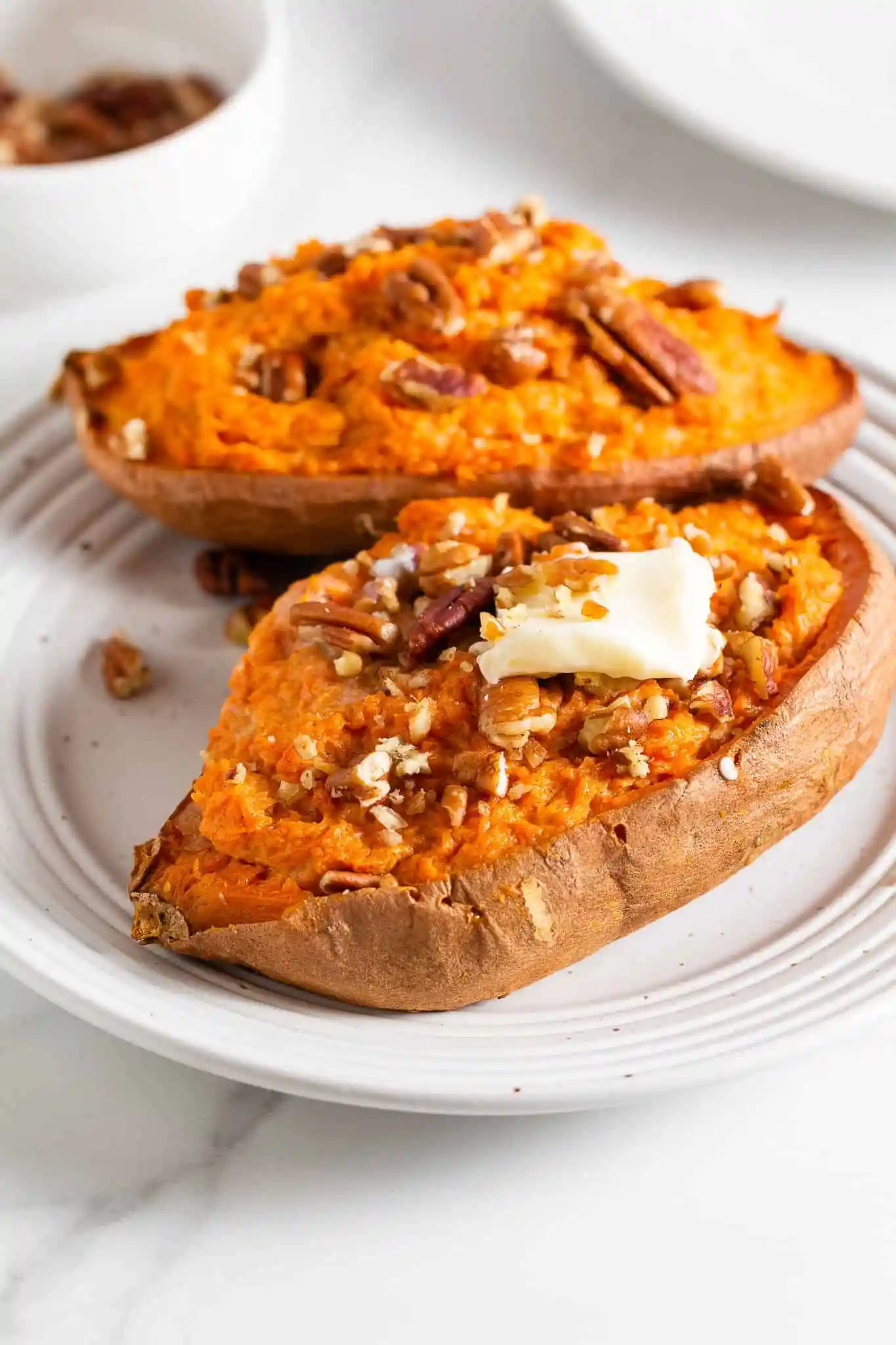 Elevate your holiday table with these Twice Baked Sweet Potatoes featuring crunchy pecans, cream cheese, and a little bit of sweet brown sugar. With only five ingredients, these sweet potatoes will be your new favorite side dish to serve for a crowd!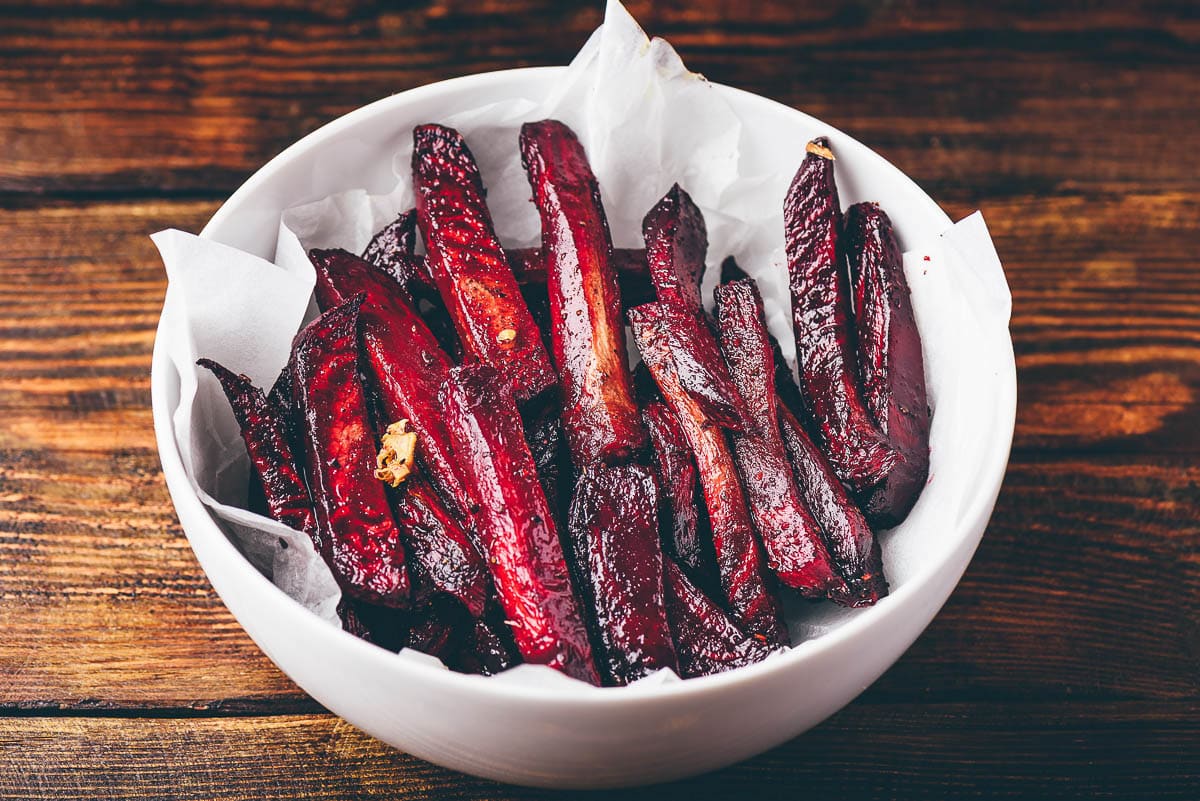 Crispy on the outside, tender on the inside, these Oven Baked Beet Fries are the perfect healthy side dish! Serve these beet fries with my Spicy Aioli dipping sauce for the ultimate, crispy accompaniment to your holiday protein!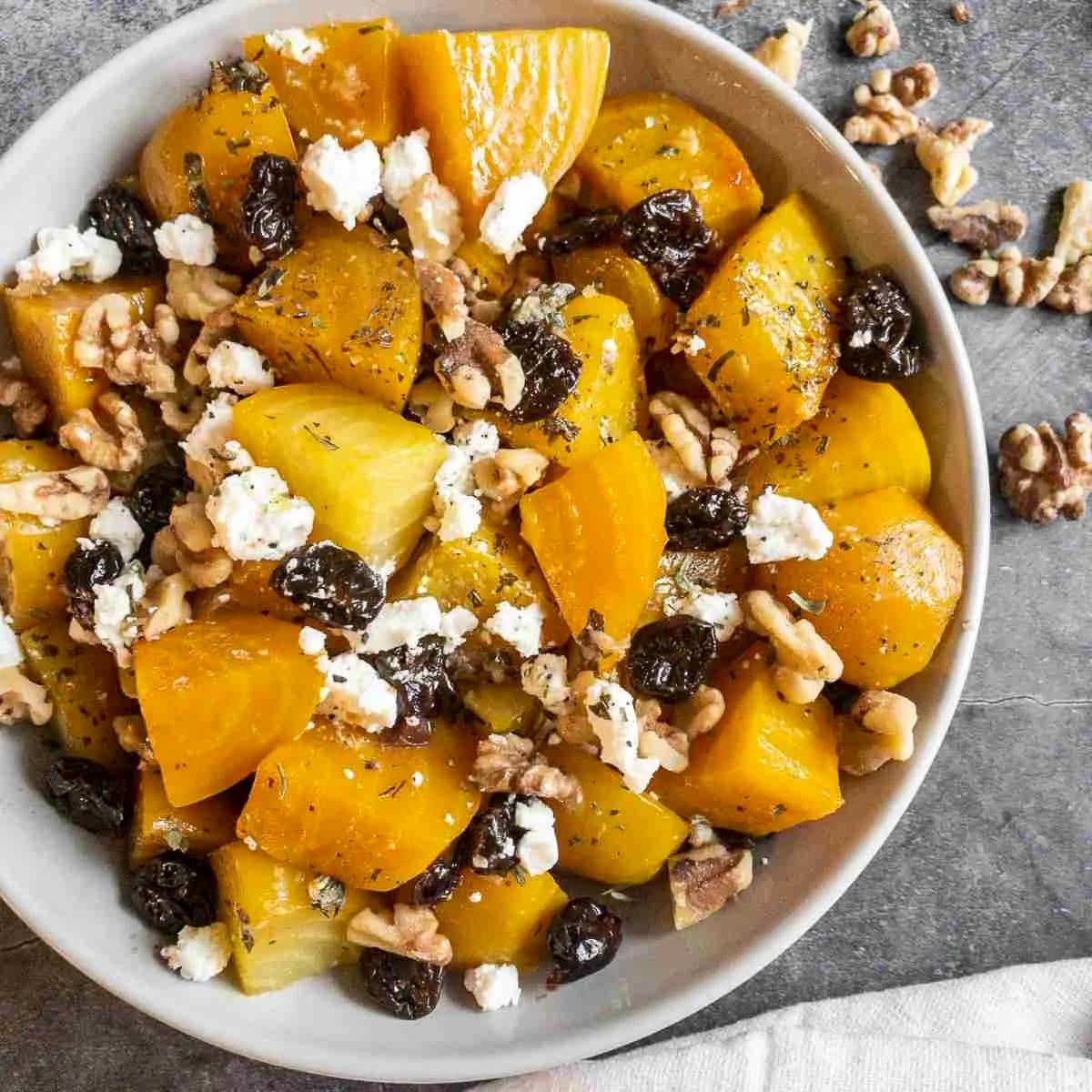 These Golden Roasted Beets are about to be your new favorite side dish! Sweet golden beets are roasted with honey and lemon, and topped with cherries, walnuts, goat cheese, and tossed in a tarragon, brown butter vinaigrette. Absolutely scrumptious!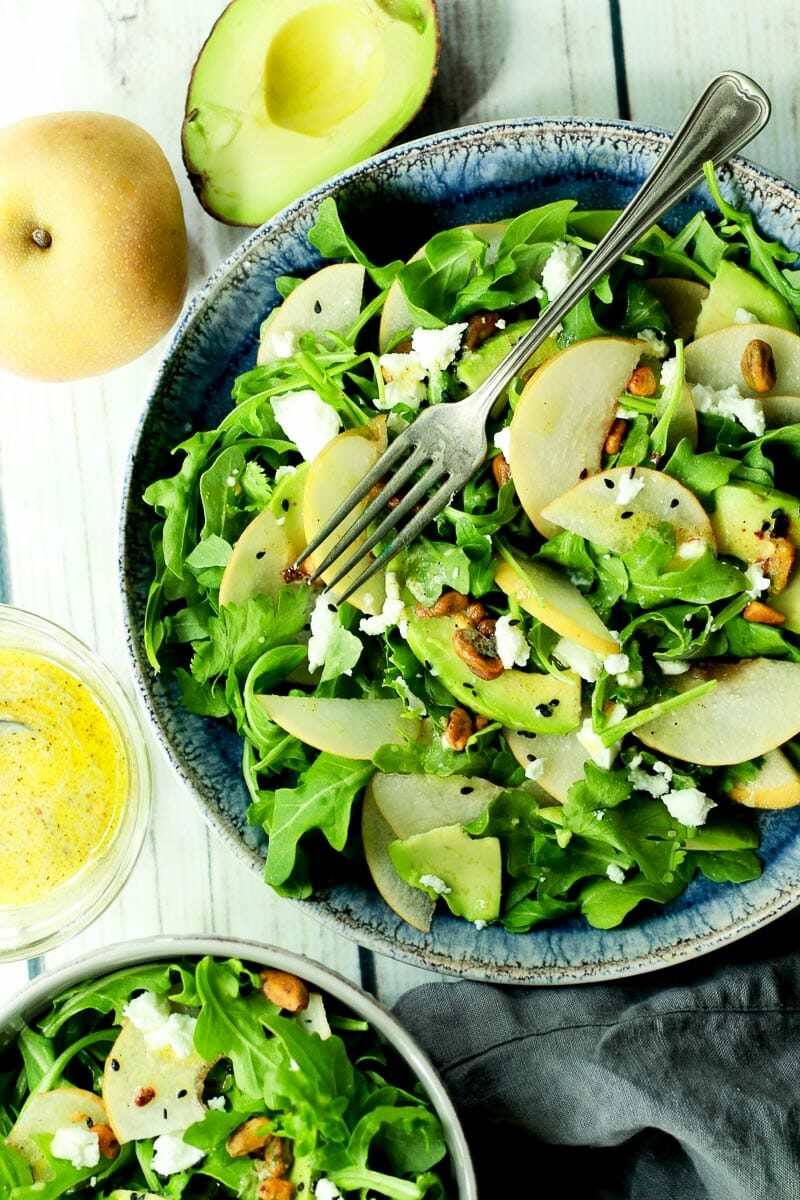 This tasty Arugula Salad with Asian Pears is topped with avocados, pistachios, goat cheese, black sesame seeds, and a tangy lemon vinaigrette. Simple and delicious, this salad has the perfect mix of bitter, sweet, creamy, tangy, and crunchy. It's the perfect holiday salad, and comes together in just 15 minutes!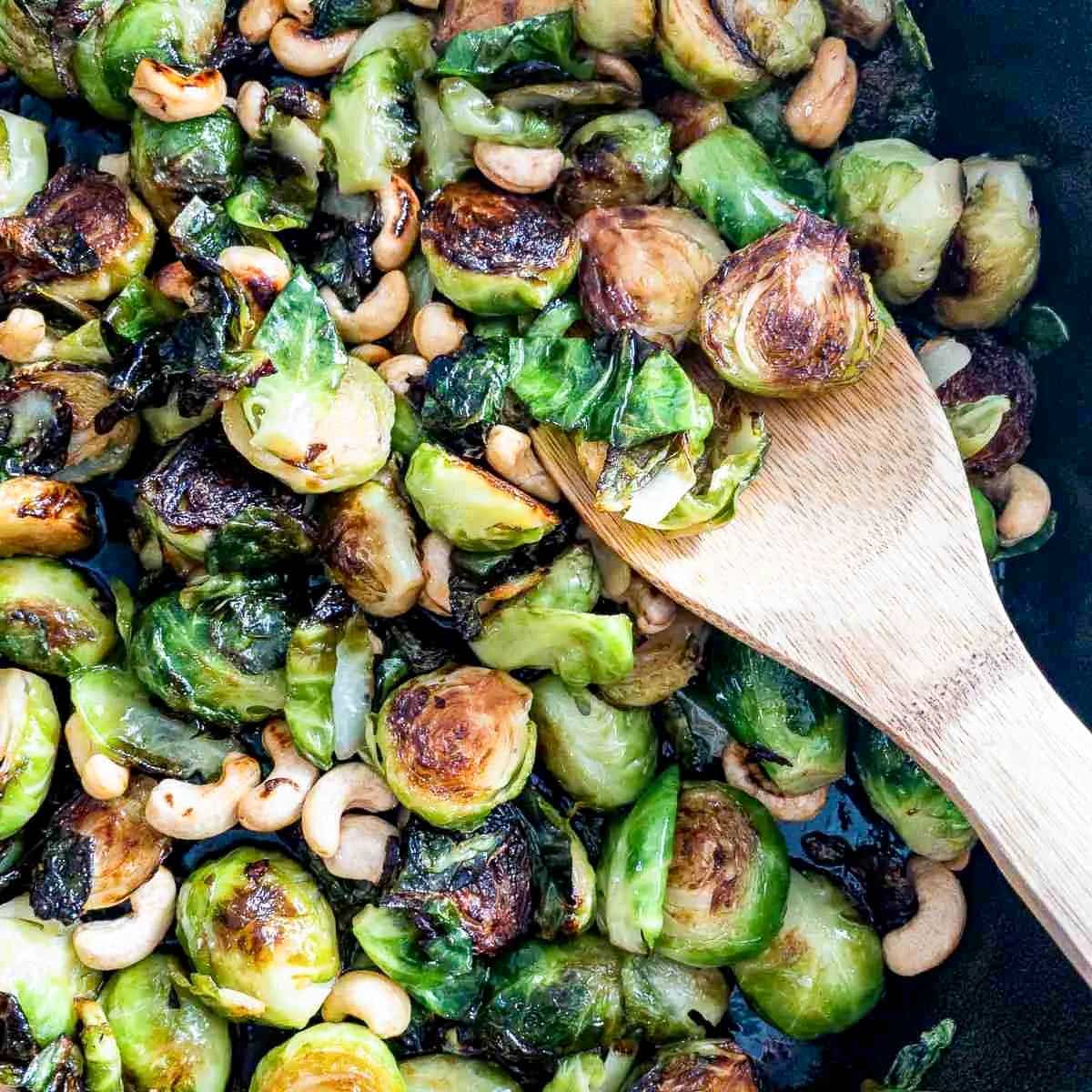 These Honey Sriracha Brussels Sprouts are the perfect side to jazz up your holiday table! They're crispy, spicy, sweet, and savory. These pan-seared Brussels sprouts are tossed in a honey Sriracha sauce for a slight kick, and topped with cashews for that extra crunch!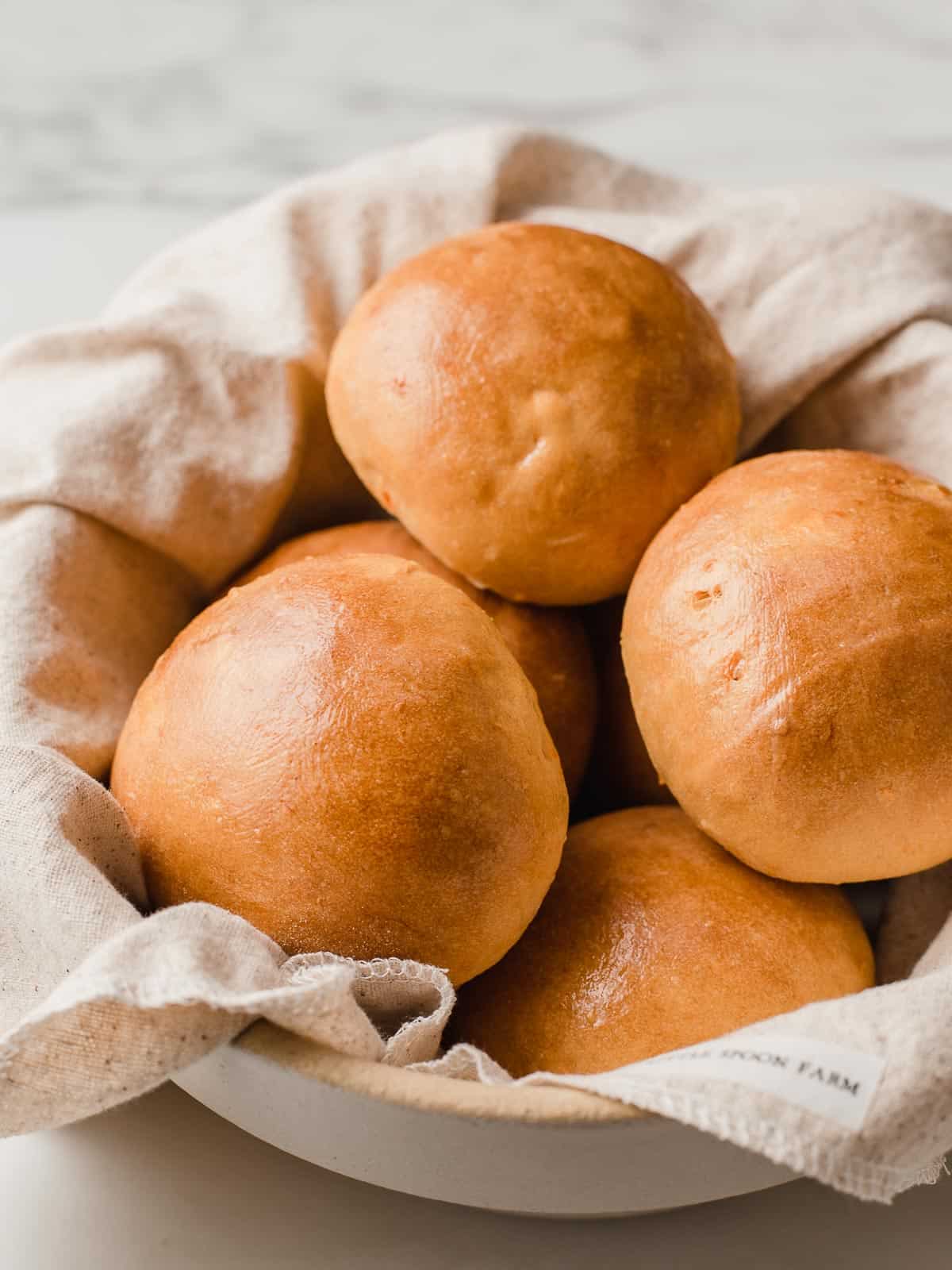 Sourdough sweet potato rolls are the best thing to make with your sourdough starter for Christmas and New Year's. These fluffy rolls are perfect as a side with dinner, or use them to make sliders with leftover holiday ham or turkey!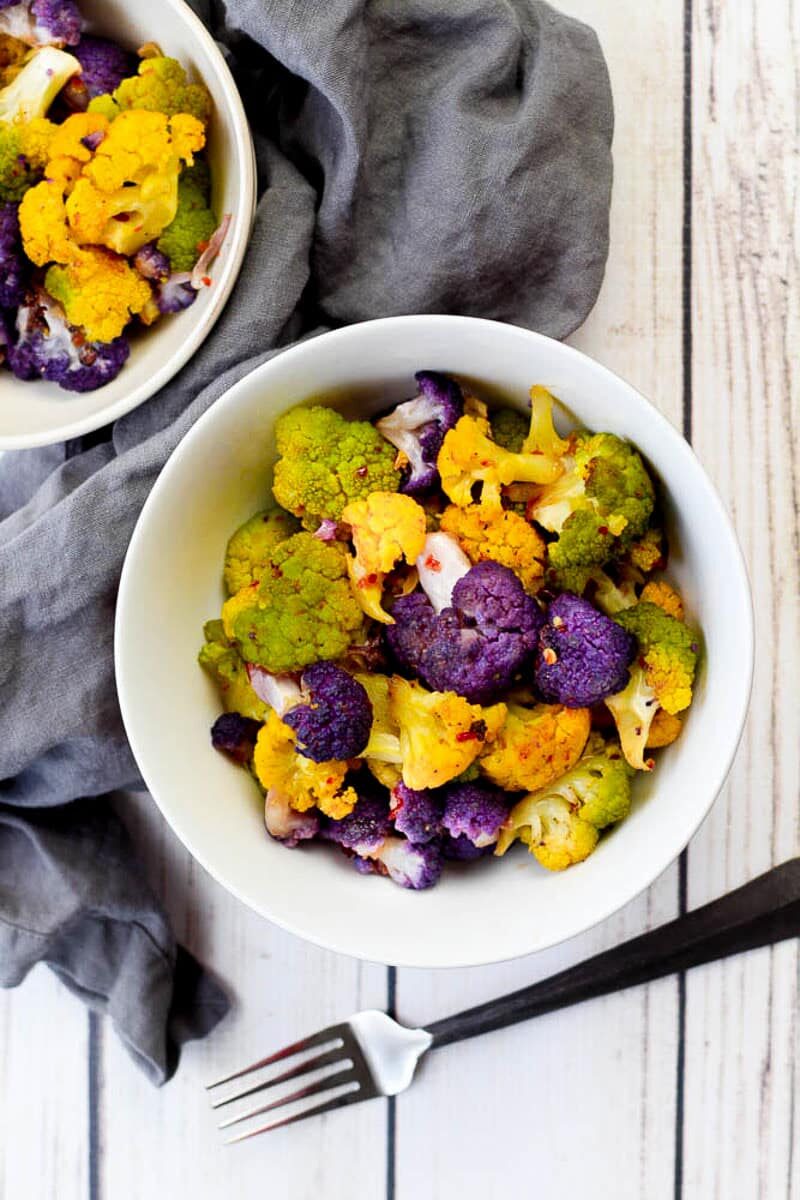 This gluten-free Sweet and Spicy Tri-Color Cauliflower recipe is such a vibrant side dish for your holiday table! We eat with our eyes, right? So, what could be more beautiful than these roasted, multi-hued cauliflower florets with an Asian-inspired sauce?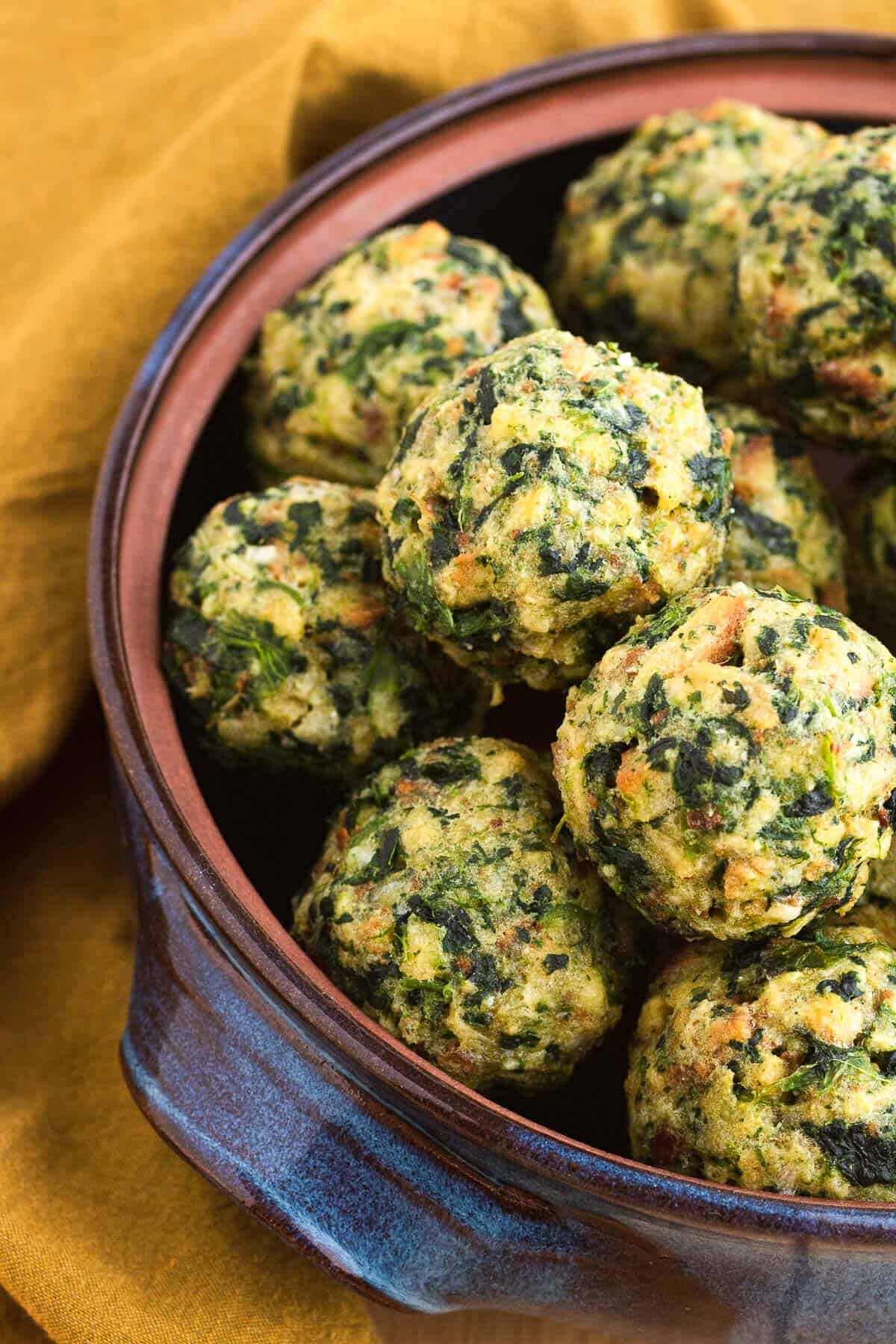 Spinach Stuffing Balls are an easy, make-ahead side dish for your holiday dinner feast! Warm them up while the turkey is being carved, then serve them with gravy and mashed potatoes. It's a terrific throw-back recipe that will satisfy all of your guests!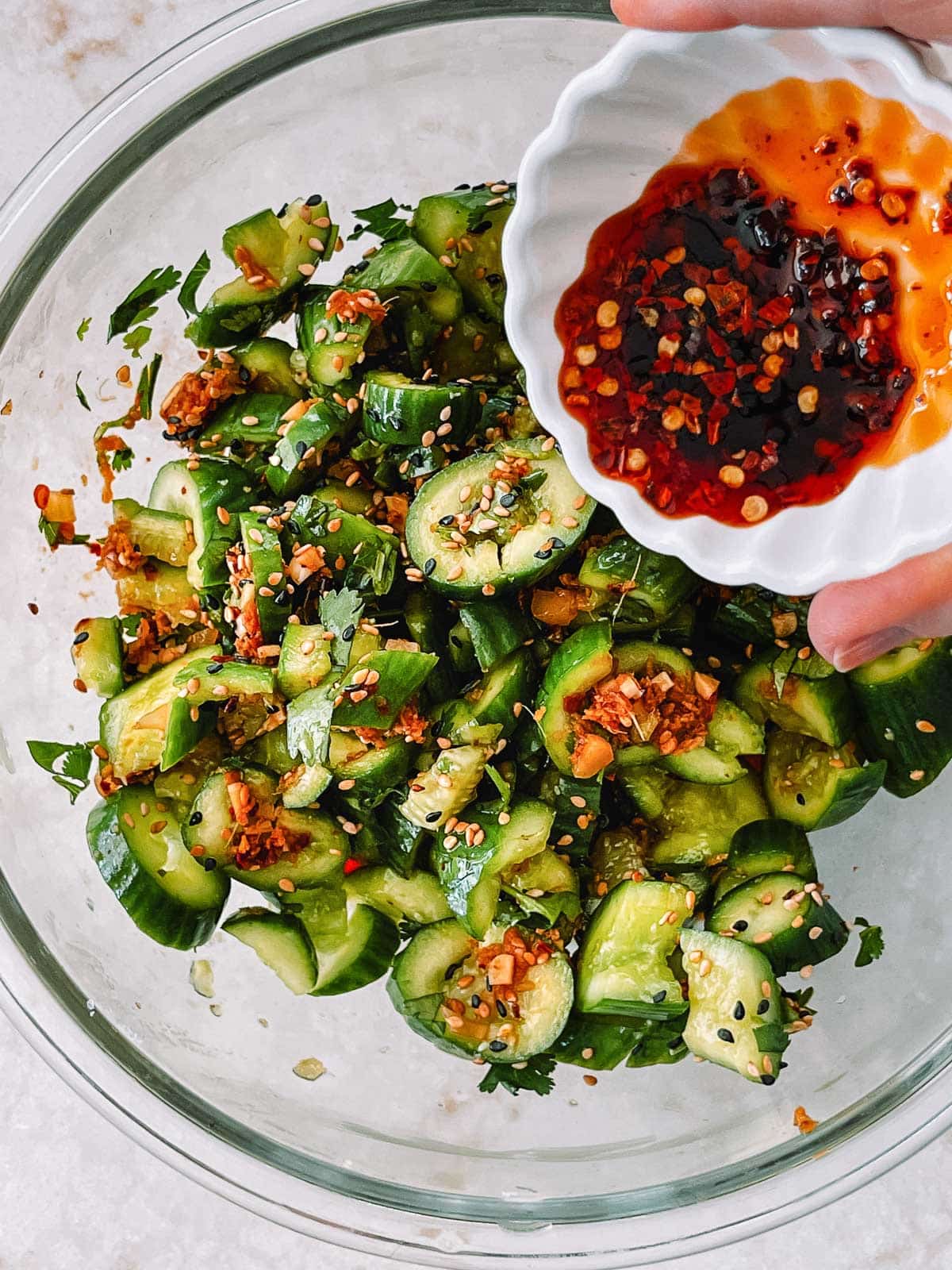 A well-rounded holiday feast should always include something bright and light, like this refreshing Smashed Cucumber Salad! This popular Chinese salad is tossed in a garlicky, ginger and spicy chili oil dressing, and sprinkled with toasted black and white sesame seeds.
This popular Chinese Smashed Cucumber Salad is so healthy and refreshing. There are only a handful of ingredients in this salad making it beyond easy to prepare. Tossed in a zingy dressing, this beautiful cucumber salad comes together in just 10 minutes!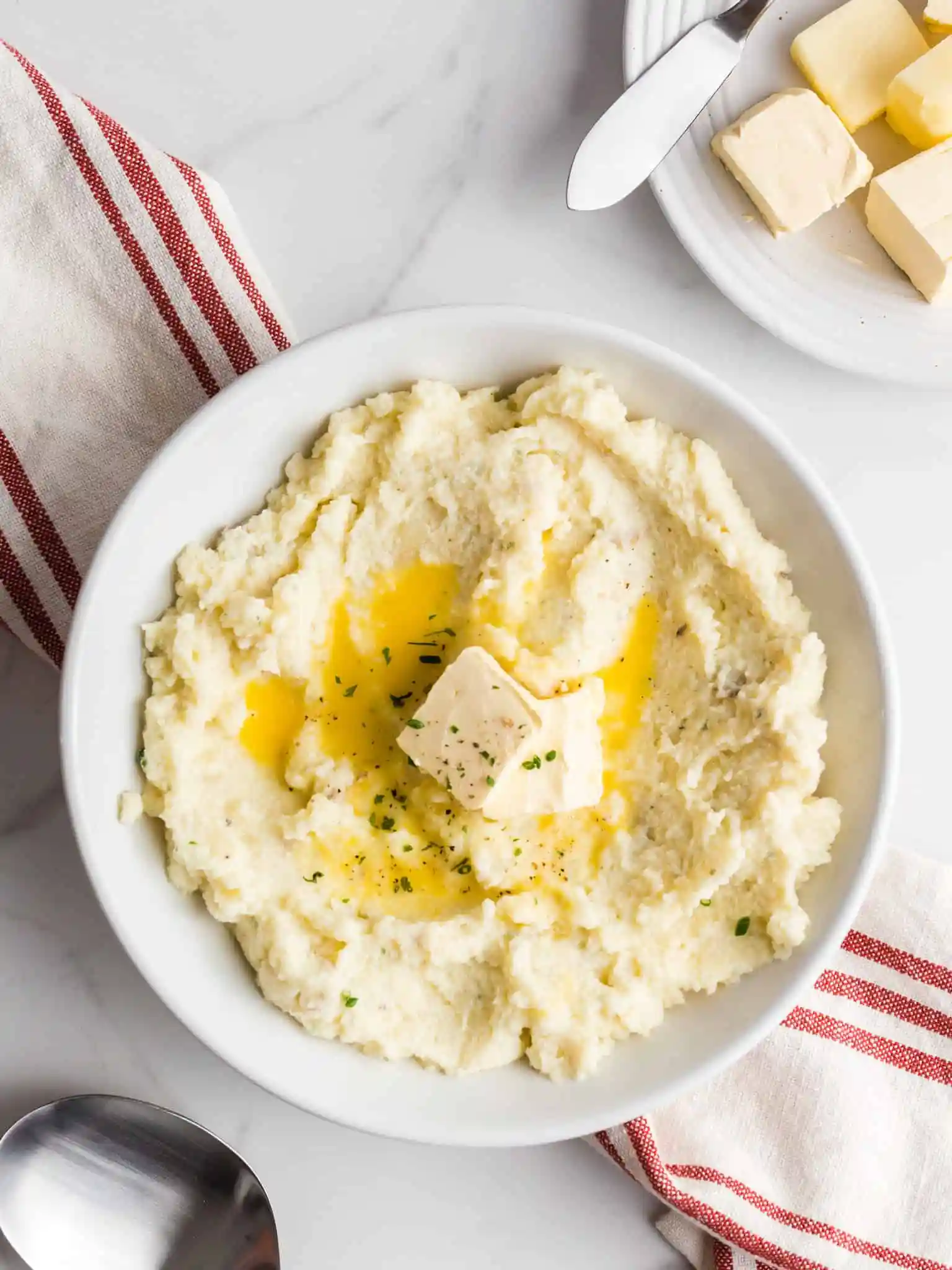 Who doesn't love mashed potatoes with some holiday turkey, ham, or beef? These creamy Garlic Herb Mashed Potatoes certainly fit the bill! Made with hearty russet potatoes, lots of butter, and so many different kinds of seasonings, these mashed potatoes are a flavor bomb!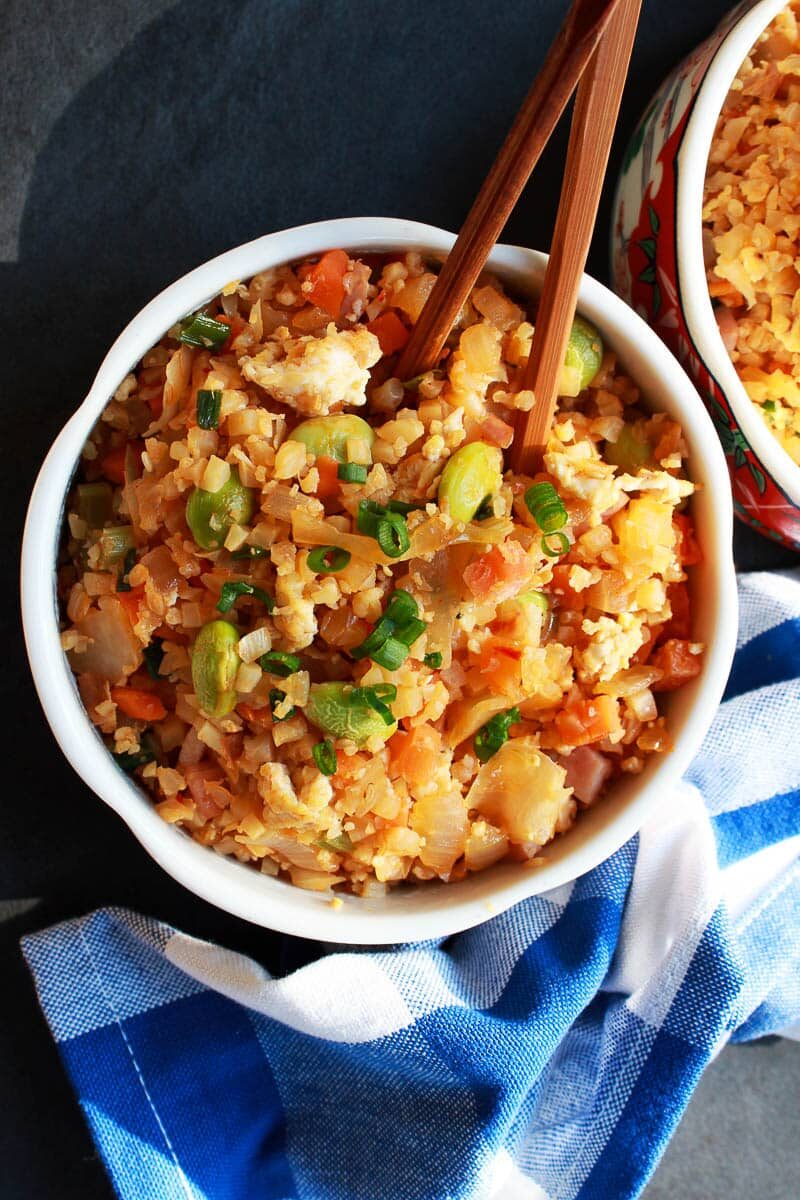 This delicious Cauliflower Kimchi Fried Rice is made with riced cauliflower instead of traditional rice, but there's no sacrifice on flavor! The unique Kimchi flavoring gives this healthy dish a nice zest, and the addition of pancetta elevates it even more! Serve this not-so-traditional rice dish at your holiday table and watch how fast it disappears!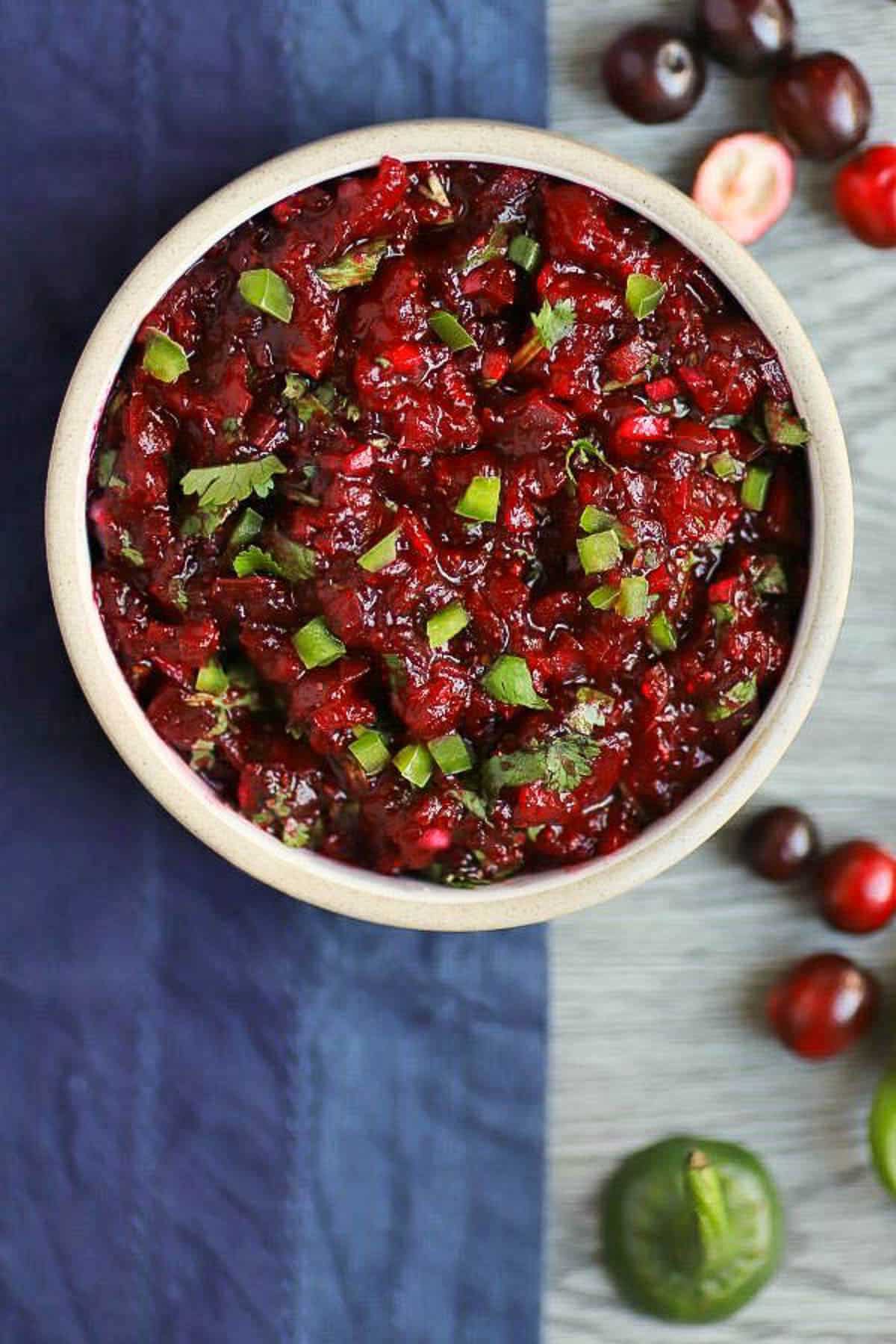 Kick your holiday menu up a notch with this tasty Jalapeño Cranberry Salsa side dish! This cranberry salsa will add a little extra spice to your holiday season. It's a simple salsa, made with fresh cranberries, along with a little bit of heat from the jalapeños. You'll never go back to canned cranberry sauce again!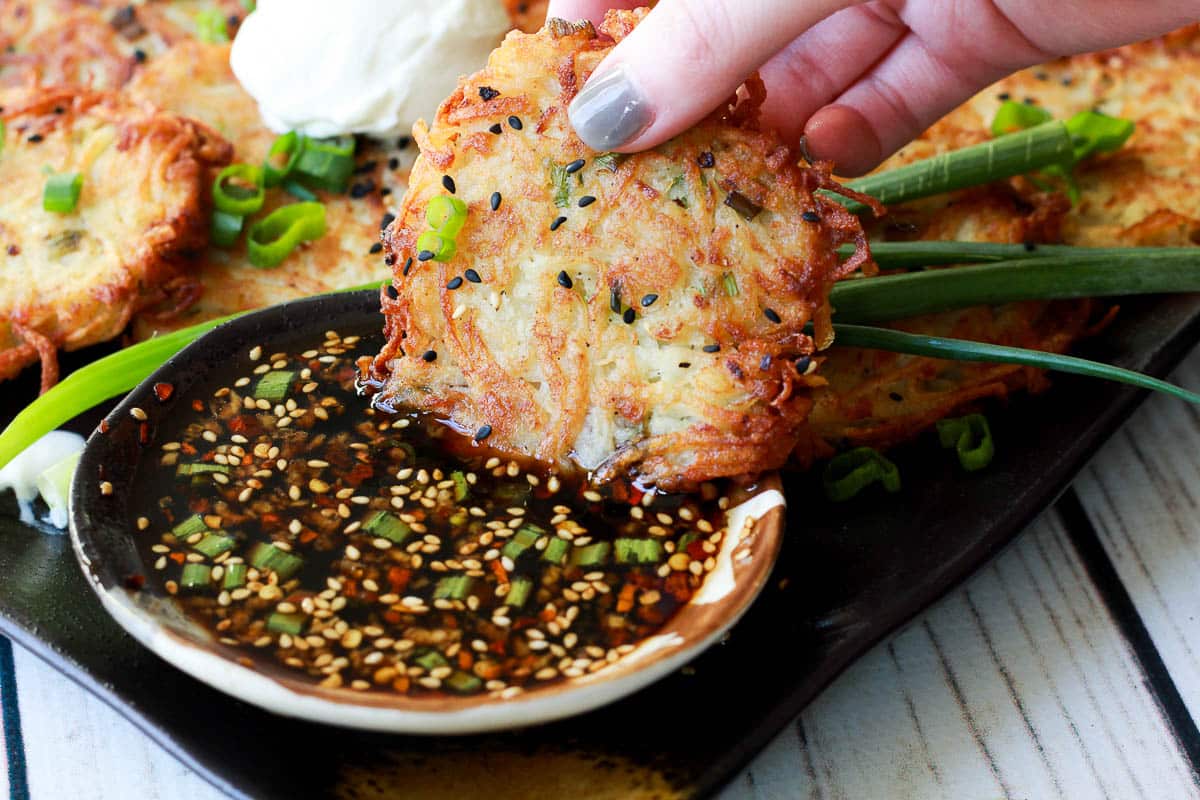 Why fry up ordinary potato latkes at Hanukkah when you can make these crispy, golden Asian-Inspired Potato Latkes instead? The potato batter has scallions, ginger, garlic, and sesame oil, which enhances the latke flavor when fried. But it's the Asian dipping sauce puts these latkes over the top!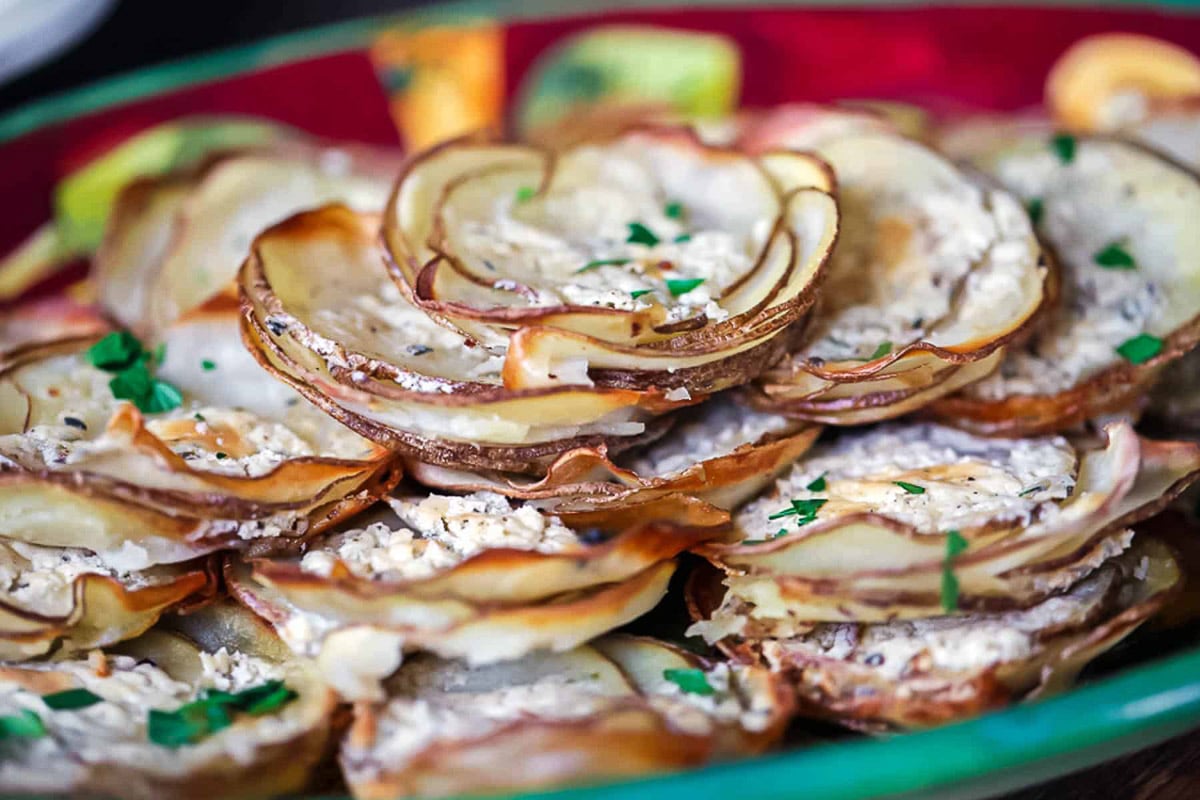 Boursin Potato Stacks are an impressive side dish, but so simple to put together! Thinly sliced russet potatoes are layered with a creamy Boursin cheese, herb, and butter mixture, and baked to golden-brown perfection for an unforgettable potato dish for the holidays!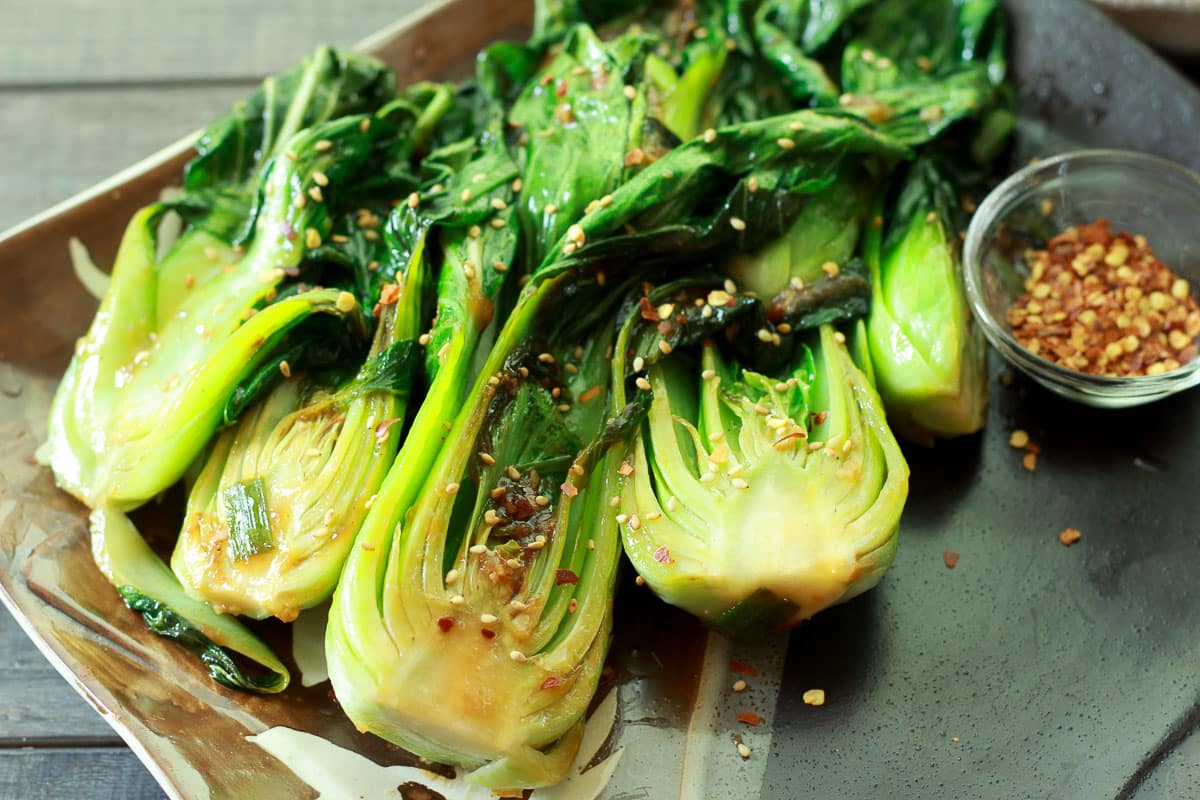 This beautiful side dish, Baby Bok Choy with Ginger and Garlic, is loaded with nutrients and antioxidants. It's a superfood that's quick and easy and so delicious! Baby bok choy is a crispy, colorful accompaniment with so many holiday proteins.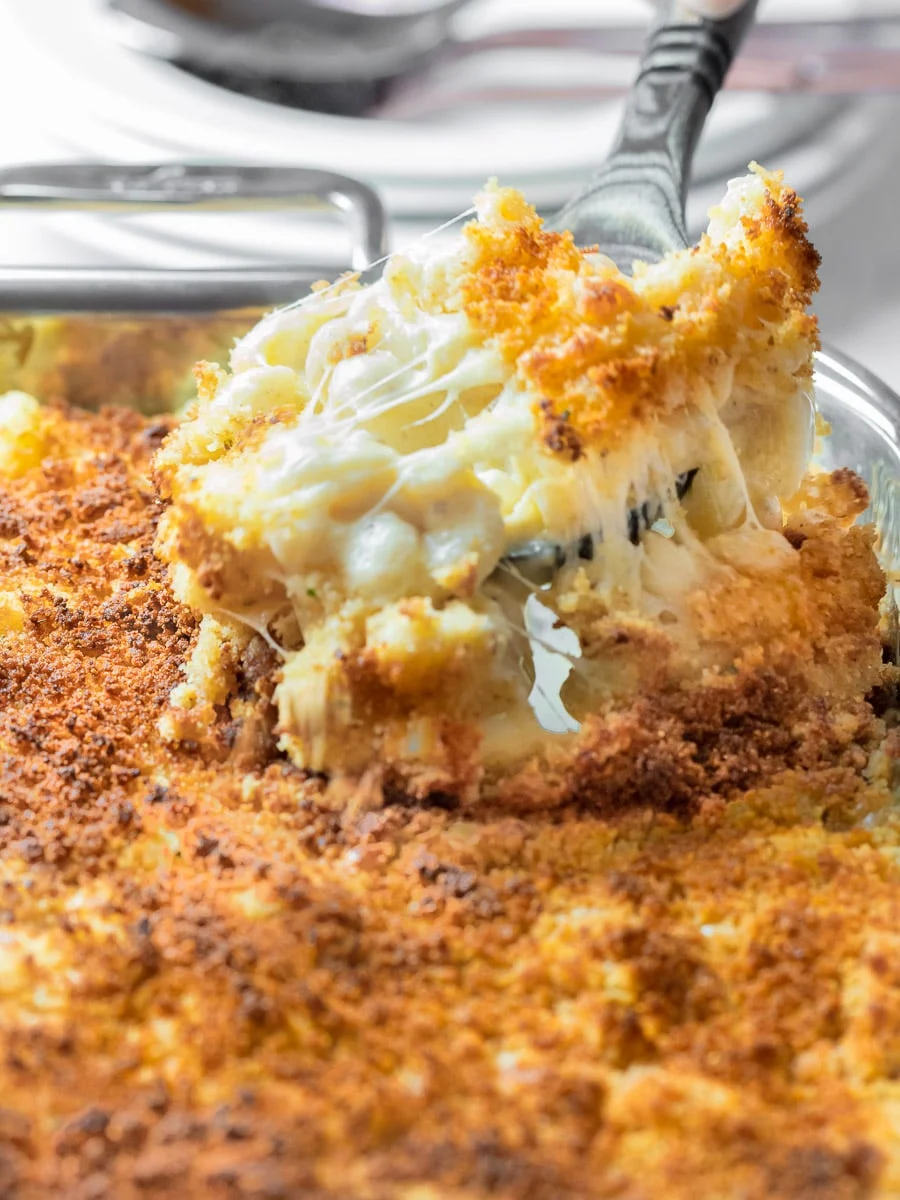 This creamy, cheesy, Southern Baked Mac and Cheese is made with gruyere and white cheddar, and baked with a golden-brown breadcrumb topping! It's the ultimate comfort food, and a great side dish for your holiday table!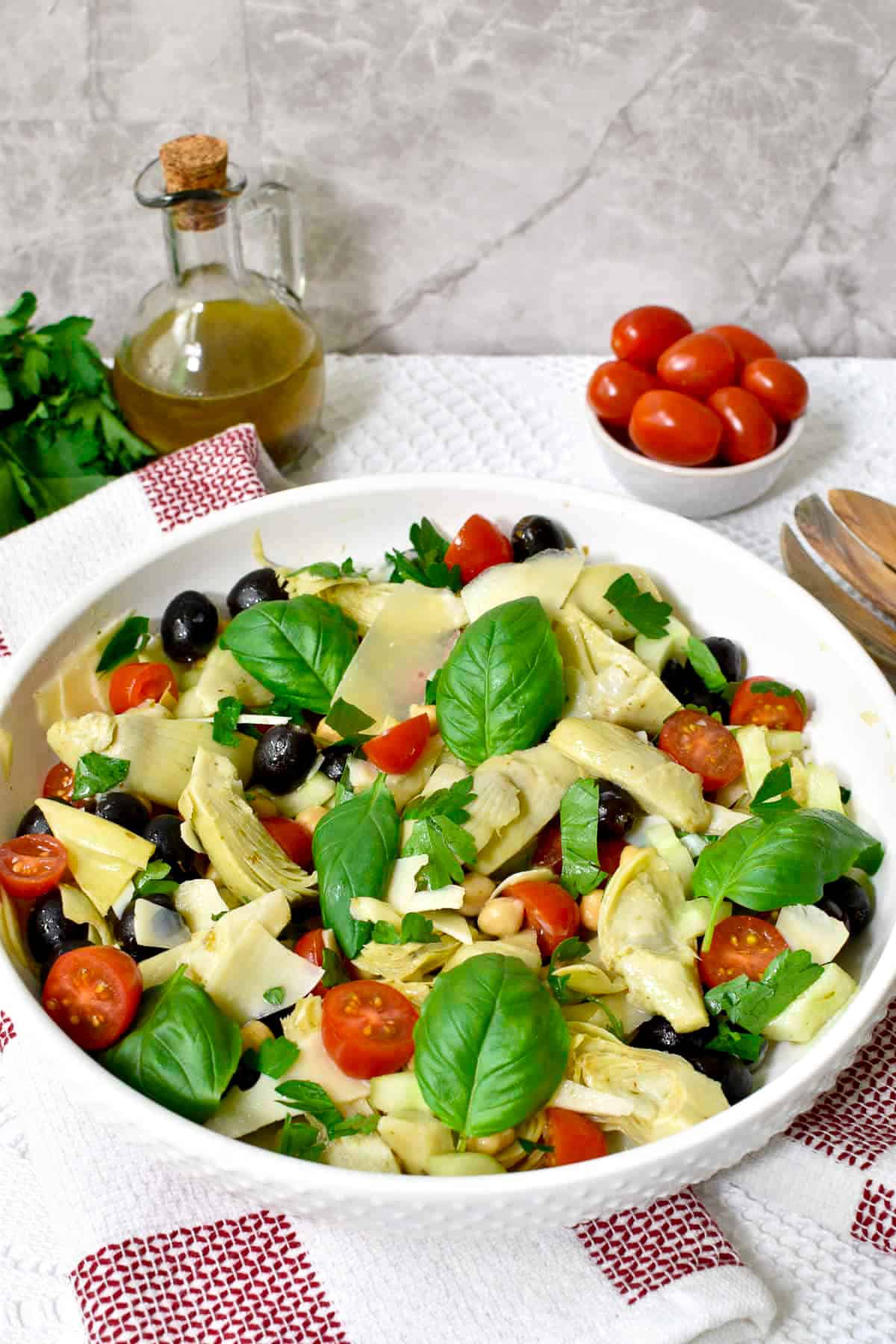 This tasty and easy Artichoke Salad is so healthy and delicious! Made with artichokes, tomatoes, chickpeas, olives, and feta cheese, and tossed in a delicious Mediterranean dressing, this artichoke salad would be a terrific side dish for Christmas or Hanukkah!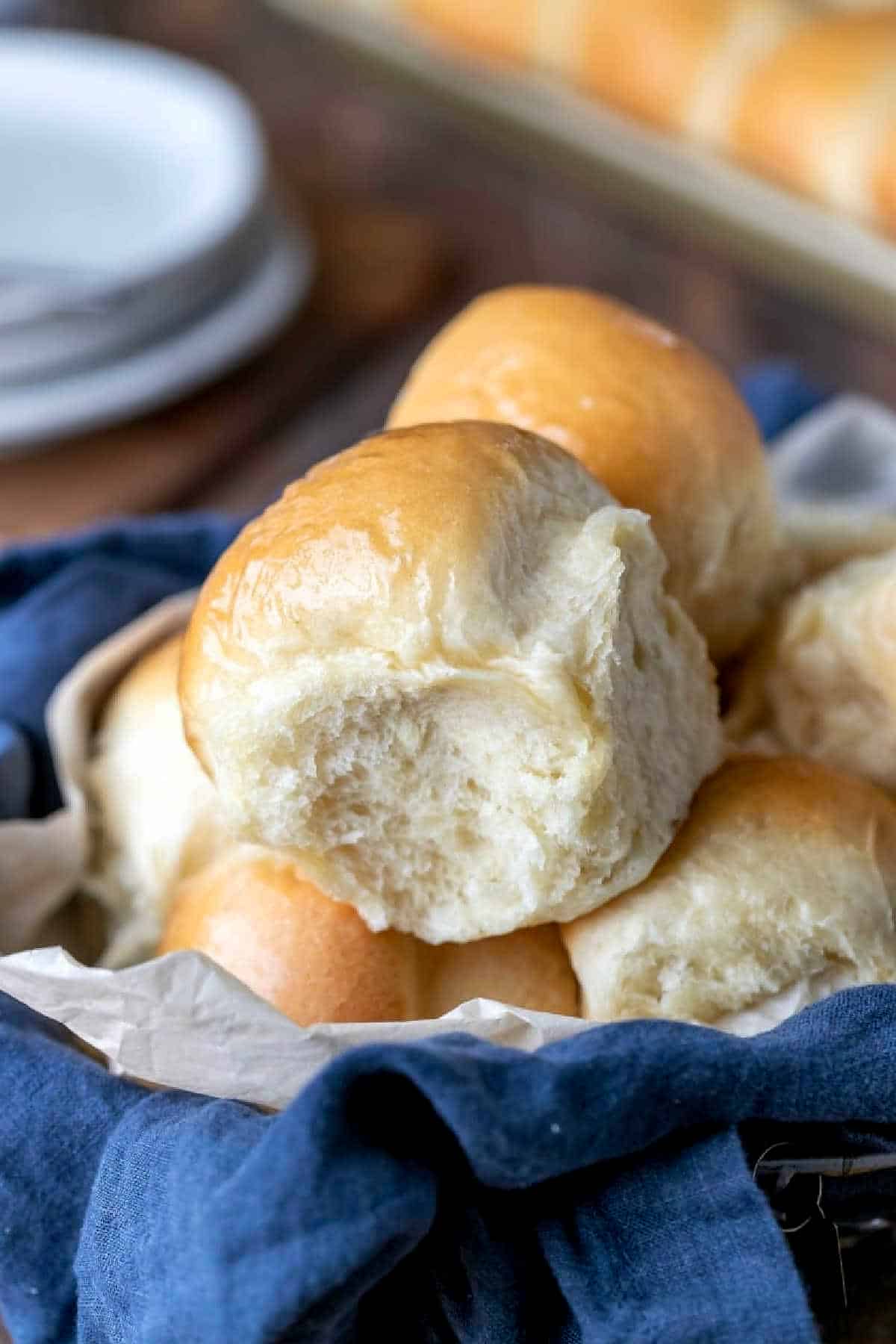 There's nothing better than the aroma of freshly baked bread floating around the kitchen! Am I right? These from-scratch Homemade Dinner Rolls are soft and fluffy, and so easy to make. You're going to want these for the holidays!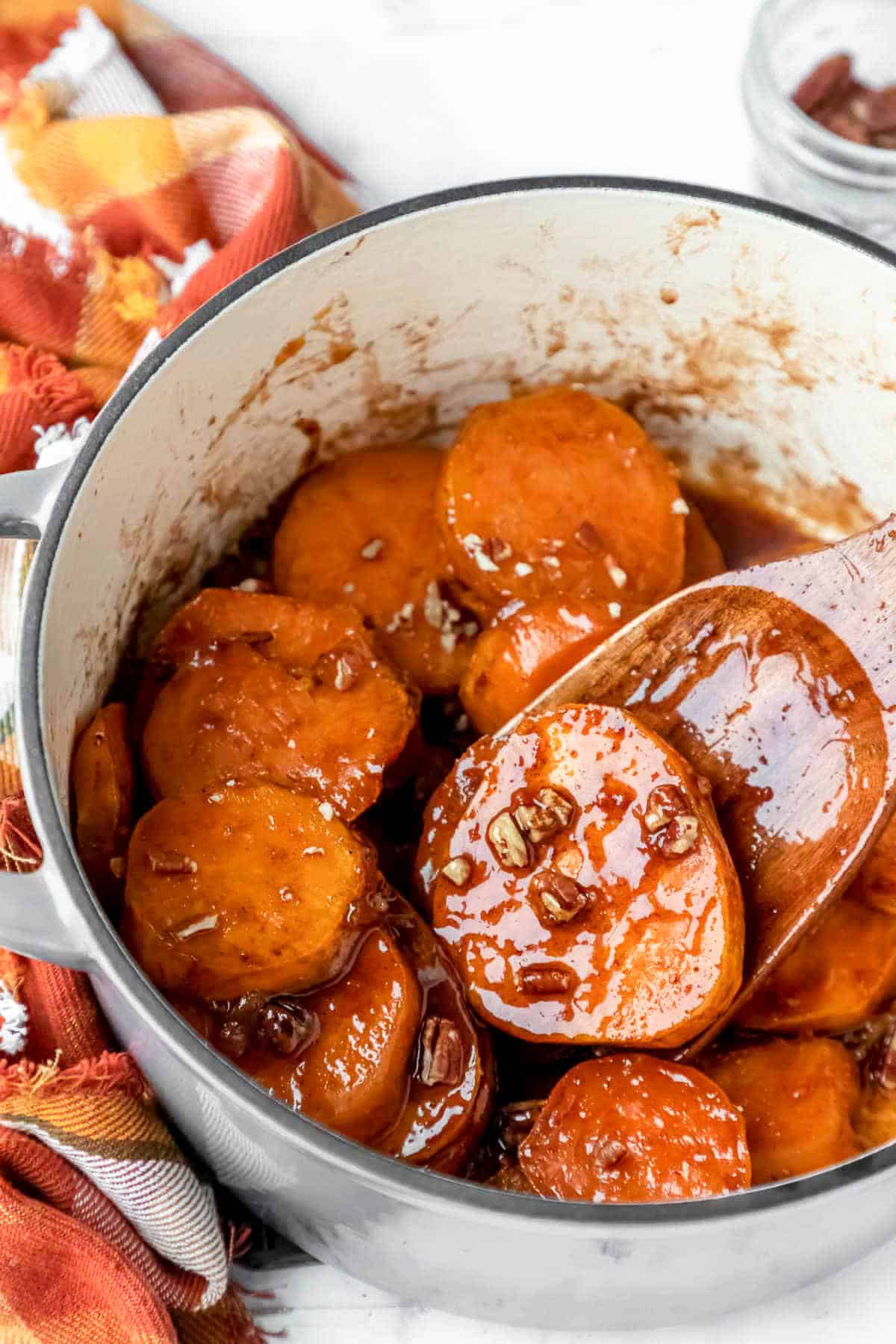 Classic Candied Sweet Potatoes are a simple recipe that bakes right in the oven. No need to boil the sweet potatoes -- they bake up nice and tender, and the sweet, buttery glaze is beyond delicious! While this dish is a traditional Thanksgiving side dish, it goes well with ham and works well for Christmas or Easter dinner, too!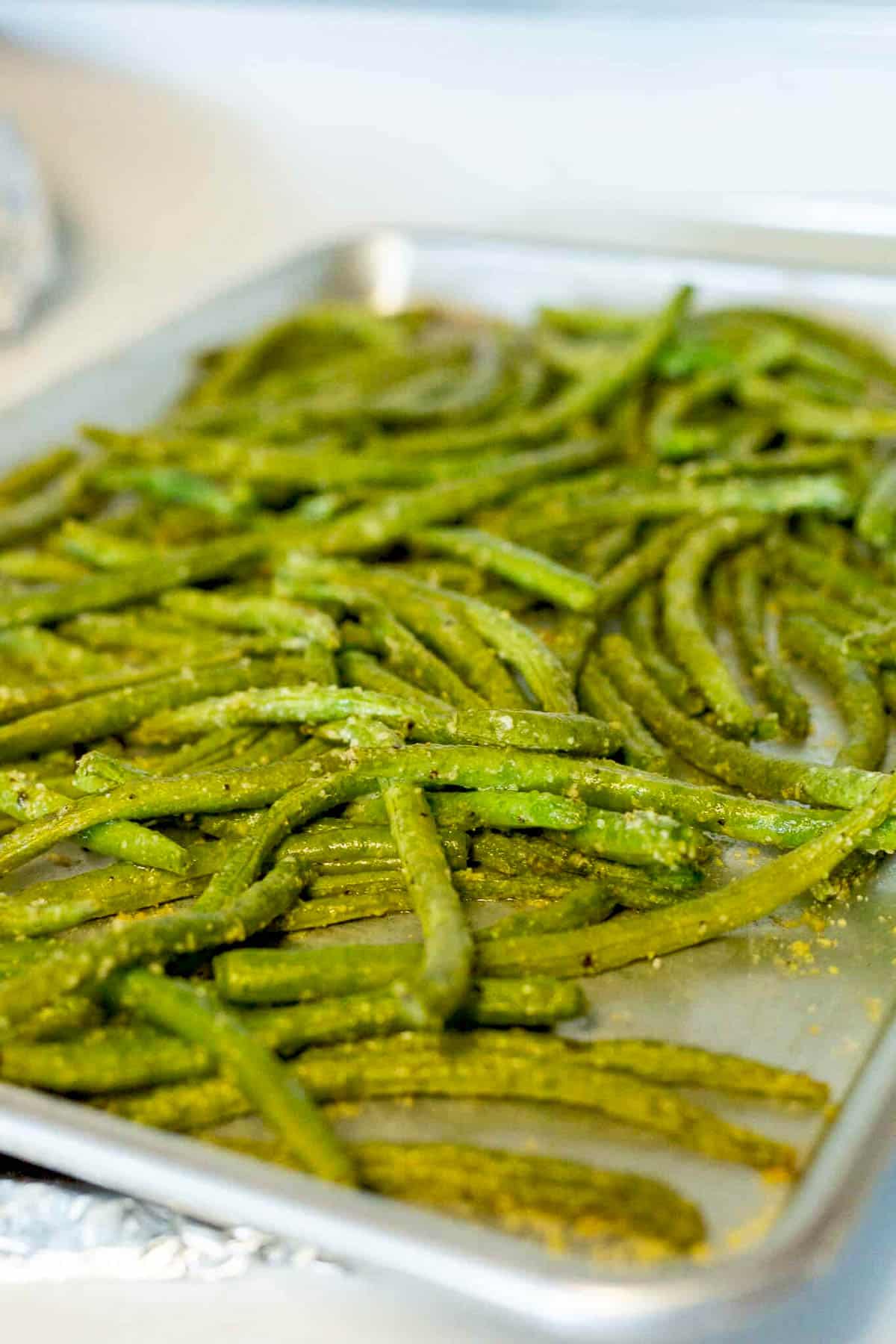 This delicious recipe for Roasted Parmesan Green Beans uses fresh green beans, and makes for a perfect side dish at any holiday gathering. It's also simple enough to have anytime, not just on a special occasion!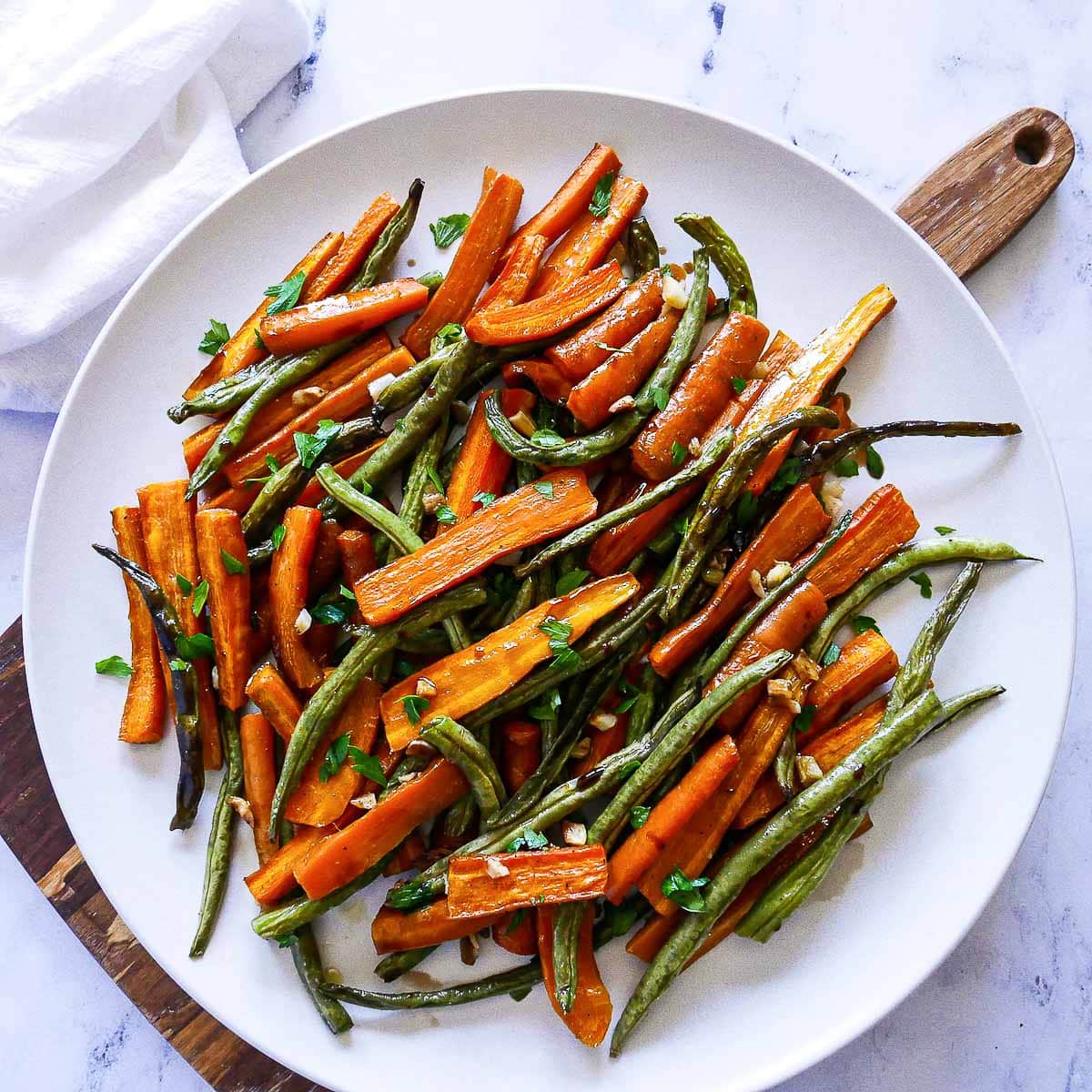 With 5 simple ingredients, these Roasted Carrots and Green Beans with Garlic can be served as a weeknight side dish or as an addition to your holiday table. The oven-roasted vegetables become caramelized and slightly charred, with the drizzle of balsamic vinegar giving it a zingy flavor that complements the sweetness of the carrots.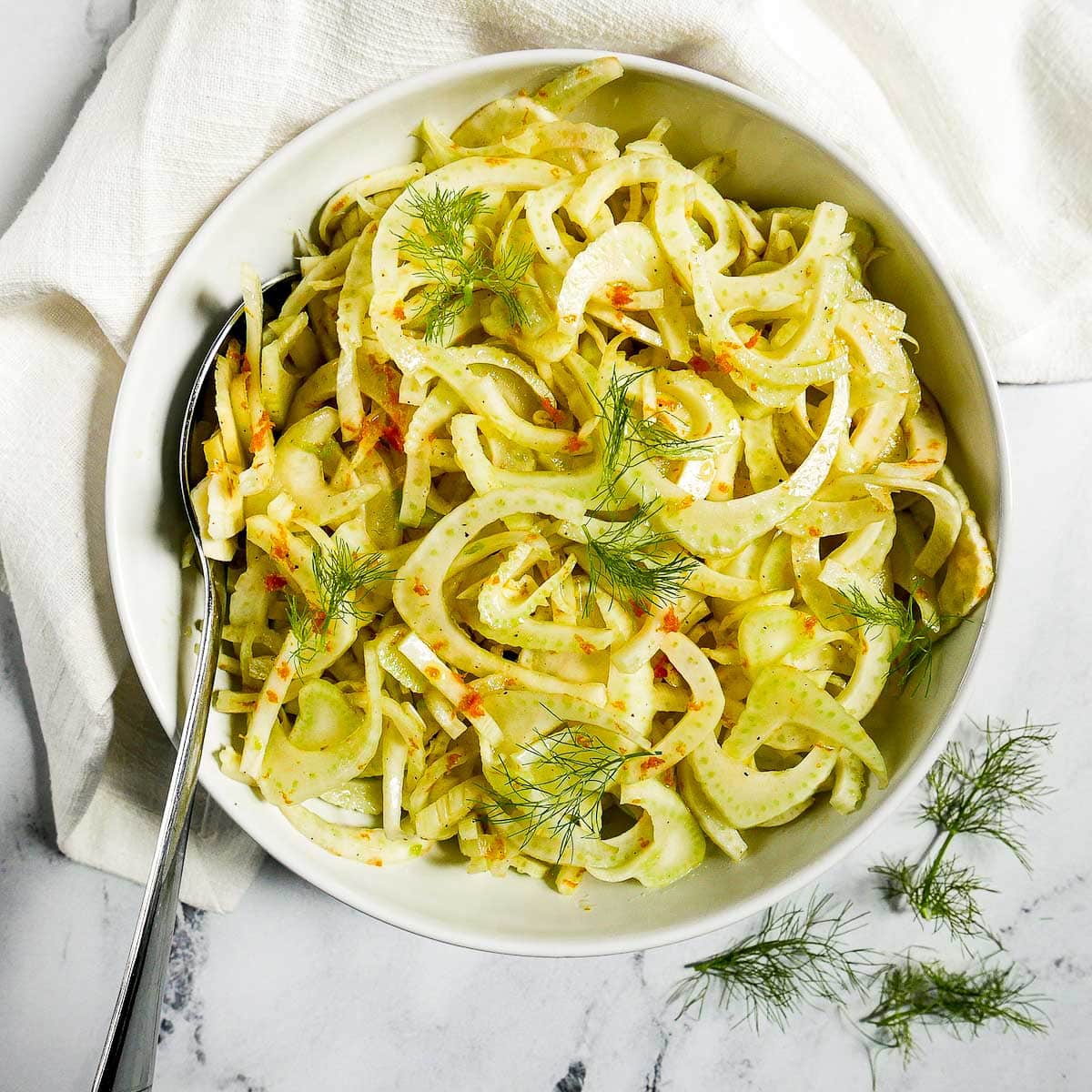 Shaved Fennel Salad is a crunchy, bright, citrusy, crisp, and zingy side dish that brightens up any plate. With just 3 simple ingredients, the licorice-like fennel shines in this healthy and versatile salad. It's dairy-free and vegan, with just 10 minutes of prep time!
If you liked this recipe roundup, you're going to want these too!