If you're like me, you can never eat enough sushi! But did you know that making sushi at home is not as complicated as you might think? Here's some recipe inspiration to get you started on your sushi-making journey with these 17 Ways to Make Sushi at Home! Lots of unique recipes here, so there's something for everyone!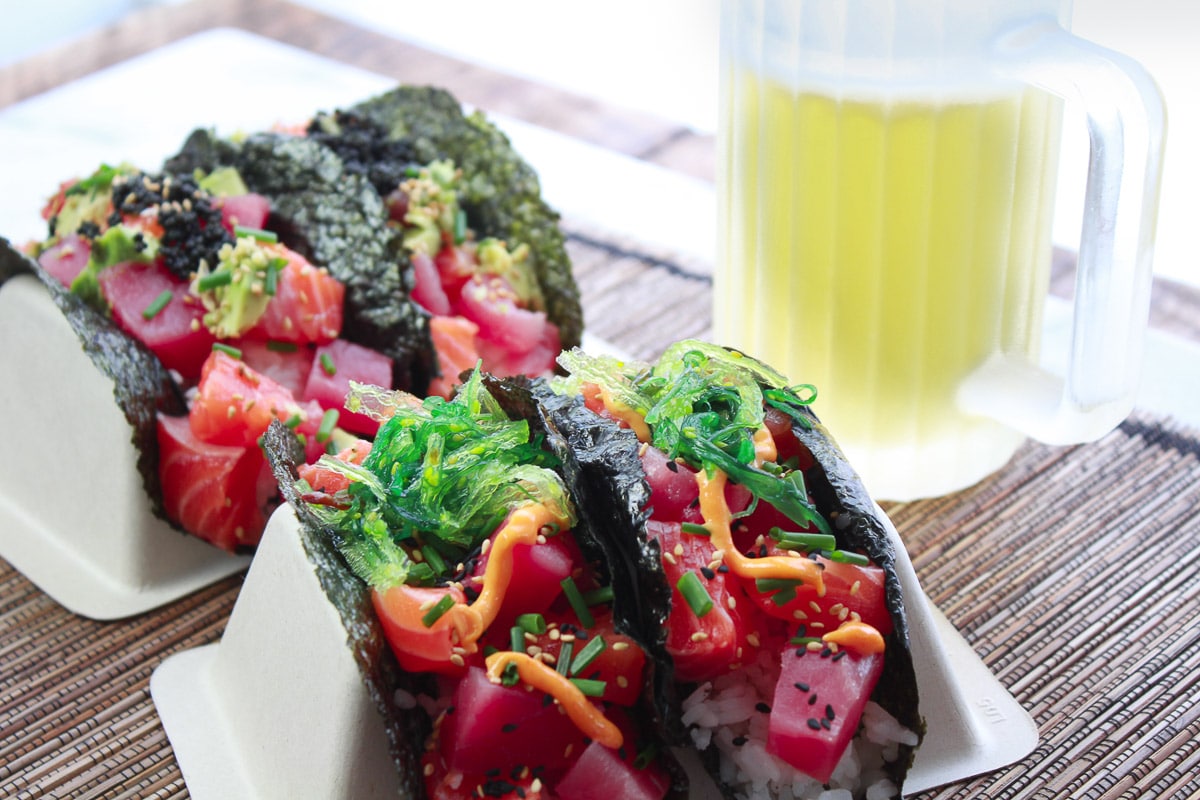 These Sushi Tacos with Salmon and Tuna is a twist on your traditional taco. Made with nori "shells," they're so fun and easy to make! I topped mine with caviar, homemade seaweed salad (wakame), avocado, and a spicy Sriracha aioli. Yum!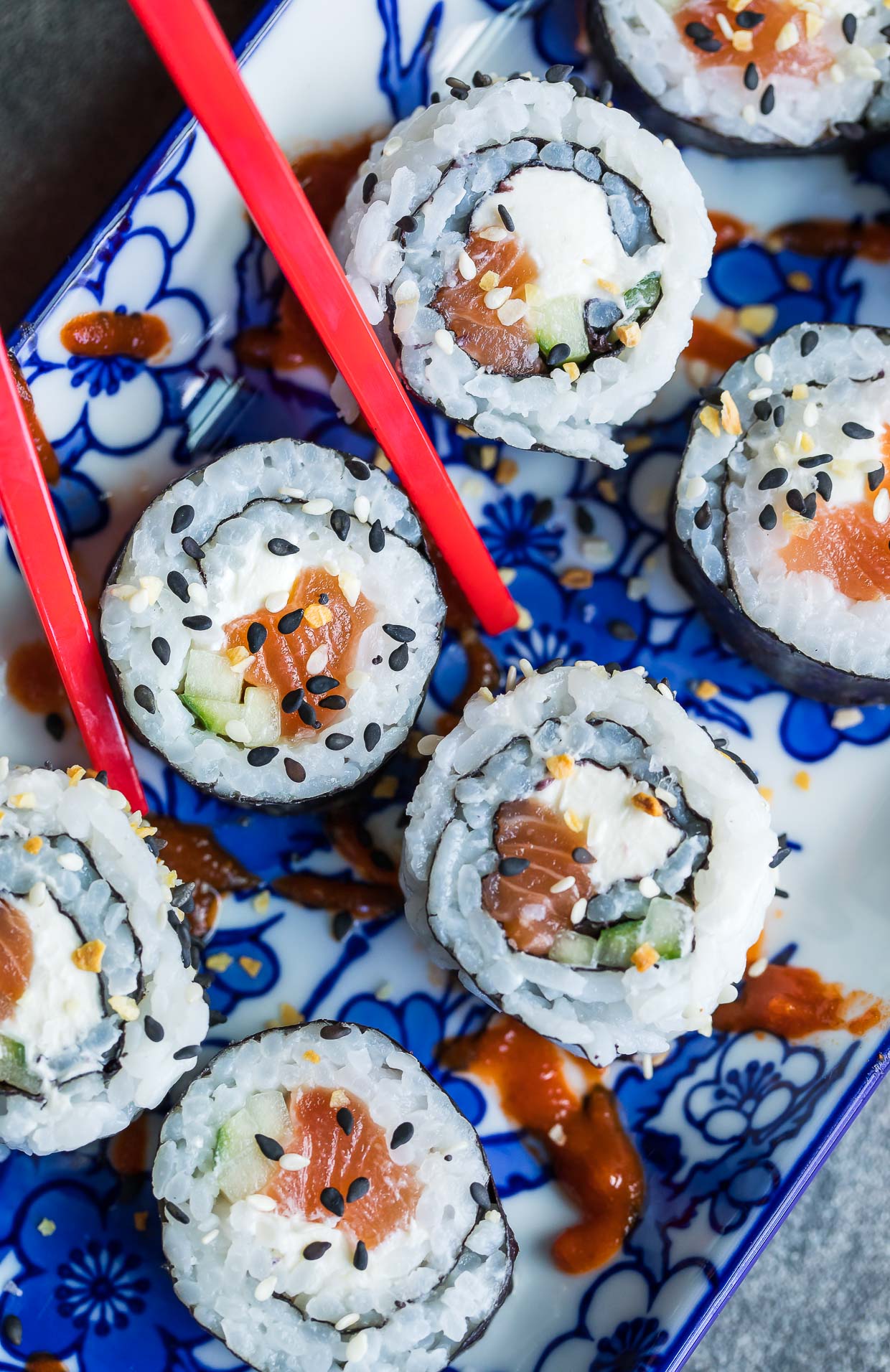 This Philadelphia Roll from Peas and Crayons is one of our favorites! Also called Philly Rolls and Japanese Bagel Rolls, these tasty homemade sushi rolls are super simple and only require a few ingredients to make!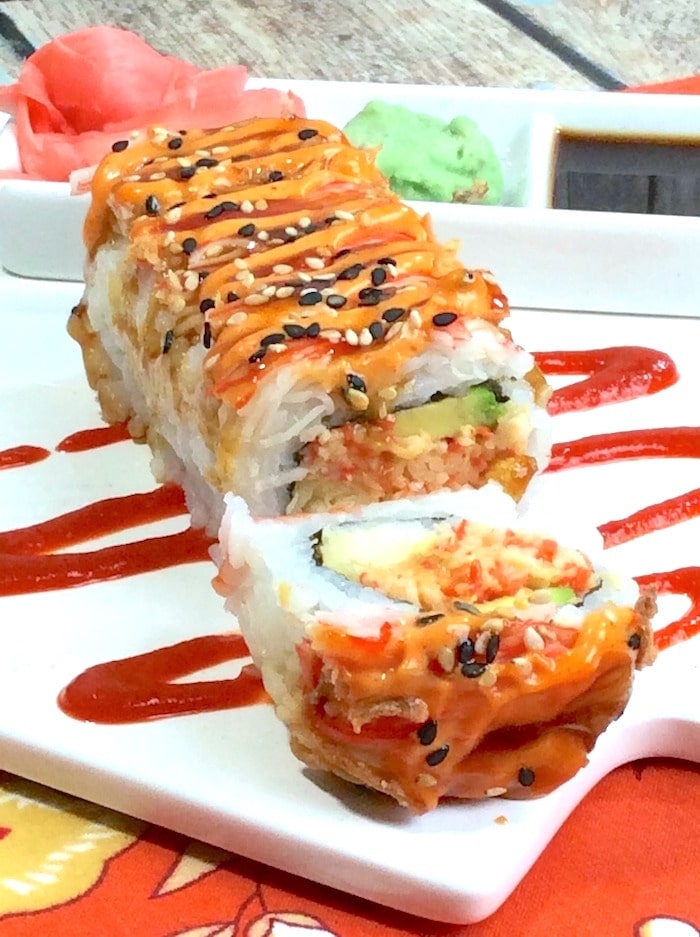 The Shaggy Dog Roll is a sushi restaurant classic! This copycat version from The Soccer Mom Blog is flavorful and protein-packed, made with crab meat, avocados, and a spicy Sriracha-Teriyaki sauce. One bite of this crispy, creamy, and a little bit spicy sushi roll will have you hooked!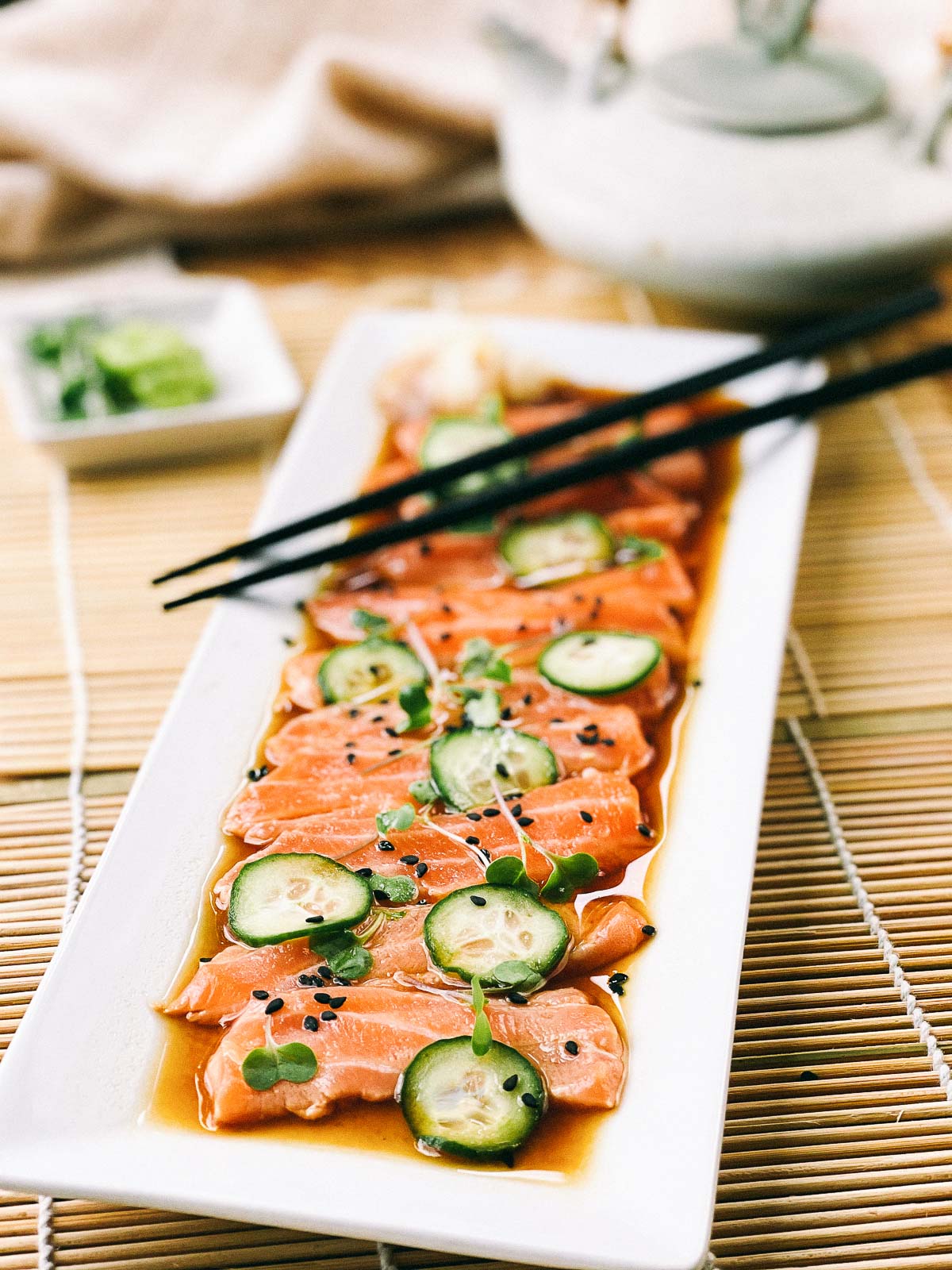 Thin slices of sushi-grade salmon will melt in your mouth in this Salmon Sashimi with Ponzu recipe. It's just about the easiest Japanese appetizer on the planet, and so impressive! Beautiful sashimi salmon is gently bathing in citrusy Ponzu sauce for the most delectable appetizer. The flavor is simply incredible!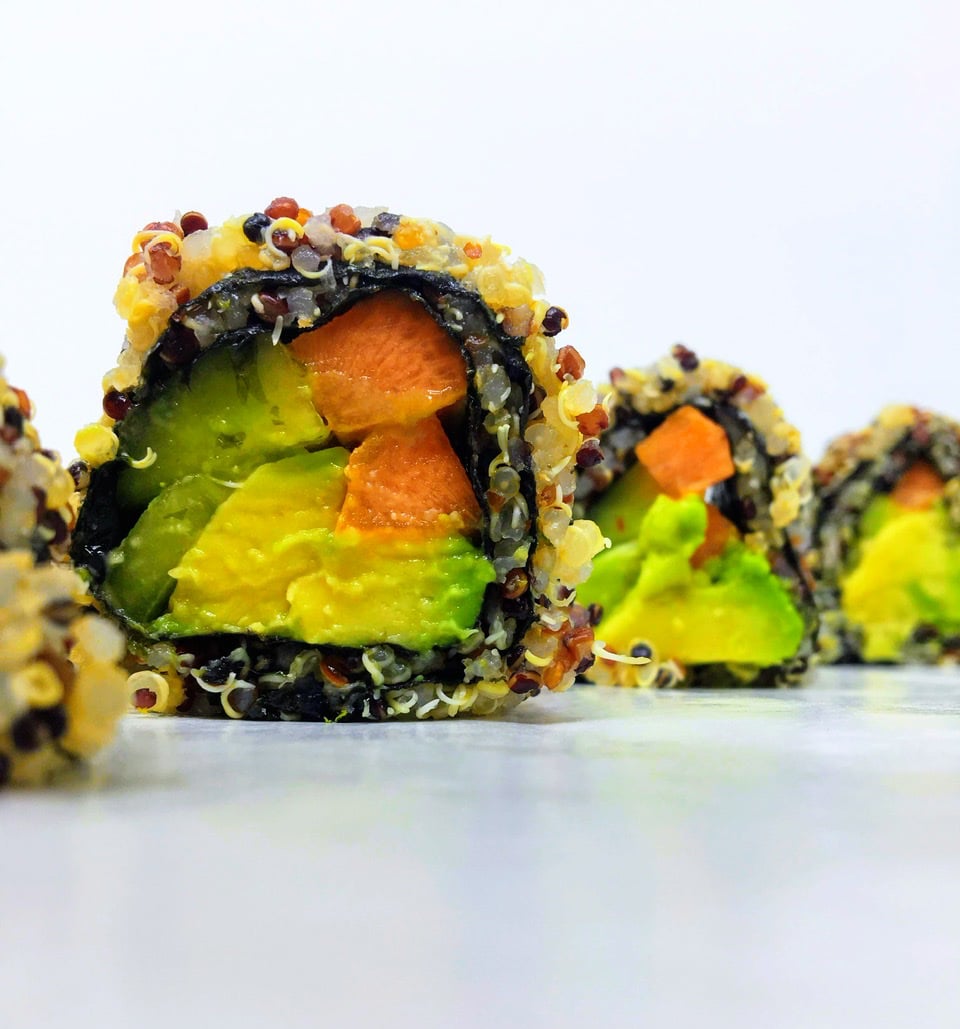 I just love this Healthy Quinoa Sushi Roll recipe from Any Reason Vegans! It's super healthy, filling, and delicious. These vegan sushi rolls are so easy to make, you don't have to have special equipment or any experience to make them. This healthy quinoa recipe is one of my favorite plant-based meals!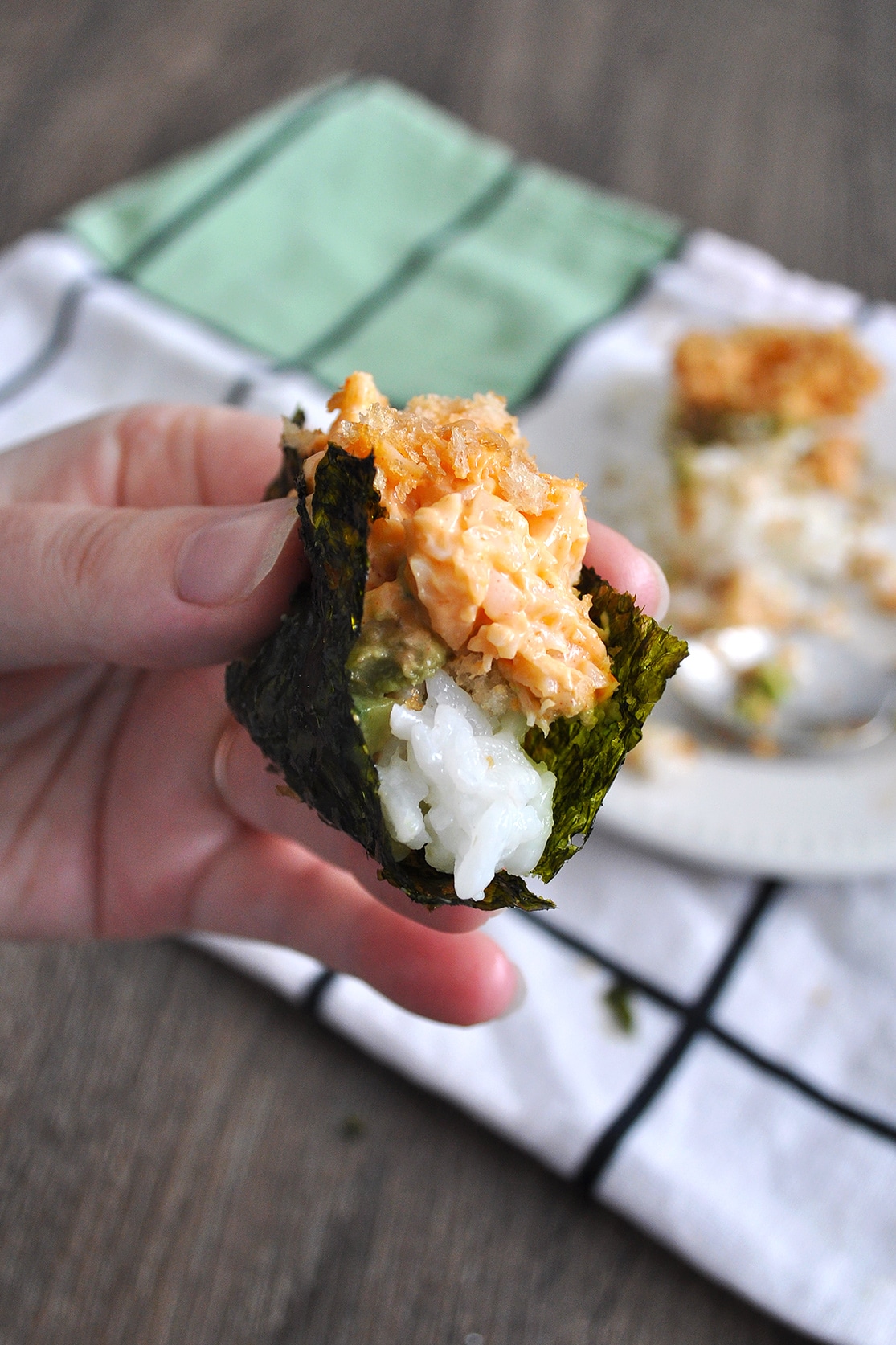 Here's the new sushi trend -- pan sushi! Yes, it's a super easy alternative to sushi rolls, but no sacrifice on flavor. This Crispy Shrimp Pan Sushi recipe from Salted Spoonful is a riff on a Dragon Roll, with a layer of spicy shrimp and topped crispy Panko bread crumbs to imitate that tempura vibe.
How do you roll sushi?
For the ultimate guide to rolling sushi, check out this helpful, step-by-step video below from The Sushi Man!
Don't be intimidated by watching sushi chefs work their rolling magic. They've finely crafted their rolling techniques through years of practice! It's not that hard to do this at home in your own kitchen. All you need are the materials, and a good step-by-step video like the one above!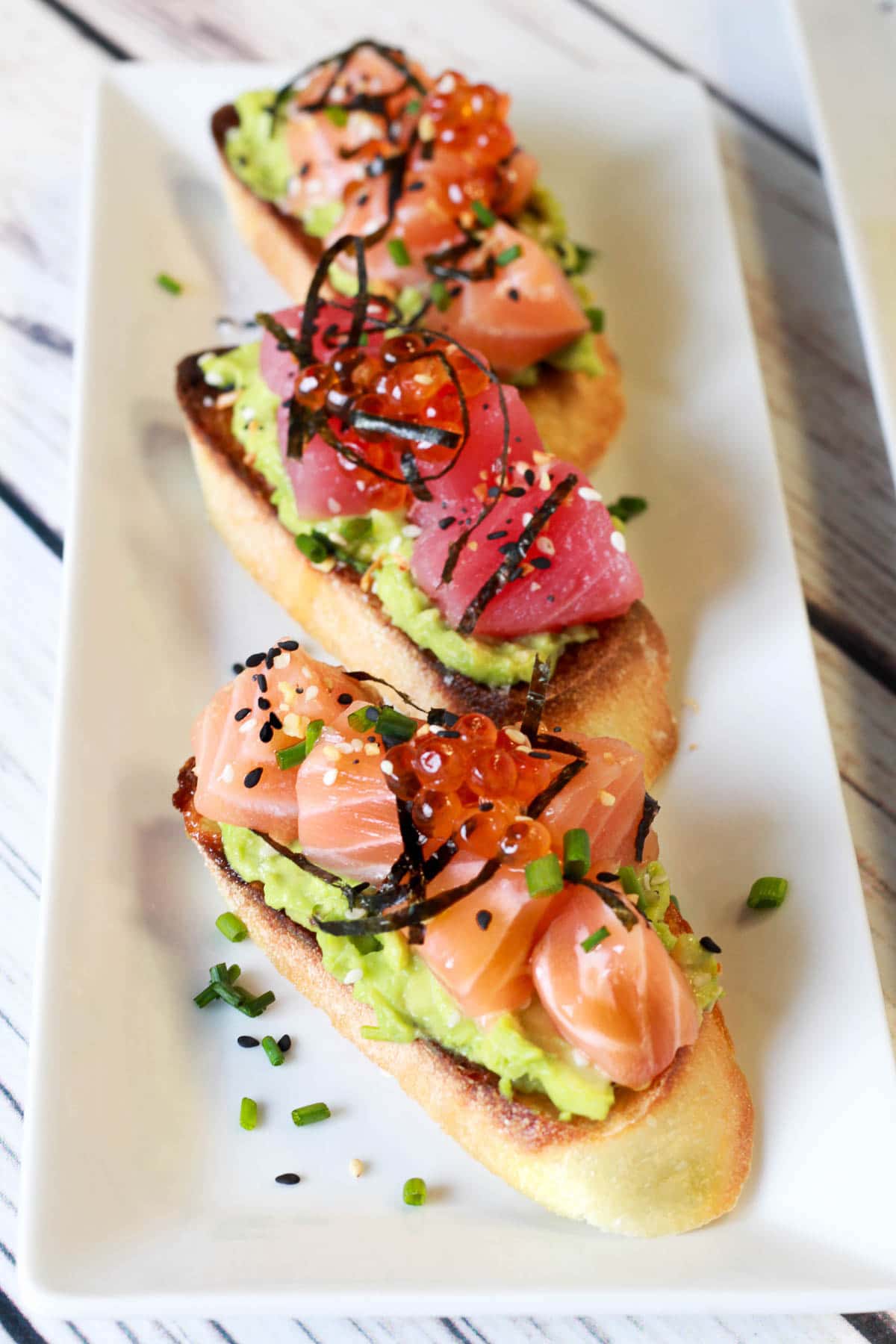 These beautiful Sushi Avocado Toasts are almost too pretty to eat! Any way you layer them you can't go wrong with the presentation and flavor! What could be better than fresh, sushi-grade salmon and tuna on a bed of mashed avocados on sliced toast? Actually, it is "the best thing since sliced toast!"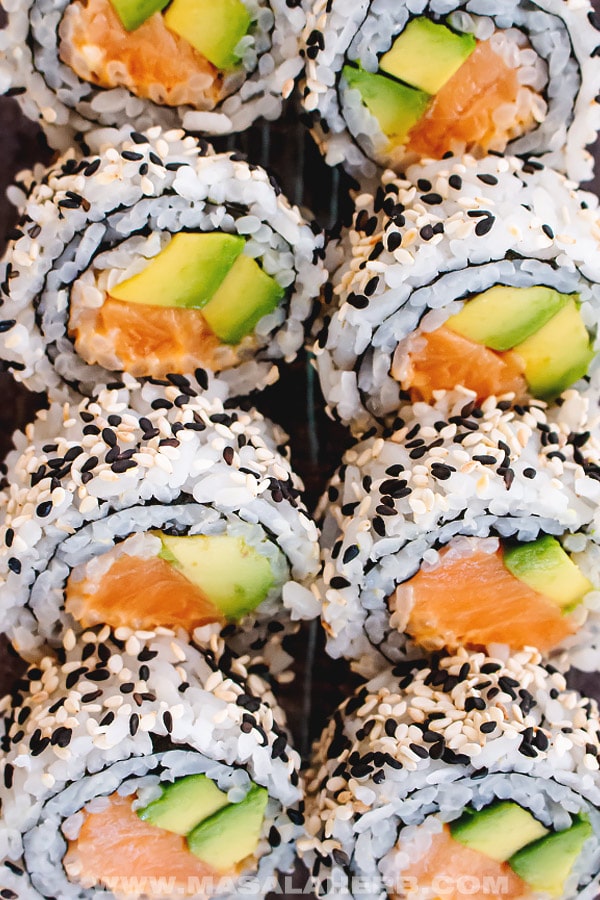 This delicious inside-out Spicy Salmon Sushi Roll from Masala Herb features sushi-grade salmon, fresh avocado, sushi rice, seaweed, and spicy mayo. You can sub out the raw salmon for smoked salmon if you're not into sashimi. Either way, it's a flavor bomb in your mouth!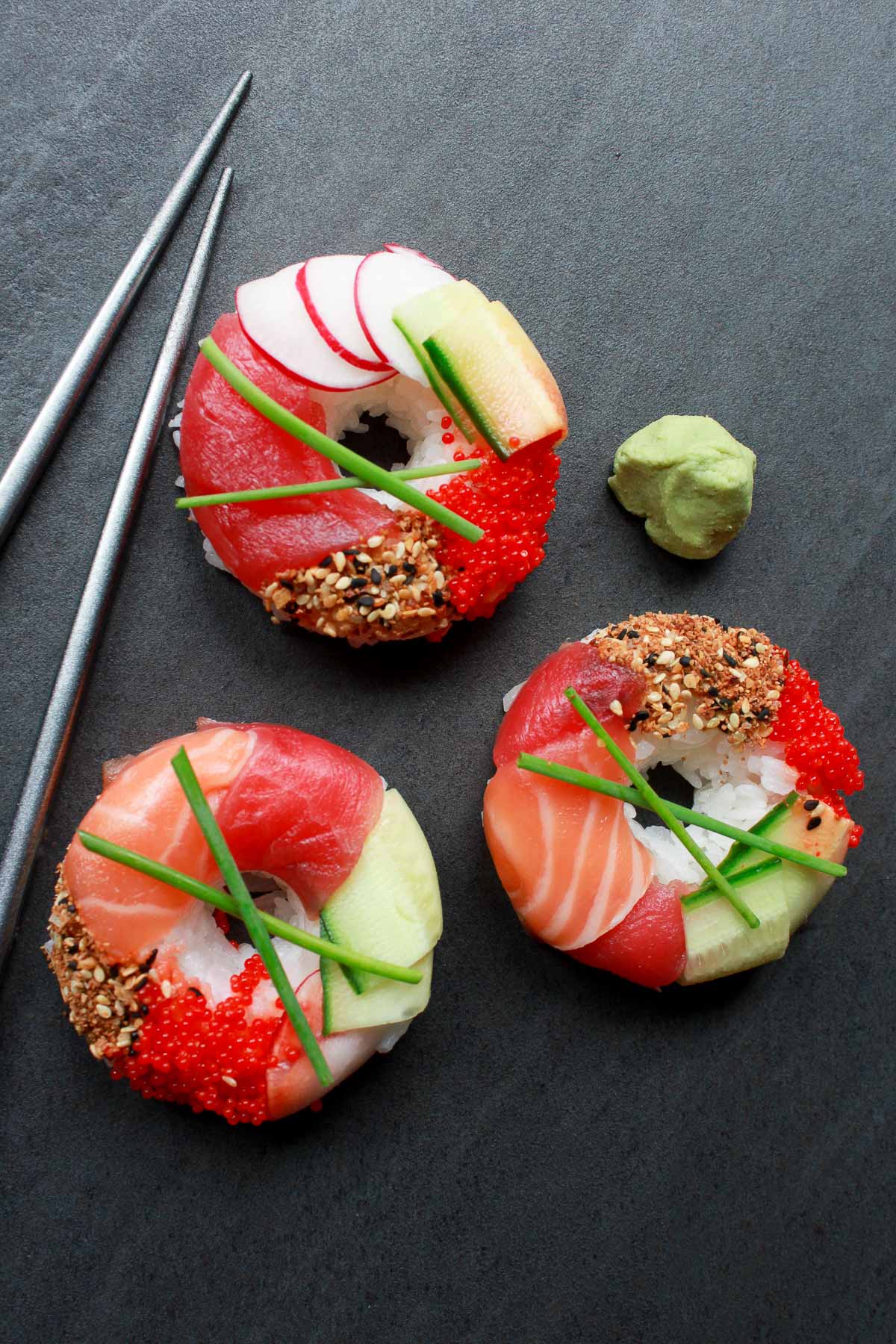 Who doesn't love donuts? These trendy Sushi Donuts are so fun to make and are healthier than the sweet variety. (Plus, plus!) They're made with all of the traditional sushi ingredients, but packed into cute little donut shapes for an irresistible and healthy dinner. They're as fun to make as they are to eat! Click here to get these silicone donut molds!
Learn how to make these awesome Sushi Donuts with this step-by-step video tutorial. They're so much fun to create!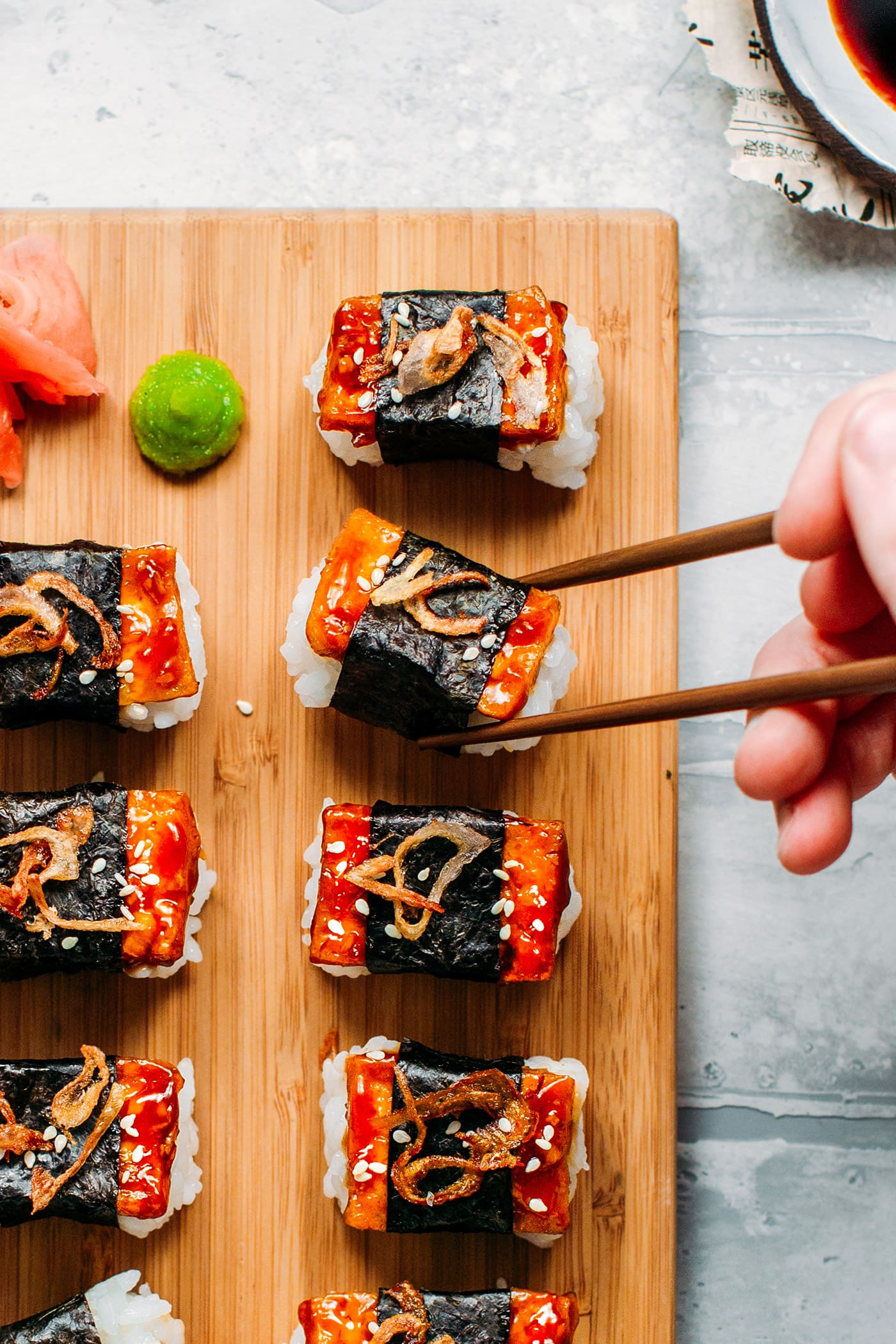 If you're craving sushi but don't feel like rolling traditional rolls, this Teriyaki Tofu Nigiri from Craving Plants definitely comes to the rescue! These little bites consist of sushi rice topped with tofu coated in a delicious teriyaki sauce, then wrapped in nori and topped with crispy shallots. It's easy to prepare and makes a delicious appetizer or entrée!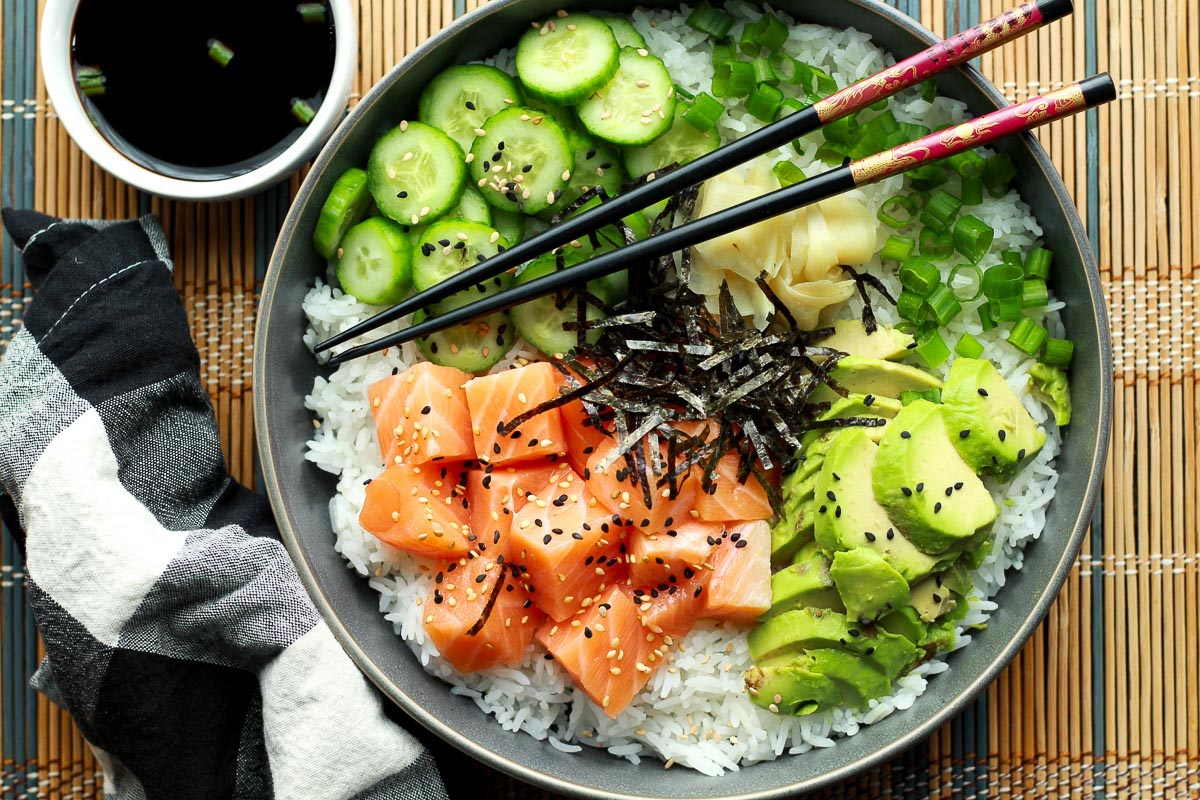 This deconstructed, healthy, no-fuss Salmon Sushi Bowl will satisfy all of your sushi cravings without having to go out! It starts with sushi rice, layered on top with chunks of sushi-grade salmon, slices of avocado, fresh cucumbers, green onions, and nori seaweed strips, then drizzled with low-sodium soy sauce. So easy, so yummy!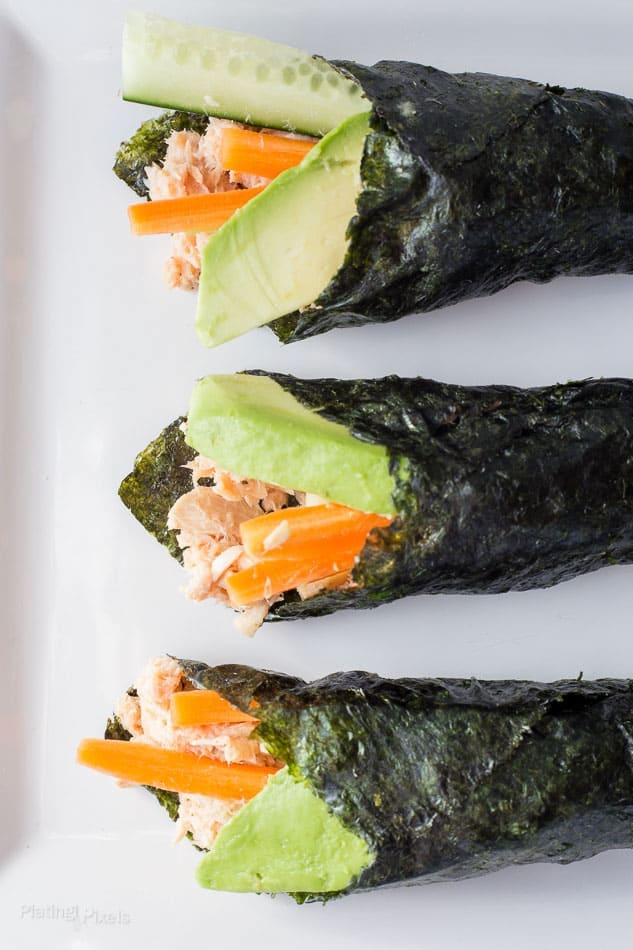 These Paleo Tuna Salad Nori Wraps from Plating Pixels are delicious, healthy, and match those good-for-you eating goals! Canned albacore tuna and avocado are mixed with coconut milk, olive oil, lemon juice, and other veggies, all wrapped in nori sheets. Such a delicious and low-cal snack!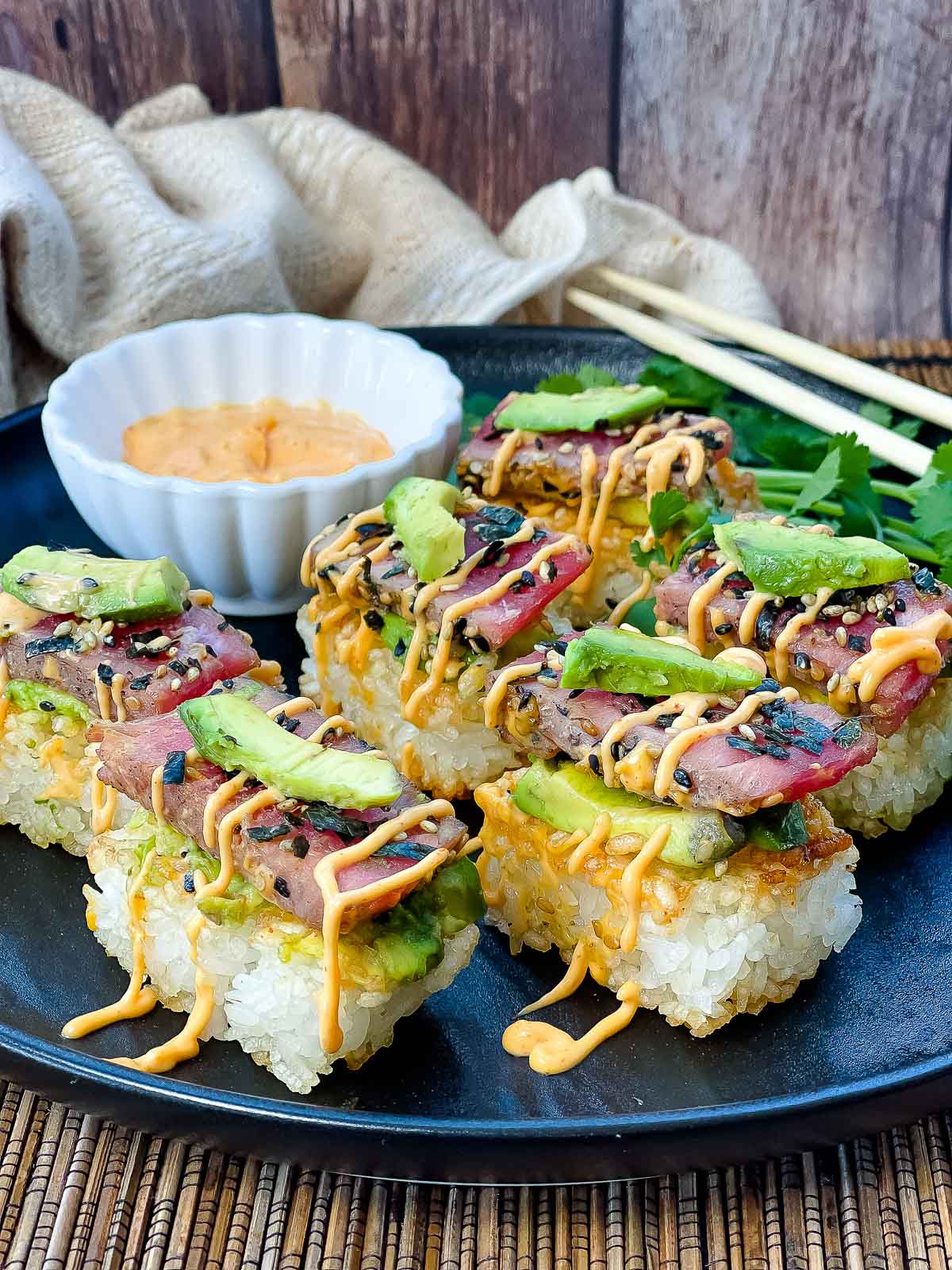 This Spicy Tuna Crispy Rice appetizer is definitely drool-worthy! This Nobu copycat recipe features pan-fried crispy rice cakes topped with slices of sushi-grade tuna and creamy avocado, finished with a drizzle of spicy Sriracha aioli sauce. OMG! My twist on this popular recipe takes it to a whole new level! Not only is this so easy to prepare, but you and your guests will be begging for more!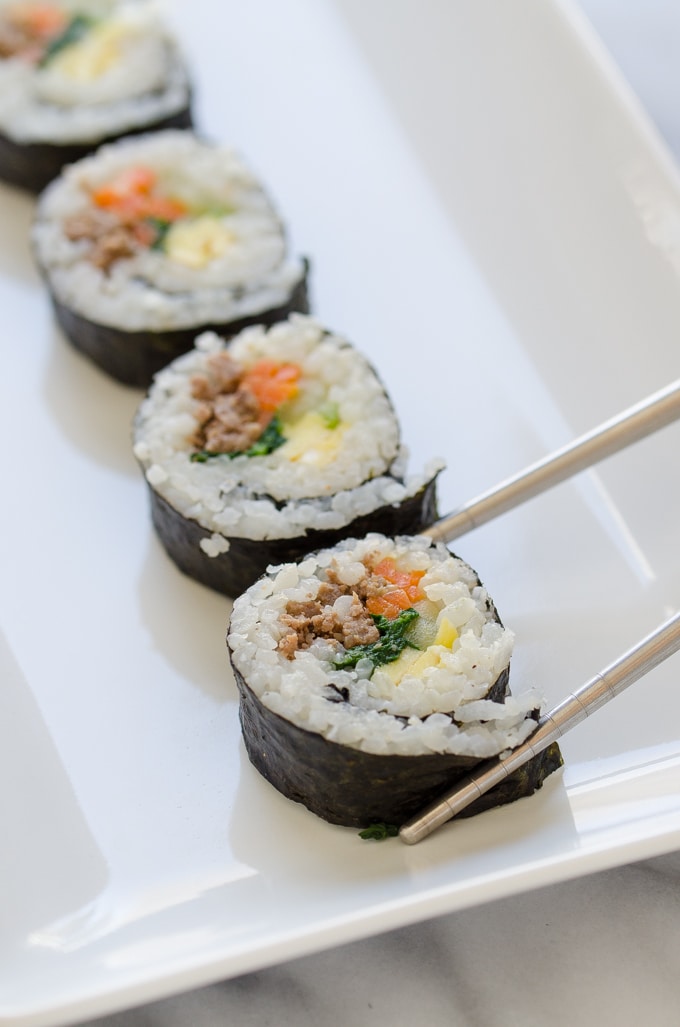 Gimbap (AKA 김밥) is basically the Korean take on sushi, and it's so delicious! This fun-to-make Ground Beef Gimbap from Buttered Side Up is no exception. You might be intimidated to try to make your own Gimbap. But don't be! All of the ingredients can probably be found at your local grocery store!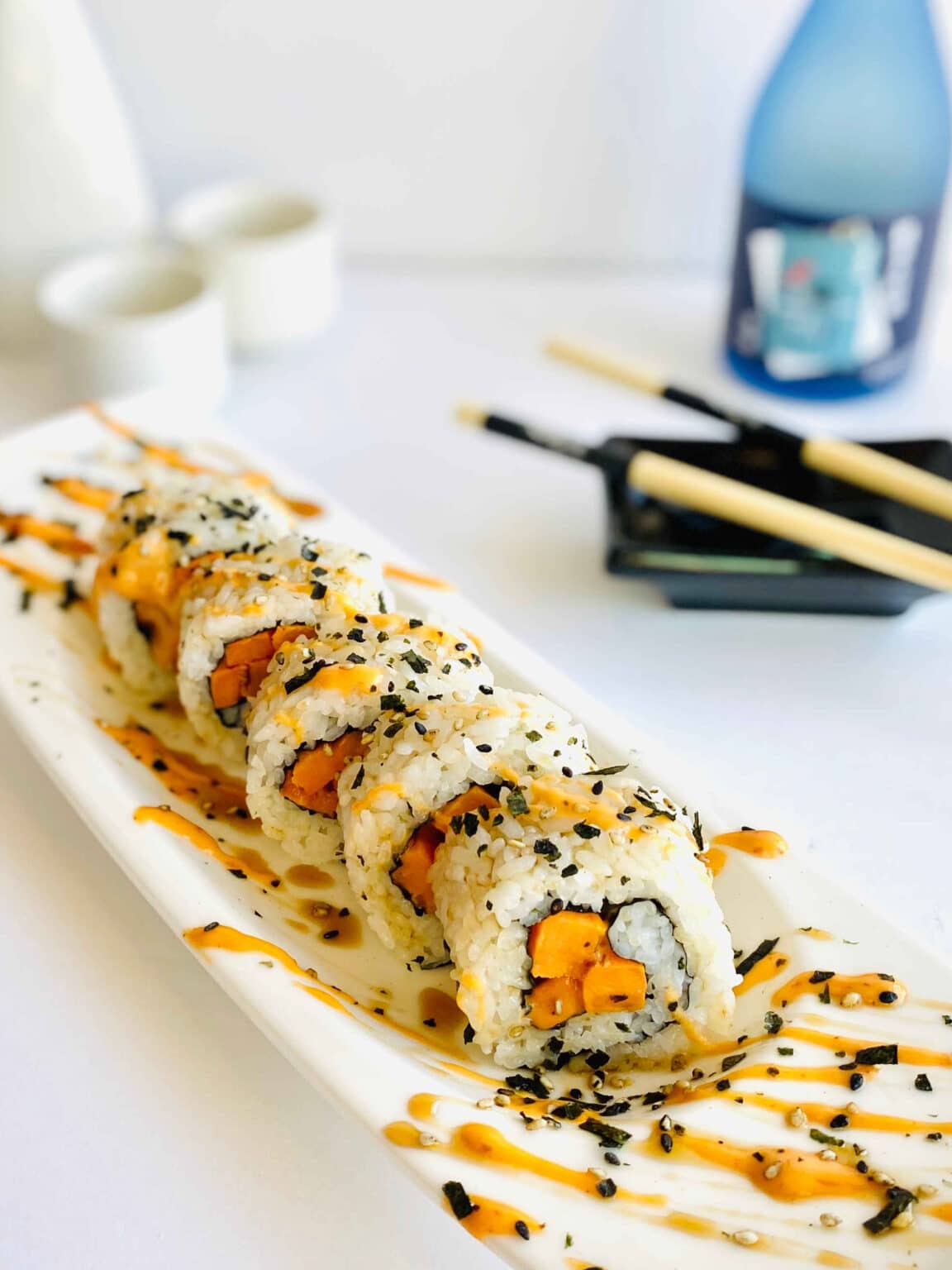 This vegetarian Sweet Potato Sushi Roll recipe from Aubrey's Kitchen is so easy and delicious! Filled with sushi rice, roasted sweet potatoes, rolled in a nori seaweed wrap and drizzled with a creamy spicy Sriracha mayo dressing, this is the perfect snack, lunch, or easy dinner!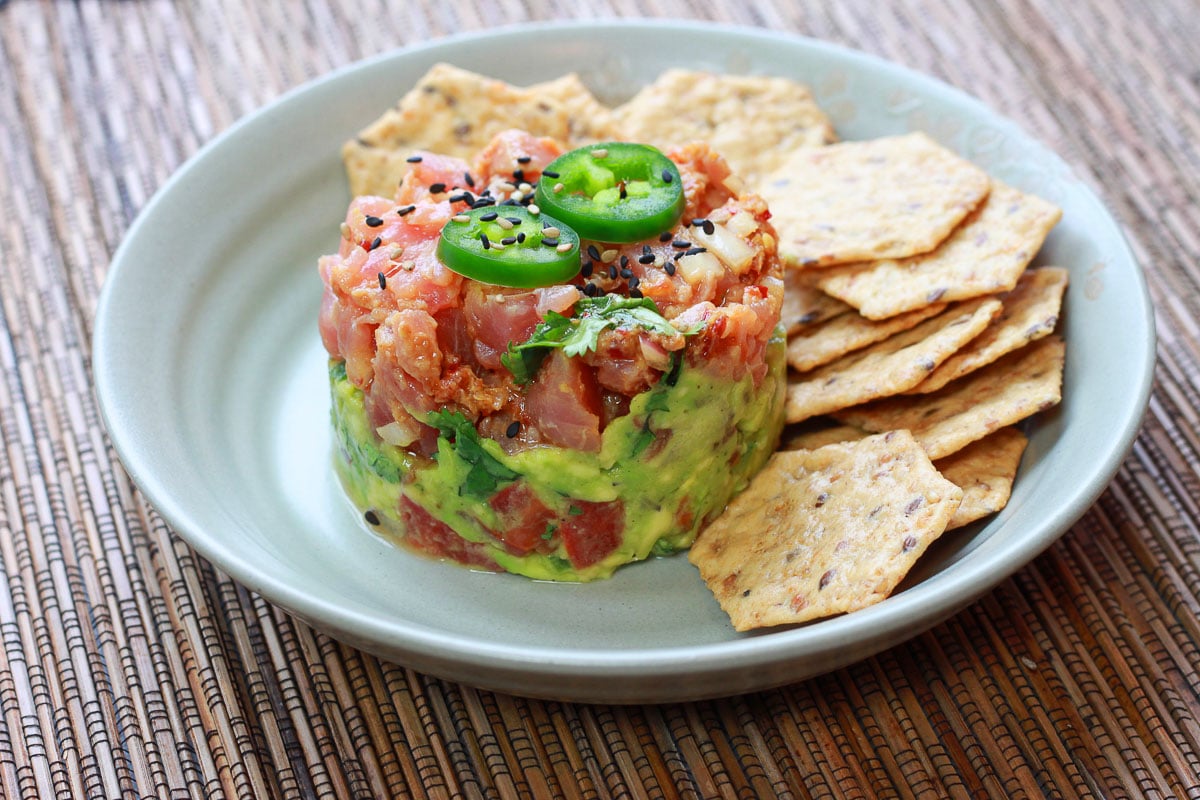 There is nothing more impressive than this fresh and vibrant Ahi Tuna Napoleon tower with bold flavors! It's incredibly easy to prepare, and you'll look like a gourmet chef! It's made with a layer of fresh guacamole and topped with marinated sushi-grade tuna placed in a ring mold to create a tower effect. This is truly a stunning appetizer!
Learn how to make this impressive Ahi Tuna Napoleon appetizer with this step-by-step video! Yes, you can create a dish that looks like it could be served at a fine dining restaurant!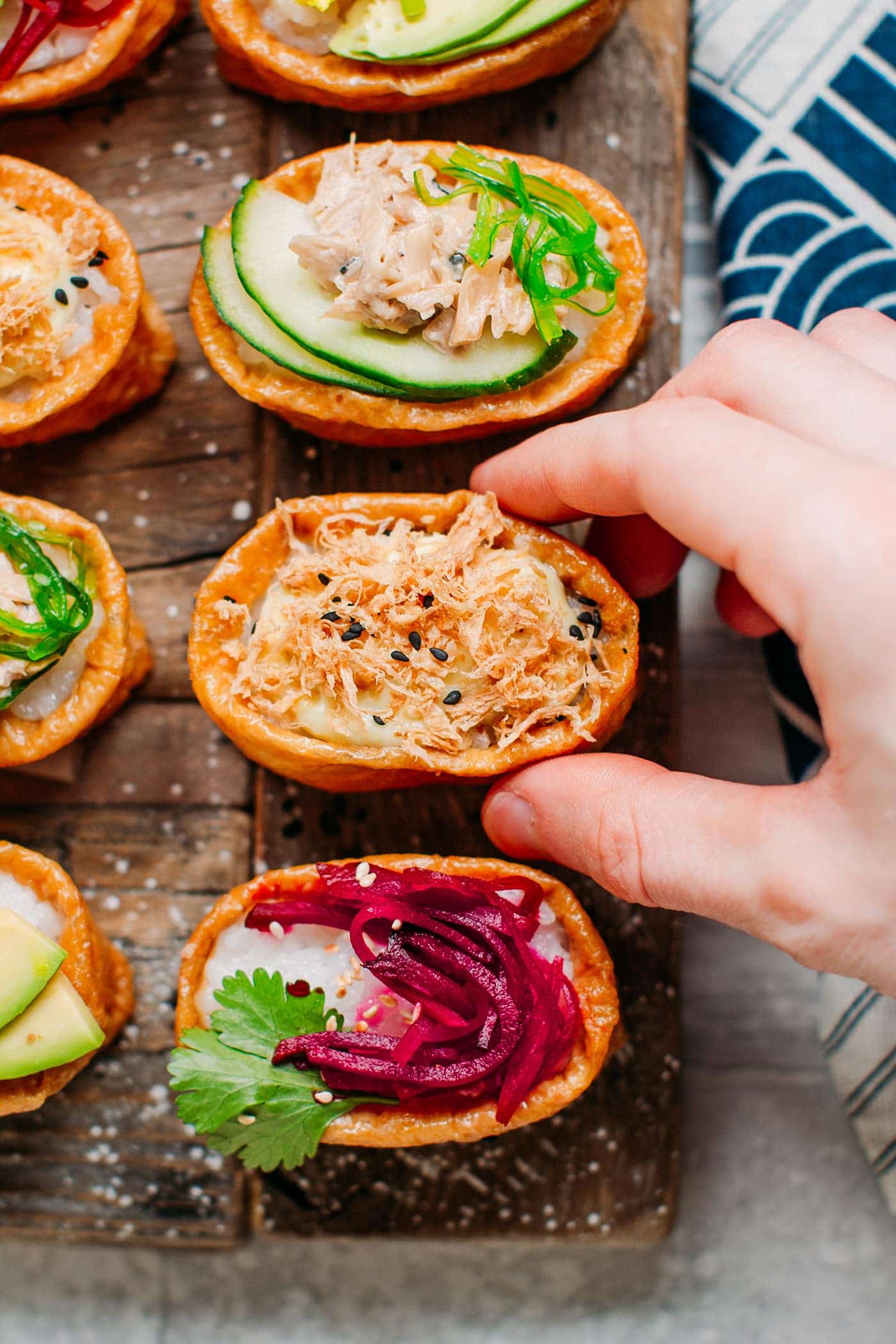 This traditional Japanese Vegan Inari Sushi from Full of Plants consists of seasoned tofu pouches filled with sushi rice. It is juicy, with a balance of sweet, salty, and sour. Super easy to make, and no rolling required! Plus, this recipe includes four delicious topping ideas!
Let me know if you try any of these sushi recipes! You have so many delicious and unique recipes to choose from with this roundup!
But wait! There's more!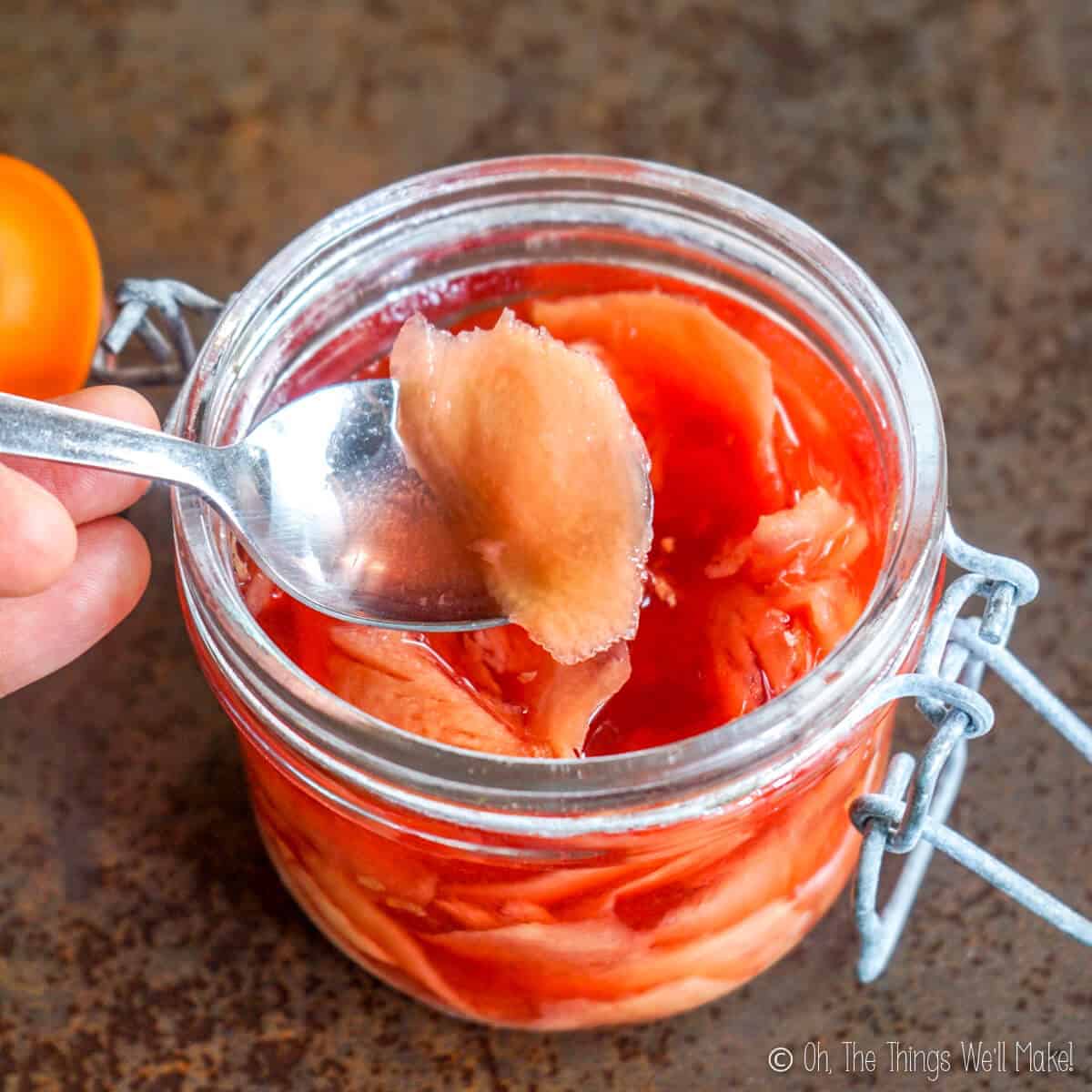 What's sushi without some pickled ginger on the side? Tangy yet sweet, homemade Pickled Ginger from Oh, The Things We'll Make pairs perfectly with sushi, and a variety of other foods. While you could buy it, it's easy to make from scratch, and is tastier and healthier than the store-bought varieties.
Other awesome recipe roundups
If you liked this collection of sushi recipes, you're going to want to check out our other recipe roundups!
Recipe notes
To make these recipes gluten-free, try subbing out soy sauce for coconut aminos or gluten-free soy sauce.
Try different proteins with these recipes, like other types of seafood or tofu.
Make sure to always use sushi-grade fish when preparing these recipes. You can get this at most specialty markets and Asian markets, as well as Whole Foods.